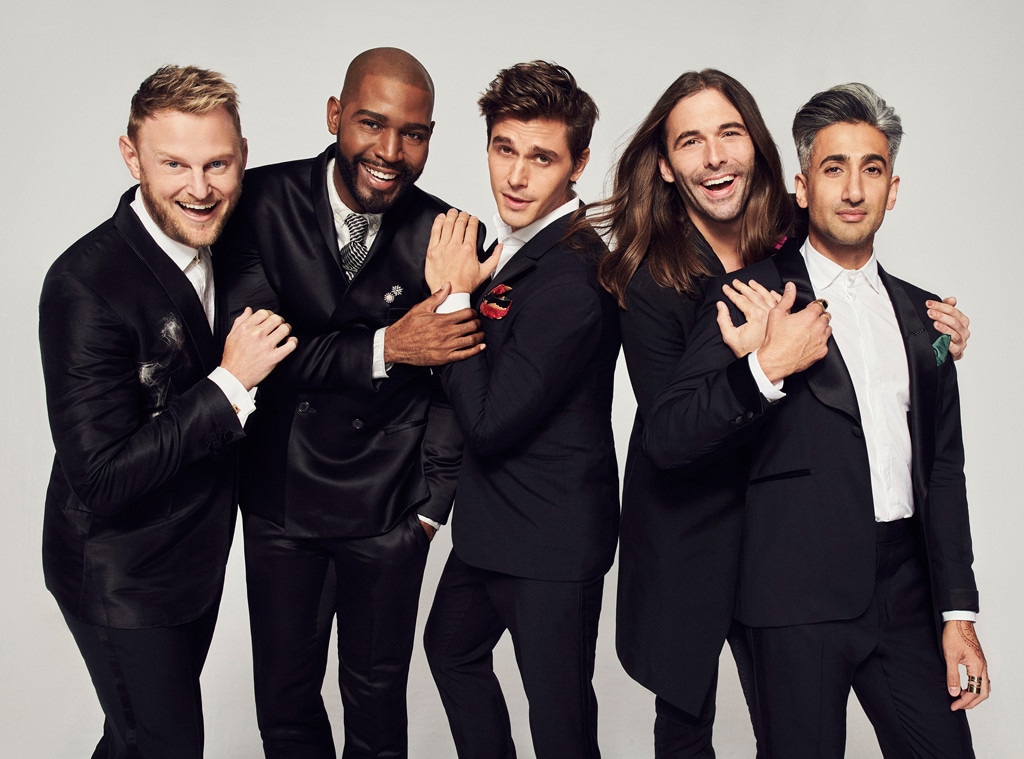 Netflix
"Lightning in a bottle." 
That's how creator and executive producer David Collins described casting the Queer Eye revival to E! News. To land on the perfect mix that is design whiz Bobby Berk, culture expert Karamo Brown, fashion guru Tan France, food and wine ace Antoni Porowski and grooming pro Jonathan Van Ness, "We brought in the top 50 guys from around the world that we had narrowed down in each of the five categories," Collins explains. And over the course of a long weekend in L.A., they found the group they would send down south to make over the men of Georgia. 
"We just played mix-and-match," the Emmy Award-winning producer explains, "but I think the guys will tell you...that they all kind of found each other in the room of 50 and kind of identified—and their chemistry and energy was so evident and palpable in the rooms." 
Porowski certainly felt the spark. "There was this weird electricity that happened when they sort of threw us into this room during chemistry testing," he told E! News. As Collins "was running around in the back, sort of like really excited," he continued, "we felt something special. We were weirdly finishing each other's sentences. "We're all different, but we still manage to get along really well." 
As they slowly whittled out the also-rans, it became clear to execs that the existing Fab Five were the most, well, fab. "I remember Tan would really start to shine," recalled Collins. "You're like, 'OK, don't leave the room, Tan.' And then Jonathan, you would just be, like, laughing your butt off. You're like, 'No, Jonathan, you stay.' And the room kind of got smaller and smaller and there they were, all five of them lined up." The whole process was like "a big game," he noted. "It's like chess, you move your pieces back and forth and everywhere." 
And in the end, you look for the pieces that are inexplicably drawn to the others. As Collins told E! News, "Ultimately, it's chemistry. It really is chemistry." 
Of course, the guys feel that same draw to others in their orbit. A magnetic bunch, not one is in need of a makeover in the relationship department, hunny. "We get to know the Fab Five," Collins says of this new iteration. "We get to hear about their world and their stories and who they're married to and their husbands and boyfriend and kids." And—big shock here—their other halves are equally captivating. Behold, the guys behind Netflix's main men.  
Bobby's Undercover Hubs
"I've been married for five years," the 37-year-old interior designer revealed on the series' pilot episode, sending devoted fans scrambling to dig up more info on his betrothed. The search proved at times frustrating as Dewey Do, the maxillofacial surgeon Berk wed in 2012, keeps an agonizingly low profile online. (Translation: his Instagram account is set to private.) 
But since that February debut, the Missouri native has begun sharing choice nuggets of information about his partner of 14 years. For starters, the then-New York City-based pair were married by "a very close friend of ours who was ordained" in 2012. "We got married as soon as it was legal to get married," he shared on Facebook, explaining his decision to say "Yes!" when Lyft asked him to legally unite couples aboard their New York Pride parade float, "and it was important to us to show the world our pride through our expression of love." 
In the years since, the pair have uprooted to a muted, masculine downtown L.A. loft (the open space in a 114-year-old former train station was purchased mere months before Berk was cast on the runaway Netflix hit) and spent time all around the world. 
Berk isn't shy about featuring his main man on his Instagram page, sharing snaps of their vacations everywhere from the Grand Canyon to Costa Rica to Venice, Italy. He even hinted in one 2010 tweet that they were considering a life abroad, writing, "Checking out condos in Saigon. Building is great! Also has a mall I can open a Bobby Berk Home in and that Dewey can open his medical spa." But the former Restoration Hardware manager (when he landed in NYC at age 21, he had roughly three months' rent to his name) appreciates the value of remaining close to home. As he gushed in one Instagram post: "Working in LA this week means I get to spend the weekend at home with this one #baeday."
Karamo's Made for TV Love Story
Back in 2010, The Real World: Philadelphia alum, 37, swept director Ian Jordan off his feet. No, like, literally. Spying the Raven's Home second AD outside of an L.A. nightclub, Brown playfully scooped him up from behind. It was a move that could have read more attacker-y than romantic and, indeed, the psychotherapist recalled to Yahoo Lifestyle, "he started hitting my head, saying, 'Put me down!'" But after Brown obliged, he told the site, "he looked at me and said, 'Oh, hey, you can pick me back up.'" 
And so he did, inviting Jordan to his birthday party that weekend. He went home "and literally told every member of my family I had met the man I was going to spend the rest of my life with," detailed the Florida A&M University grad, but he forgot one crucial move: changing his Facebook status, which was still set to "in a relationship" from his previous romance. 
Jordan, who decided to skip the bash, moved cautiously from there, but soon the pair realized they couldn't deny their connection. Jordan found himself eager to impress Brown's sons Jason, 21, and Chris, 18, and the onetime TV host remained confident in his earlier prediction. "Sometimes when you know, you just know," he insisted to Yahoo Lifestyle. "It was something about his soul, connecting with my soul; I just knew." 
Credit Jordan's emotional intelligence, something that rated high with mental health professional Brown. "He communicated really well," the star explained to Elite Daily. "Communication is key and the foundation for everything. If you can talk about the big, happy moments, the sad moments, your fears, the things that inspire you in a way that makes you transparent....I've never had an interaction like that with anyone before. So I just knew." 
Eight years later, he finally made his move during Brown's 40th birthday bash at SBE Hyde Sunset in West Hollywood. When Brown's eldest son informed Jordan he had one more present to open, he turned to find the reality personality on one knee, holding out a David Yurman ring. "You are the funniest man I know, the kindest man, my biggest cheerleader. You made me feel like I could do anything," Brown said in front of a crowd that included his costars and Entertainment Tonight cameras. "I hope we can conquer the world together for the rest of our lives." 
The rest of their lives are set to officially kick off in October 2020. "I started planning it years ago," Brown told Elite Daily of their sure-to-be-stylish nuptials. "I'm that guy that has been wanting to plan a wedding since I was eight years old because I just love love." 
Tan's Perfect Match
On paper, a Muslim immigrant from Britain and a Wyoming-born, Utah-based Mormon cowboy may not seem as if they go together. But the stylist swears he and his illustrator husband Rob France are ideal complements. "It made it easier to date somebody who had similarities to me. I don't drink alcohol, I don't smoke," he shared with The New York Post of their corresponding faiths. "We practice some of our religions' practices. We don't practice them all. We practice what works for us."
The pair knew pretty soon after they connected on a dating app in 2006 that they just worked. Though the 35-year-old stylist lived in New York City, he was already enchanted with Salt Lake City thanks to trips he'd taken there with a roommate. When he began to date Rob, "I realized he was the one very shortly after that," he told The Salt Lake Tribune. "So I planned on Utah being my home." 
Their cohabitation sorted out, the couple wed two years in, though the Kingdom & State founder admitted to his castmates last season, "You know there wasn't an actual proposal. It was a case of, 'We're going to get married one day, right?' 'Yeah, of course we are.'" 
And without either having to drop to one knee, "We just had agreed it was going to happen one day and then we arranged the date." 
Proving he was Tan's ideal partner, it was the artist who convinced him to accept his star-making gig. "When I was first offered the show there was a time when I thought I was actually going to say, 'I don't want to do it' before we started filming because I felt so much pressure," he told the Press Association, per UK's The Mirror. "When I speak, I don't speak for myself, I don't have the luxury of a Caucasian to be able to speak for myself. I speak for a whole community and I represent so many different communities that that felt like a lot of pressure. But my husband is wonderful and he reminded me that if it's not me, who? If it's not now, then when? And so I feel like it's perfectly appropriate that we now have representation and that I am that person." 
Now the duo are looking to add to their team via surrogacy. "I truly do want six," the native of South Yorkshire told the Press Association. "I will settle for minimum four. And no, six is not loads. It's just enough." 
Dia Dipasupil/Getty Images
Antoni's New Recipe For Love
Just eight months after he described himself as a "basically married male," Porowski is the only cook in his kitchen, insiders have revealed. "Antoni and Joey broke up months ago," a source told Us Weekly of the Montreal native and his art director boyfriend of seven years, Joey Krietemeyer. "It was very amicable. They're still friends. It was a clean split."
Throughout the show's filming in Atlanta, the NYC-based couple did their best to remain close. Krietemeyer, the director of creative services at 1stdibs, "would come down and visit and be part of the weird bubble world," the 34-year-old shared with GQ. "I'd go to New York whenever I could. Even though it was a short flight, I'd rather he come visit me. As much as I missed New York, I just didn't want to fly. I do it, but it gives me anxiety." 
Now the former actor, who told Vulture he's been the subject of "a lot of attention and objectification" since gracing TV screens, is whipping up a new romance, with Us Weekly sharing he brought Flipping Out's Trace Lehnhoff as his date to a few Emmys parties last month. "Trace was clearly there as his date," a source told the mag. "They weren't trying to hide it."
Michael Kovac/Getty Images for Netflix
Jonathan's "Muscle-Bound" Player
When the hairdresser spotted Wilco Froneman at a Fourth of July bash this summer, he initially sensed that "we had more like BFF synergy," he recently shared with E! News' Giuliana Rancic. Thankfully, though, he was only left staring down the friend zone precipice for a beat. "And then really quickly I was like, 'Oh,'" the 31-year-old continued. "It's just 'cause his personality shines so bright that it took me a minute to realize he was a 6-foot-7 muscle-bound rugby player," he said of the South Africa native, who plays for New York's Gotham Knights. "We have so much fun together." 
Just three months in, the pair have already enjoyed trips to Hawaii (where the athlete scored Mom's approval: "It was so fun!" said Van Ness) and the Emmy Awards and definitively confirmed their relationship status. On National Boyfriend Day Oct. 3, Froneman posted a tribute to the host of the Emmy-nominated Gay of Thrones recap show. "Somehow a boy from Nelspruit, South Africa fell in love with a boy from Quincy, Illinois... Life sure ain't predictable, but I'm so happy that somehow it brought us together. You light up my world B.B."
Watch:
"Queer Eye's" Jonathan Van Ness Says He "Can't Act Straight"
In sharing his matching glee—"Patient, loving, understanding, loyal, hardworking, & loves a good platform moment. Love you @froners," he wrote on Instagram—Van Ness managed to deliver a message of hope to those still looking for their match. "May I just say if I weren't me and saw this 3 years ago it would make me feel lonely and to that person I say this, work on completing you and falling in love with you, everything else is icing on top."
Together, the pair, both fixtures on each other's Instagram pages, are ready to slay. As the Getting Curious with Jonathan Van Ness podcast host told Rancic, "He rocks a heel as well as I do when I can find one in his size."