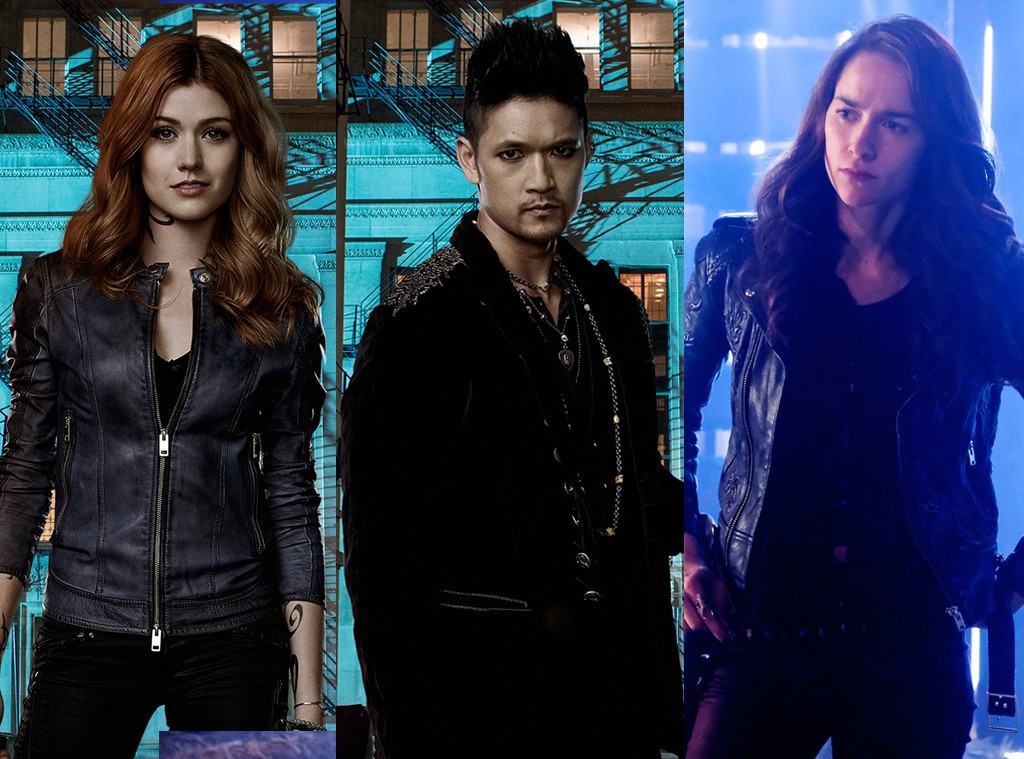 Freeform/Justin Stephens Michelle Faye/Wynonna Earp Productions, Inc./Syfy
The E! People's Choice Awards are all about the fans and no one knows this better than the actors and stars of the shows who became finalists because their supporters demanded it.
During the first round of voting for the People's Choice Awards, back in September, fans campaigned and wrote in their top picks to make sure their favorites would become finalists and it worked!
That's right, Shadowhunters: The Mortal Instruments stars Harry Shum Jr. and Katherine McNamara as well as two shows, Wynonna Earp and Outlander, would not have become PCAs finalists without their fans' help and they couldn't be more grateful.
Wynonna Earp's Melanie Scrofano proved how grateful she was for fans voting in her series when she visited loyal viewers of the show at the PCAs food truck at New York City Comic Con in October.
She hung out with fans, handed out treats and even campaigned a little bit for her hit show to hopefully win Sci-Fi/Fantasy Show of 2018 at the upcoming People's Choice Awards.
McNamara also surprised fans at the NYC PCAs food truck stop and pushed for her Freeform series to get votes for Show of 2018 and Bingeworthy Show of 2018. In addition, she gathered some support for her solo finalist nod, which is in the Female TV Star of 2018 category.
Plus, both she and her Shadowhunters co-star Shum—up for Male TV Star of 2018—chatted with E! News over the past few months all about their surprise finalist spots and their reactions were priceless.
The cast of Outlander on the other hand, celebrated their write-in votes for Bingeworthy Show of 2018 by talking with E! News at New York Comic Con together, and it's clear that they love their fans as much as the fans love their show. 
See all of the actors' over-the-moon reactions below and don't miss the People's Choice Awards airing live on E! on Sunday, Nov. 11.
Watch:
Melanie Scrofano Surprises Fans at E! PCAs Food Truck!
Melanie Scrofano
What better way to thank your fans for making your show a PCAs finalist than meeting them in person? Scrofano did just that when she came out to the PCAs food truck last month to hand out treats and encourage people to vote for her show, Wynanna Earp, to win Sci-Fi/Fantasy Show of 2018 at the PCAs. "We are going to go with the People's Choice truck, hand out some donuts, mess with some fans and covert some non-fans. Let's go," the 35-year-old star told E! News before giving some fans the ultimate surprise. 
Watch:
Harry Shum Jr. Is "Moved" by Fans' PCAs Write-In
Harry Shum Jr.
Shum was ready to celebrate when he found out about being a write-in finalist for Male Star of 2018 at the People's Choice Awards. "I'm surprised. I'm surprised as everyone else. Being able to be on this ballot is amazing. I didn't expect it at all," the Glee alum revealed to E! News. "The fact that the fans made it happen is what's so special about this, hearing about it. It's the fact that they rallied together and got me on the ballot. It's insane." See Shum pop a bottle of champagne to commemorate the achievement above.
Watch:
Katherine McNamara Talks People's Choice Awards Nom
Katherine McNamara
McNamara is still in shock over becoming a People's Choice Awards finalist for Female Star of 2018. "That's been the biggest gift. This People's Choice surprise. It's been a real roller coaster. It's quite a bit of shock when you find out this is happening. But ultimately, I have nothing but gratitude and love for the Shadowhunters fans," the 22-year-old actress gushed to E! News. It's clear that she knows all the award show love could not have happened without the dedication of the Shadowhunters fans.
Watch:
"Outlander" Stars Talk All Things America!
Cast of Outlander
The cast of Outlander knows that without their supporters they would not have become a PCAs finalist for Bingeworthy Show of 2018 and when E! News caught up with them at New York Comic Con they were still in awe over the news. "Amazing," Caitriona Balfe, who portrays Claire Randall on the show, told E! News at the time. "Who has the best fans?" she asked before the rest of her cast mates yelled, "We do!" A few more members of the cast, including the show's leading man Sam Heughan who plays Jamie Fraser, also sounded off on their finalist status, and you should definitely check out what they had to say above.
PS: Make sure to mark your calendars for the People's Choice Awards airing live on E! this weekend to see if any of these write-in finalists take home trophies.