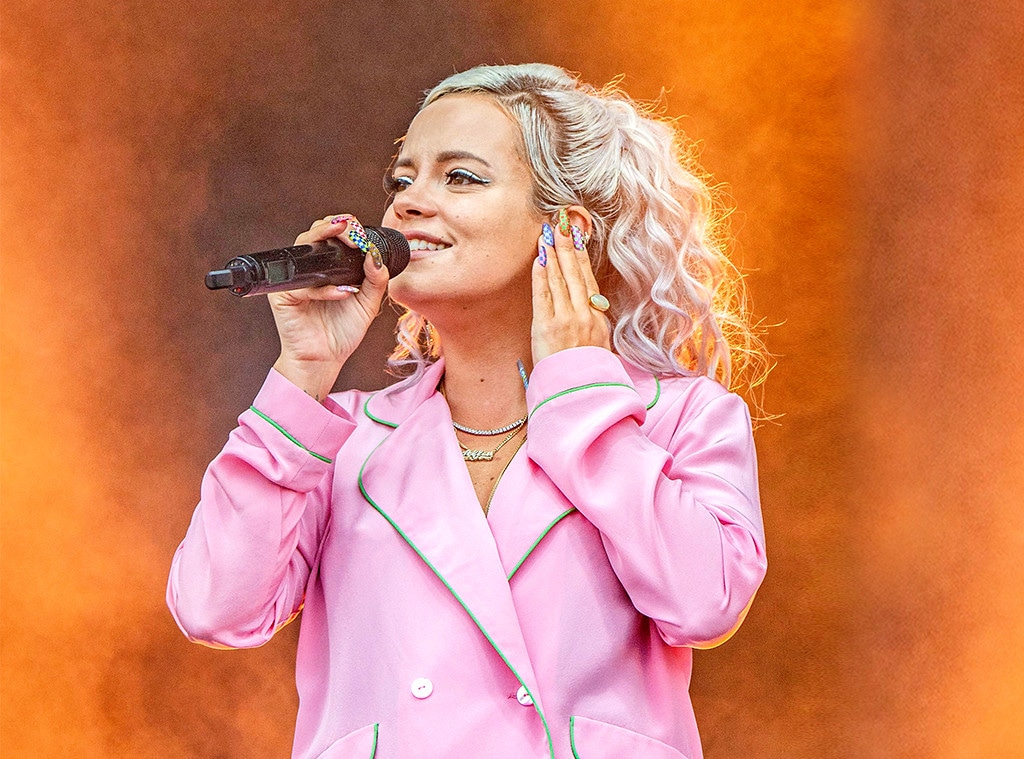 Amy Harris/Invision/AP/REX/Shutterstock
There was a time when Lily Allen seemed to have it all.
She was 21 when she first burst onto the music scene. Brimming with talent, confidence and a F-You attitude, she was a pop fan's dream. Sure, there were the occasional headlines about her party-loving antics that accompanied her rise up the charts, but it was nothing we hadn't come to expect from other celebrities who got famous fast; they live fast as well.
But then after three albums, Allen disappeared. She got married, had children, dabbled in a clothing business and seemed to shun the attention she once basked in. You'd be forgiven for thinking she had chosen domestic bliss over chart domination. And who could blame her? After a string of successful hits, she now had two beautiful baby girls and a handsome husband.
But now, thanks to her explosive new memoir, My Thoughts Exactly, we know that Lily's life was anything but pretty. In her new book she rips away any preconceptions you might have about the glamorous side of fame. With each chapter comes a slew of jaw-dropping revelations, from hiring female escorts as a way to numb the pain of her failing marriage to battling postpartum depression and abusing drink and drugs. Things got so bad at one point, that Chris Martin and Gwyneth Paltrow were forced to do an intervention.
Alongside the explosive confessions, there is an inordinate amount of pain, whether from her own experience of what she says was sexual assault, to being stalked and, in what might be the most heartbreaking of stories, the devastating still birth of her first child, George—a son who will be forever immortalized as the book is partially dedicated to him.
Thankfully, her life is a lot different now. Of course, some of the pain still remains, but the secrets are no longer hidden. She's got a new album out, No Shame, and she's back on the road, touring across America. In an exclusive interview, E! News sat down with Lily to discover what it feels like to come out the other side.
E!: You seem to lay everything out in this book, escorts, dealing with post-partum depression, drugs, a failed married, bulimia …the list goes on. Can you honestly say, as your new album title suggests, that you feel no shame?
Lily: I'm 33 now and I feel like I'm very much entering a new chapter in my life, but it's been quite difficult to go into that chapter without putting some stuff to bed. Not so much here in America but in England I'm featured quite heavily in the tabloid papers and people have got an opinion of me and it's not necessarily accurate. I felt like in order to move into this new period of my life I needed to just let everyone know what's up….I wrote the book in a period of time where my marriage had fallen apart. Most of the friends I had were his [her ex-husband, Sam Cooper, whom she was married to from 2011 to 2016] friends and so I became isolated. I didn't really have that many people to talk to. The book sort of became my friend.
Bertrand Rindoff Petroff/Getty Images
E!: There is a lot of drinking and doing drugs in the book. When I came to interview you today, I saw a picture of Mac Miller on the wall [like Allen, Mac was signed to Warner Bros.]. You also knew Amy Winehouse…do you realize how lucky you are? With the lifestyle you were leading, things could have turned out so differently.
Lily: I do feel that. I've got a legal dispute going on right now with a newspaper and the lawyers came over with every single newspaper story written about me. As I was reading, I thought, "Wow, they were so horrible to you and you were like a child." Like 'How did you sort of survive that?" It was extreme bullying on a national scale. I look back at those times and think, "Well done for coming out the other side."
E!: In the book you also detail a time when Chris Martin and Gwyneth Paltrow did an intervention on you. You had been to Kate Hudson's Halloween party …explain the rest of that story.
Christie Goodwin/WireImage
Lily: I was very, very drunk and I headbutted something behind Orlando Bloom and knocked myself out. Then Chris Martin, who is a friend of mine, and Gwyneth, who is a close friend of my mom, drove me home. He [Chris] left a post-it note on my fridge just saying, "Give me a call tomorrow." I did. We went for lunch and he said, "I don't think you're in a great place right now, Lilly, are you? Here's the number of someone that can help." They [Chris and Gwyneth] are great people. I'm very grateful for them to have been so thoughtful.
E!: Did their advice help? 
Lily: Yeah!
E!: Have you spoken to him since the book came out?
Lily: I haven't, actually. Maybe I'll text him.
E!: One of the chapters in the book details how you believe you have been sexually assaulted by a record industry executive. Why did you decide not to name him?
Lily: I do name him to my friends and family. When I wrote the book, his name was in it. It's when it came back from the lawyers that it wasn't.
E!: Have you heard from that person since the book came out?
Lily: No.
E!: Do you think your experiences will help other women in the music industry?
Lily: I would like to think so. I'm a big advocate for talking about things but I guess the fact that I can't name him here in this conversation is indicative of the fact we are oppressed in some way. I can't talk about my experiences without thinking I might get sued. It's a pretty crazy world to live in.
E!: Have there been any personal repercussions from talking about your own personal #MeToo experience?
Julien M. Hekimian/Getty Image
Lily: The record industry executive works with many other artists… I was asked to perform [once] but the slot they gave me was right next to an artist that works with [the unnamed executive]. I had to turn down that slot because I didn't want to run into that person. Of course, I couldn't tell them that was the reason. From the radio station's perspective, they're like, "Well, if you're not going to play on our show then why should we play your record?" So that's how it had that knock-on effect. It wasn't sort of like everyone closing in on me. When you're not able to share information then people come to their own conclusions…and so it plays into, "Oh she's a difficult woman." "[She] thinks she's bigger, better than us."
E!: You now have two beautiful daughters, 6-year-old Ethel and 5-year-old Marnie. What's the one lesson you hope they take from your story?
Lily: Find out what you like and chase after that. A lot of my struggles in my early 20s were because I didn't really know what I wanted. I was on autopilot. I was doing stuff because it was available to me and everyone was making lots of money. I would say to them to think about what it is that you want and go for it, don't just ride away because it's there.
E!: Are you a good mom?
Lily: I like to think so. My kids say I'm the best mommy in the world. But they've only got one point of reference. I think I'm just a normal mom. Me and my ex split up the custody 50/50 and everything's fine between us. We're great friends. We still talk pretty much every day but, yeah, you know it's normal. I get up in the morning, if it's Monday, Marnie has forest school and then I make a pack lunch. I drop them off. I get on with my errands during the daytime and pick them up and go to the park and make them their tea. Just normal. I feed them. I bath them. They're happy. 
E!: For the past three years you've been dating DJ Dan London, how is that going?
Lily: I am very happy. Life's good. I'm in a good place. I'm busy. I love going on tour and going up on stage every night and signing songs I feel connected to. [Songs] that are real. Which is important because when I do have to get up and wave goodbye to my kids for 5 weeks, it's got to be worth it.
E!: When you were last on tour, four years ago, with Miley Cyrus, things were very different in your life. You felt lonely, your marriage was falling apart and you were hiring female escorts. Things must feel very different now. What can fans expect?
Lily: Someone who is not parasitically drunk. Somebody that is not dead behind that eyes…It's a good show. It's going to sound really narcissistic but it's about me…It feels good to be in control for once. Previous tours I have felt like an extra in this sort of weird band… sort of trapped between the audience and the band behind me…I didn't really confident enough about what it was that I wanted. Now I do and it feels good.
E!: Have you spoken to Miley…has she read the book?
Lily: I talked to her last night. She hasn't read it. I don't know if she knows about any of [the bad times] to be honest. I'll send her a copy of the book…I think she's a really special person…I was trying to tell her last night, 'You don't understand, the Bangerz tour was when it all started from the past.' I'm in a very different place, last time I was touring in America I was struggling to find a balance between a mother to two small children and touring artist. It was a new thing for everybody… and it went horribly wrong.
E!: The book is already out in the U.K., it comes out here next month. Have you had many letters from any people in response to your revelations? 
Lily: Oh my gosh, yeah. There's a big chapter in the book about an incident with a stalker who had been stalking me for seven years. A detective got in touch with me and said, "Reading your book made me rethink how I would approach women in a similar situation to yourself." That was amazing. 
Watch:
Lily Allen Is "Very Happy" With BF Meridian Dan
E!: There's also a lot in the book about postpartum depression, trying to balance motherhood and, of course, the chapter about George. I am so sorry that happened to you.  
Lily: You are going to make me cry!
E!: What would you say to other women who have gone through something similar or find it hard to balance things? 
Lily: I hit a rock bottom because I didn't talk to people about what I was going through. I dealt with things very much in my own brain and I guess when I came away to go on tour [in 2014] and I didn't have Sam to lean on, it became even worse. I would just say be honest about your feelings, as soon as you can, get them out and talk about them. You can get some feedback and move on.
Bertrand Rindoff Petroff/Getty Images
E! I am sure you have helped people with regard to the #MeToo issue as well.
Lily: Some of the more powerful things is girls or women who have been in contact and said, "These things happen to me but it didn't even really occur to me that it was a bad thing. It wasn't until I read it in your book that I was like oh, that's not right." If it can be helpful in that way than great.
E!: Do you feel like a more confident woman now?
Lily: I don't know if I feel more confident I just have a better sense of myself. I'm a little bit clearer on what my job is and who I am…fame is great but if that is what you want then try to find out more about yourself before you get there because if you don't have a strong sense of self when suddenly everybody else has opinions of you that can be a struggle.
E!: Do you have that strong sense of self now?
Lily: Yeah but I definitely didn't when I was young, 20 and when you are trying to figure out who you are, and everybody is telling you who you are. That's a really complex situation to be in.. I'm ready now, I'm strong.
Lily Allen's fourth studio album, No Shame, and her book, My Thoughts Exactly, are available for purchase and digital download.