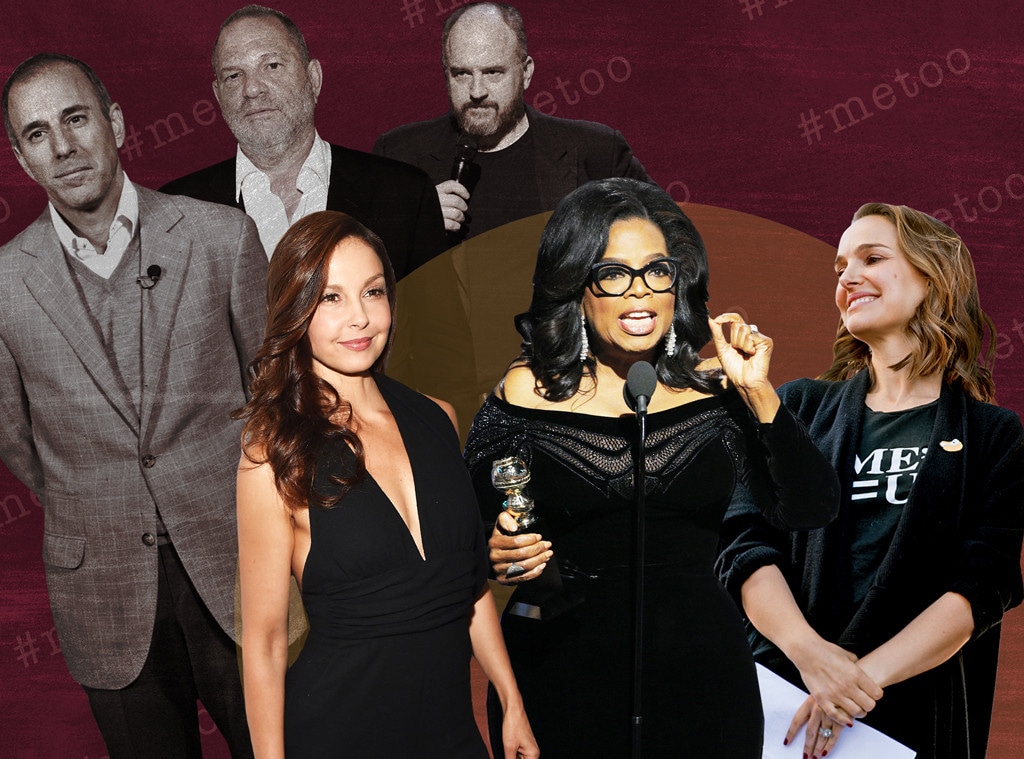 Getty Images; Melissa Herwitt/E! Illustration
"We are definitely at a tipping point and this will be the end of it if we decide that's what we want."
So Ashley Judd said in October at the 2017 Women's Media Awards, which was held a few weeks after the New York Times and The New Yorker toppled Harvey Weinstein with their one-two punch reports detailing decades' worth of sexual misconduct and assault allegations against the entertainment mogul, a onetime titan of independent film. Within days, he was fired from his own company and his wife, Marchesa co-founder Georgina Chapman, left him.
Judd was the most famous woman to go on the record for the Times' Oct. 5, 2017, piece by Jodi Kantor and Megan Twohey, which triggered... well, every natural disaster metaphor you can think of to describe the massive amount of news that emanated from that story and Ronan Farrow's initial New Yorker article, which was published five days later. 
"I feel very special. I feel loved. I feel adored. I feel supported," Judd told E! News at the Women's Media Awards. "I feel like I'm in community. And, what I really know that means for me is that I really have the grace and the power of the God of my understanding with me at this particular moment in my life."
But even the warmest of baths eventually turn cold.
No woman with her wits about her thought for a second that the monumental task ahead would be easy, or that change would happen overnight. The mission, should we choose to accept it, was merely to uproot culture itself and replant it in a way that allowed everyone to grow equally.
On many days, it felt like the only way forward was to cancel Hollywood and recast it with all new people. On some days it still feels that way.
It's impossible to sum up everything that's happened in the past year—every powerful man accused, every apology or denial, every equivocation, every firing and suspension, every excuse, every editorial, every list made, every tangential issue unearthed, every fist or voice raised, every hand clasped in unity, every defiant declaration.
Every vow that we're never, ever going backward.
Certain moments can't help but stand out: Gwyneth Paltrow revealing that, while they were dating, Brad Pitt confronted Weinstein after the producer mistreated her. Angelina Jolie recalling that one unpleasant encounter with Weinstein prompted her to avoid him forever afterward. Quentin Tarantino admitting he knew enough but if he came forward his fruitful business relationship with Weinstein would be over. The implosion of Kevin Spacey's career. The two weeks that saw the removal of two of the most recognizable faces in news, Charlie Rose and Matt Lauer, from their lofty perches at their respective networks. Louis C.K.  addressing his disturbing behavior after a story detailing what was no secret whatsoever in the comedy world finally broke through in the New York Times. The resignation of Sen. Al Franken, a favorite among Democrats. Roman Polanski, who won the Best Director Oscar in 2003, getting kicked out of the Academy. Bill Cosby, just last week, going to prison.
On a more invigorating note, there was also the proliferation of #MeToo hashtags as thousands of women—and men—shared their experiences being assaulted, harassed or objectified, of being made to feel less-than. The "Silence Breakers" named TIME's "Person of the Year." A sea of black dresses at the 2018 Golden Globes and the emergence of the Time's Up movement, formed to help women in all walks of life. Oprah Winfrey's spirit-elevating speech at the Globes that made you believe wholeheartedly that a new day really had come—and which feels as if it happened 100 years ago.
To be sure, something has changed, and for the better. The still-smoldering holes from the bombshells that rooted out the serial pests who had been hiding in plain sight is a testament to how Hollywood took the challenge seriously. The entertainment business has proved that there should be no such thing as being too rich, too powerful or too much of a creative force to be reckoned with to be tossed out on your behind. Silicon Valley, the media, Washington, the restaurant world—they're all working on it, too, some more than others.
It's only been a year, so the jaded filmmaker who made an educated guess in telling Vulture 364 days ago, "In Hollywood, there's no morality. No one cares, no one remembers," hasn't been proved entirely right or wrong yet. Yet while it's long been apparent that consumers of all forms of culture have generally proved fairly forgiving—not necessarily on purpose, but mainly because a person's bad actions just didn't have anything to do with them—it's also become clear that no one actually forgets.
You can also tell that, for all the attacks on the press emanating from certain corners, we still believe in journalism (and so do those corners, hence the defensive hysteria), because in most cases all it took was a major publication's thorough accounting to allow a phantom that had been floating in the ether, swimming in and out of our purview, to take tangible shape. The speculation, the rumors, the whisper network—everything lurking just out of reach was finally laid out in black and white.
In turn, the New York Times and the New Yorker shared the Pulitzer Prize for public service earlier this year.
But also in what has been "only" a year, and it certainly didn't take the whole year, the ever-evolving #MeToo movement has grown a poisonous tail.
It was probably to be expected that not one accusation leveled at a famous person, including Weinstein (who instantaneously became the standard-bearer of terribleness for the ensuing conversation, all other actions measured on the scale of from-0-to-Harvey), would come without questions.
Why did she wait so long to report it? Why did she work with that person again? Why did she take the money? Maybe her career stalled because she wasn't that great. Didn't he actually end up helping her? Oh, is what he did really that bad? 
Let the eye-rolls from people who get why those questions are infuriating commence.
Yet even among those who can agree that the culture that breeds those sorts of knee-jerk reactions needs renovating, there are countless opinions on how to go about it. And even when they don't have their own brilliant solutions to offer, people love letting you know when they think you're doing it wrong.
Where there are lawyers, there are arguments and rebuttals. But where there is Twitter, there is not only outrage, but a forum where millions of people go to bond one minute and rip each other to shreds the next, to be just a little bit more right than the person commenting before them.
Interestingly, once a story was officially out there—be it about Charlie Rose or Louis C.K. or Mario Batali—all of a sudden, so many people claimed to know already. "Oh, what a shock." "You don't say?" "This has been coming for years." "Finally." Everyone's an expert on social media.
And yes, some people probably were not watching CBS This Morning or Louie, or eating at Batali's restaurants, on purpose already. But it's as if you were some unsavvy rube if you didn't know, or at least suspected, that so-and-so was bad news. To evince genuine surprise or, far more offensively, doubt or disbelief—or even dismay—is to open yourself up to an endless supply of invective.
However, that's social media. It exists simultaneously to inspire and to suck, usually within the same thread.
While platforms such as Twitter are powerful tools for rallying people who agree with you and angering people who don't, what ultimately matters is what people are doing in real life, how they're treating each other to their faces. And even with all the firings and the reckonings and the clearings of the air, the long-term effect on real life is still TBD.
Harvey Weinstein is facing criminal sexual assault charges (he has pleaded not guilty and denied all allegations he had non-consensual sex). No one misses him.
He's the easy one though, the trophy head on the wall that has caused the least amount of debate (and that's even counting all the debate that was had anyway), hand-wringing and internal angst. Moreover, it's much easier for the rest of us to stay mad at the men who are said to have committed the worst deeds. 
That, of course, is if you can even agree on that much. For all of Ronan Farrow's Pulitzer-winning credibility in reporting on Weinstein and now ex-CBS chairman Leslie Moonves, as well as his recent reporting with colleague Jane Mayer on allegations against Brett Kavanaugh, his personal certainty hasn't been enough to convince everyone that Woody Allen is guilty of molesting his and Mia Farrow's adopted daughter Dylan Farrow back in the 1990s. Allen, who said last year that he hoped the #MeToo movement wouldn't devolve into a witch hunt, still has his stalwart supporters—plenty of whom are enthusiastically championing the #MeToo movement as a whole. They just don't know one way or another for sure when it comes to Allen.
And they're hardly alone in that club. Everyone's rooting for somebody to pull through these days, hoping that their guy's the one who didn't do it, or at least has learned his lesson.
As we said, some days it feels as if the only solution is to burn it all down—otherwise, the house will never be entirely clean.
Then, there are all the others. What to do with them? Presuming they rate lower on the Weinstein scale, what's too egregious a sin to come back from? How much do heartfelt apologies help, should we ever hear any?
Louis C.K., for instance, has now done two "surprise" stand-up sets at New York's Comedy Cellar (his comfy neighborhood stomping grounds) twice—and apparently he doesn't read his press, because on his second outing he again failed to address why he was driven off-stage in the first place, after it was the consensus that raw acknowledgment in public was the very least gesture of atonement he could have made.
"Everyone needed a break" is all he offered to explain his absence, according to Page Six.
Who knows how many others are quietly biding their time, thinking that if they time it juuuust right, they'll get their old lives back.
So while the landscape razed in Weinstein's wake has become fertile ground for hope, change and even justice in some cases, a toxic waste dump doesn't clean up overnight. Plus, some people weren't just unprepared for change—they're convinced that nothing needs changing. And this isn't just men. It's become only too clear in recent weeks just how many women think #MeToo is nonsense. More than a few makes for a sad state of affairs, and there are more than a few.
Then there's just the messy humanity of it all, the fact that there's no such thing as a perfect victim, or an open-and-shut case, a she (or he)-said-and-that's-it story that everyone believes, let alone constitutes a crime that can be easily prosecuted.
Asia Argento and Rose McGowan, once joined in solidarity as Weinstein accusers bravely speaking out, are now at odds, with Argento standing accused of having sex with an underage teen who once played her son in a movie. She then accused him of assaulting her, after claiming that her late boyfriend Anthony Bourdain—who became an outspoken supporter of the #MeToo cause—thought it was best to pay when the young man asked for money in exchange for his silence. Bourdain committed suicide in June, so we'll never know what he would have had to say about that. 
McGowan, who on Wednesday marked a year since the beginning "of one of the hardest years of [her] life," bungled some of the facts of the matter in denouncing Argento's actions, and she ended up issuing an apology.
Saul Loeb - Pool /Getty Images
Alyssa Milano, who helped revive Tarana Burke's decade-old #MeToo movement for this moment in time, earned herself a cardboard Saturday Night Live cameo over her trip to Washington, D.C., last week to watch Dr. Christine Blasey Ford and Judge Brett Kavanaugh give testimony regarding Ford's allegation that Kavanaugh sexually assaulted her in high school—a wrench in the Supreme Court confirmation proceedings that immediately turned into a blisteringly partisan power struggle. President Donald Trump, himself caught on tape bragging in 2005 that women let him grab them because he was famous, has thrown his full support behind Kavanaugh—and though he at first called Ford's testimony "compelling" and credible, he mocked her days later at a rally in Mississippi, in front of a cheering crowd.
With that not-so-mixed-message coming from the highest echelons of government, it's hard to whip up much excitement about the strides made by the #MeToo movement on some days. Matt Damon may end up with an Emmy nomination for his sidesplitting portrayal of Kavanaugh on the SNL season premiere, but to what end? 
"It was a very hard day to be in that room, but I was proud to be a woman and I was proud to be a survivor, and I felt like I needed to be there for other survivors that couldn't be there," Milano told CNN after the hearing.
Hollywood at least is desperately trying to police itself, but for all the influence the entertainment industry wields, and no matter how much certain celebrities are committed to turning this creaking ship around, the expedition has barely begun.
Twenty-seven years after Anita Hill testified that Supreme Court Justice nominee Clarence Thomas sexually harassed her when they worked together—which provided an enduring image and rallying cry but was ultimately only a speed bump on the way to Thomas being confirmed—Milano insists that this is a "different time."
"Women are standing together now in solidarity," she said.
Protesters descended on Washington Thursday upon hearing that senators were going ahead with the vote on Kavanaugh after a few days of delay so the FBI could further investigate Ford's allegations. Among them were Emily Ratajkowski and Amy Schumer, the latter of whom recorded a video message for a fellow protester's excited daughter, informing her that her mom loves her very much "and I think we're going to get arrested."
"Today I was arrested protesting the Supreme Court nomination of Brett Kavanaugh, a man who has been accused by multiple women of sexual assault," Ratajkowski tweeted afterward. "Men who hurt women can no longer be placed in positions of power."
Meanwhile, as the political experts weigh in, it's looking more and more as though Kavanaugh, who angrily denied doing anything wrong, will end up with a lifetime appointment to the Supreme Court.
There's no question that, since last year, more people are definitely listening. They're just not all hearing the same thing.