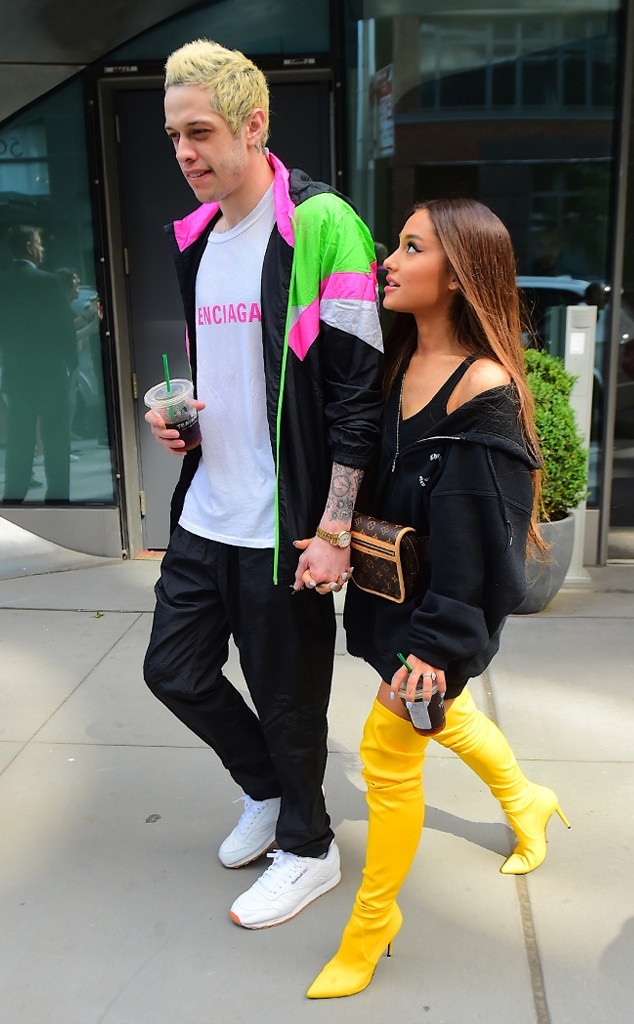 247PAPS.TV / SplashNews.com
Ariana Grande has returned her $100,000 engagement ring to Pete Davidson.
Over the weekend, it was revealed that the 25-year-old "No Tears Left to Cry" singer had called off her engagement with the 24-year-old Saturday Night Live star. Now, a source has confirmed that Grande returned the diamond ring that Davidson proposed to her with just months ago.
"She did give the ring back," the insider tells E! News. "She ended the engagement and felt that was the right thing to do. They are not 100% split but things are very up in the air."
The source adds, "She just knew they had to make a change and it wasn't a good situation the way it was going."
Watch:
Ariana Grande & Pete Davidson Break Up and Call Off Engagement
As for what will happen to the couple's recently adopted pet pig, Piggy Smallz, it sounds like he'll be staying with Grande. TMZ reports that it was the songstress who bought the pig, so she'll keep it.
Grande returned to social media on Monday, but has yet to directly address to the relationship news. Instead, Grande shared with her followers that she's still taking part in A Very Wicked Halloween. "Honored to be included in this celebration of 15 years of my favorite musical of all time," she said of the Wicked performance. "Wouldn't miss it for the whole universe #wicked15."
On Tuesday, Grande took to Instagram Story to share a behind-the-scenes photo of herself from the Wicked production.
"Can't believe I almost let my anxiety ruin this for me today!!!" Grande wrote. "Not today satan! Not tomorrow or the next day either not no more u can suck my big green d--k."
She concluded her message, "Finna sing my heart out and be a big walking vessel of love bye."
It's been a very difficult time for Grande, who is still mourning the death of her ex-boyfriend Mac Miller, who passed away just last month.
"Pete has really been there for Ariana," a source recently told E! News. "And she will always have a special place in her heart for him, but told him that right now is not the best time."