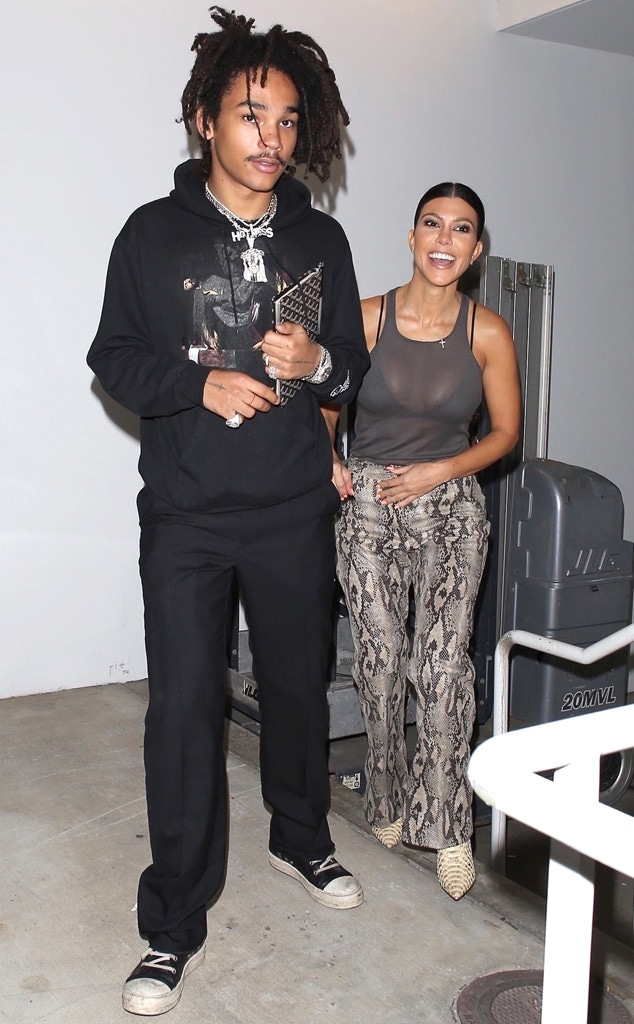 BACKGRID
It looks like it was a date night for Kourtney Kardashian and her new beau, Luka Sabbat. 
The reality star stepped out Wednesday night for the opening reception of the Murakami & Abloh "America Too" exhibition held at a gallery in Beverly Hills. However, she didn't spend the evening out alone—she was joined by the 20-year-old model and actor, with whom romance rumors first sparked last month. 
Donning a sheer tank top and snakeskin-print pants, the mom of three kept to her usual cool aesthetic. Sabbat opted for a comfortable look in black pants and a matching Off-White and Louis Vuitton hoodie with sneakers. 
"It was very crowded, but Kourtney and Luka stayed close together and weaved their way through the crowd. Kourtney was all smiles and they talked closely the entire evening," an eyewitness described to E! News. "They spent time on the outdoor patio, where Luka smoked a cigarette and Kourtney sipped a glass of wine. They laughed together and Kourtney was very flirty. She left giving Luka a coy smile and didn't take her eyes off of him. At one point, she stood against a wall and Luka talked to her very closely whispering in her face. They seemed very into each other and didn't want to be apart."
Photographers captured the TV star smiling from ear to ear as the pair headed to their ride. According to the eyewitness, they left together with a driver. 
Just a month after these two were romantically linked, it seems the pair are still seeing each other. Just days ago, the two joined a big group lunch date at Nobu on Sunday with younger sister Kendall Jenner, Anwar Hadid and Fai Khadra. Jenner has been linked to Hadid in recent months. 
As for Kourt and Luka, a source previously explained that the newly single reality star is enjoying herself. "Kourtney isn't looking for anything serious right now and is just enjoying her fun," the insider explained last month. "Her and Luka laugh a lot and she's enjoying her time with him. It's easy for her since they have had a prior friendship for the past year now."
"They started off as friends and it seems like its turning into more," a second source elaborated. "She is very attracted to him and wants to keep seeing him. She's known him for awhile and is very comfortable with him. She's always thought he was very easy to talk to and fun to hang out with."
Judging by her big smile, this star is definitely having fun.