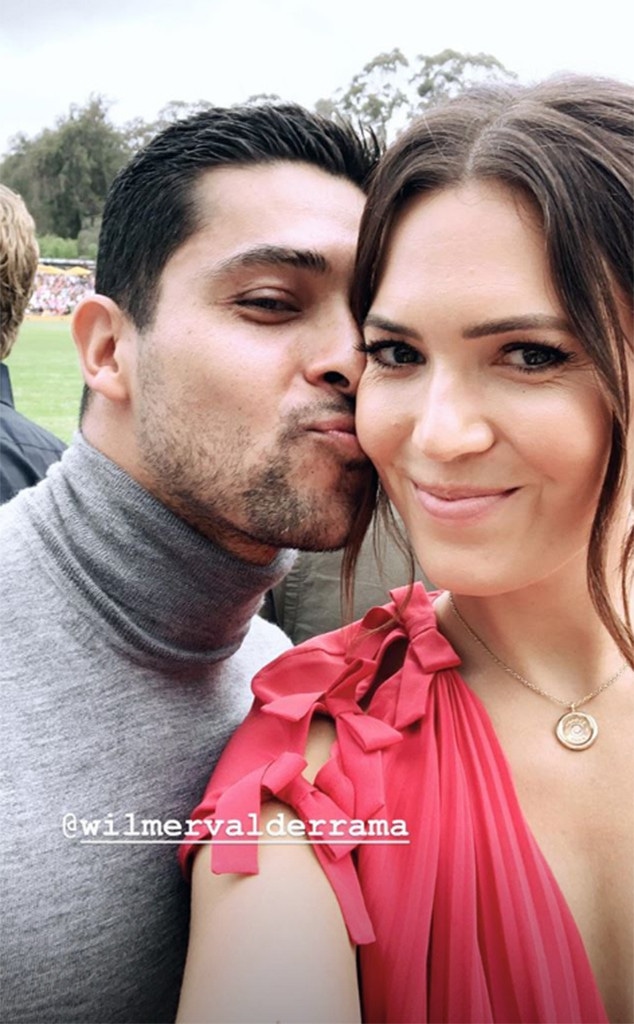 Instagram
Friendly exes alert!
Mandy Moore and ex-boyfriend Wilmer Valderrama, who famously weathered some kiss-and-tell drama more than a decade ago, reunited on Saturday at the 2018 Veuve Clicquot Polo Classic in Pacific Palisades, near Los Angeles. The 34-year-old This Is Us star posted on her Instagram Stories a selfie of her and the 38-year-old NCIS star and That '70s Show alum, showing him kissing her on the cheek.
At the event, the two hung out with fellow celebs such as Moore's co-stars, as well as Olivia Wilde, Garcelle Beauvais and Rumer Willis. Luxury jewelry designer Anita Ko also posted on her Instagram Stories a photo of Moore with Valderrama, showing her draping one arm over his shoulder and displaying her diamond engagement ring from fiancé Taylor Goldsmith. The actress reported the pic on her own feed.
"Friends forever," the caption read.
The actors have reunited publicly a few times over the years. In 2016, they bumped into each other on the Paramount Pictures studio lot while shooting their shows. Moore and Valderrama each posted selfies from that reunion on Instagram.
In 2015, the two attended one of Universal Studios Hollywood's Halloween Horror Nights with mutual friends.
Moore and Valderrama dated from 2000 to 2002, when she was a teenager. In 2006, the actor told Howard Stern on his X-rated radio show that he'd taken Moore's virginity, adding crudely, "The sex with Mandy was good, but it wasn't like warm apple pie."
Moore told ELLE that his comment was "utterly tacky, not even true and it hurt my feelings because I like him."
Months later, Valderrama told The Los Angeles Times, "This is what I have to say about the Howard Stern thing. When you go on Howard, you are in his home. And I allowed myself to be very playful about a lot of subjects and topics. Eventually such topics were paired up with certain names...Obviously, we know the media loves to get a little confirmation of a story line, and that is all they needed and they ran with it. I don't really have a real opinion about it anymore. I am so past it already." 
In June, Moore revisited the actor's claim about her again in her own interview on Stern's show. She said Valderrama did not in fact take her virginity.
"He's a very good friend and that's why I was so shocked by it because not only was it a fib, but it was so unlike him, it was so uncharacteristic," she said.

Moore also said that after she heard about his comment, she called the actor. She said "he tried to explain it away, that sort of, he did get caught up, he maybe insinuated more than outright said it."
"No, you outright said it," she said.
Her parents, she added, were "bummed."
"My dad was like, "What?! I liked that young man,'" she said. "I'm like, 'Dad, I know.'"