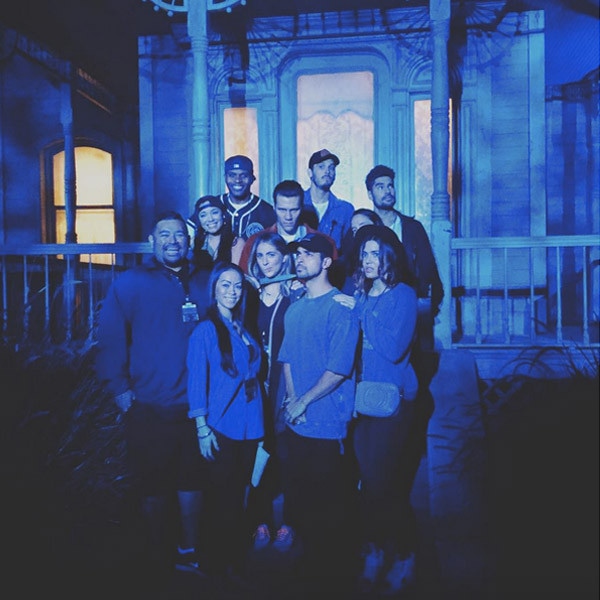 Instagram
Who says exes can't be friends?
Mandy Moore and Wilmer Valderrama, who dated from 2000 to 2002, reunited over the weekend while enjoying the haunts at Universal Studios Hollywood's Halloween Horror Nights. Moore, who split from husband of six years Ryan Adams in January, shared two pictures via Instagram. In one caption, she wrote, "At the Psycho house at #universalhhn w the crew including @emilyschuman, @wilmervalderrama and a hidden @rp1313. Quite the Sunday evening...."
Moore also posted a picture of herself posing with Valderrama and her BFF Raina Penchansky. "Also, I've know this goof (aka @wilmervalderrama) since I was 15! And @rp1313 has been my bff for nearly 12 years.... So many indelible memories and stories with these 2," the "I Wanna Be With You" singer wrote in the Instagram caption. "Always fun to catch up with an #HHN run."
Minority Report's Valderrama took to Twitter but made no mention of Moore, telling his followers, "Well.. @UniStudios you NEVER disappoint! @HorrorNights KEEPS GETTING BETTER! #UniversalHHN AWESOME TIME!"
Don't read too much into the exes' surprise reunion, though—it appears to be platonic. Moore's rumored boyfriend, musician Taylor Goldsmith, was performing with his band Dawes at Meeniyan Town Hall in Meeniyan, Australia. Meanwhile, Valderrama's longtime girlfriend, pop singer Demi Lovato, was photographed at the New York Jets vs. Washington Redskins game at MetLife Stadium.
Moore and Valderrama began dating after meeting on the set of a photo shoot in 2000, just as their stars were on the rise. In 2006, Valderrama told Howard Stern that he'd taken Moore's virginity. "The sex with Mandy was good, but it wasn't like warm apple pie," he said at the time. Moore responded to Valderrama's claim in Elle that year, explaining that her ex-boyfriend's remark was "utterly tacky, not even true and it hurt my feelings because I like him."
Months later, Valderrama told The Los Angeles Times, "This is what I have to say about the Howard Stern thing. When you go on Howard you are in his home. And I allowed myself to be very playful about a lot of subjects and topics. Eventually such topics were paired up with certain names...Obviously, we know the media loves to get a little confirmation of a story line, and that is all they needed and they ran with it. I don't really have a real opinion about it anymore. I am so past it already."
Nine years later, it seems both Valderrama and Moore are past the drama.
(E! and Universal Studios Hollywood are both part of the NBCUniversal family.)