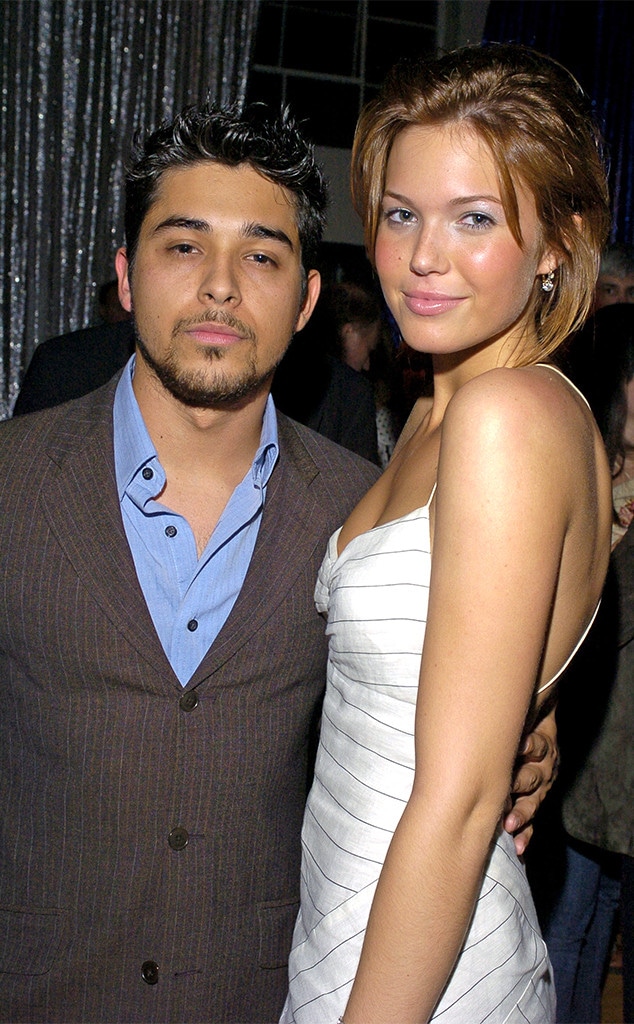 Lester Cohen/WireImage
Mandy Moore took a bumpy stroll down her relationship memory lane. 
Before she was the star of This Is Us, Moore had been an actress on the rise and a late '90s pop princess. During her earliest years in the spotlight, the star experienced her first "real, true boyfriend" when she started dating fellow 2000s star, Wilmer Valderrama, as a teen. 
As Moore recalled during an interview with Howard Stern on Wednesday, she met the That '70s Show star during a photo shoot for a magazine when she was 15 years old in 2000. While the relationship lasted for roughly two years, it was in 2006 that Valderrama told Stern he took her virgiity, leaving the star shocked and hurt.
"The sex with Mandy was good, but it wasn't like warm apple pie," he told Stern in an interview at the time. Moore responded to Valderrama's claim in Elle that year, explaining that her ex-boyfriend's remark was "utterly tacky, not even true and it hurt my feelings because I like him."
Moore revisited the claim again on Wednesday, telling Stern that Valderrama did not take her virginity. "He's a very good friend and that's why I was so shocked by it because not only was it a fib, but it was so unlike him, it was so uncharacteristic," she said of the comment. 

After she heard about the remark, Moore said she called Valderrama. "I remember in the moment he tried to explain it away that sort of he did get caught up, he maybe insinuated more than outright said it," she recalled. "No, you outright said it."
As she continued, "Why would you ever talk about that to anybody and lie about it?"
Moore has moved past the comment and said while she and Valderrama are not that close, they're friendly, have mutual friends and he even paid a visit to her house a few months ago. 
While the actor learned his lesson, Moore's father was not so pleased. "I just remember my parents' reaction. They were bummed. Don Moore, especially. My dad was like, "What?! I liked that young man.' I'm like, 'Dad, I know.'"
Valderrama was the first of her high-profile relationships. Moore later dated Andy Roddick and Zach Braff and was married to musician Ryan Adams, whom she separated from in 2014 after about five years of marriage.  
But, before her devastating split from Adams, she fell for Roddick when she was 18 years old after somehow meeting on a set. "He broke my heart, so I think we parted ways because of that," Moore recalled. "[The heartbreak] got poured into everything. It got poured into a record that eventually became an album that came out like three or four years after that."
"They get a wandering eye," Moore said generically about the men in her past. 
Looking back on the time of her relationship with Braff, Moore said she thought she had all the answers at that time in her life in her early 20s and thought they were going to be together forever.
"You're like, ''This is it, I know who I am, I know what I want.' I knew nothing in reality," she told Stern. She and Braff dated for two years. 
As for her split from Adams, it had not tainted her outlook on love. 
"It didn't sour my idea of romance or a marriage or monogamy or any of that. I just choose the wrong person," she said of that relationship. "We couldn't be more different, but that's what was attractive...we should have dated."
Her idea of romance certainly wasn't soured. Six months after she had separated, Moore went on her first date with now-fiancé Taylor Goldsmith. 
"I started to absolutely fall in love with him just by communicating," she recalled of their immediate time apart afterward while he was on tour. 
Two years of dating later, the two were engaged in September 2017. All that's left to do now is say "I do!"