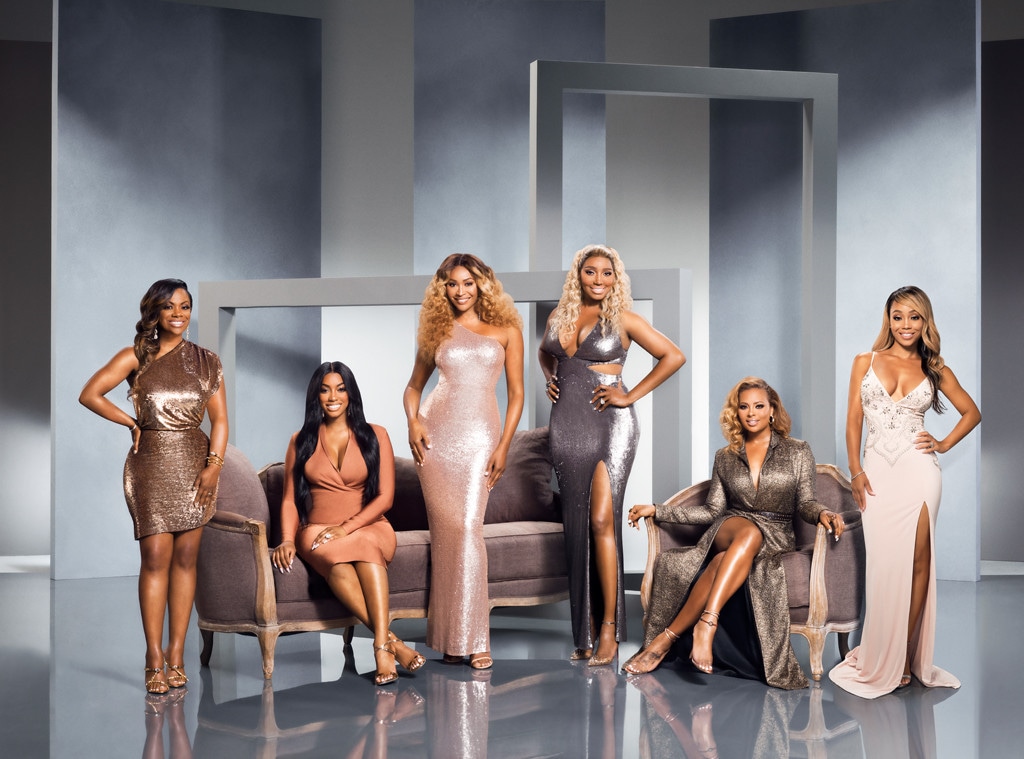 Bravo
It's officially been a decade of NeNe Leakes.
On October 7, 2008, Bravo introduced the world to The Real Housewives of Atlanta, the third installment in the cable network's prized franchise, making Leakes and her original co-stars Kim Zolciak and Sheree Whitfield into stars. (Other season one inclusions DeShawn Snow and Lisa Wu? Not so much.) Over the past 10 years, we've watched as the show welcomed more and more ladies, like Kandi Burruss, Cynthia Bailey, Phaedra Parks, Kenya Moore and Porsha Williams, who've brought more and more drama.
As fans of RHOA know all too well, these ladies know how to bring it in such an unrivaled way that it's no wonder they're the franchise's highest-rated installment. And if the trailer for next season is any indication, things are only getting crazier. So, in honor of their first decade on air—and in celebration of the impending season 11 premiere on November 4—we present, season by season, the definitive guide to The Real Housewives of Atlanta's juiciest scandals and feuds.
Bravo / Virginia Sherwood
Season One
Though only seven episodes long, the first season spent with Bravo's Georgian peaches introduced us to a mess of drama that would come to define the dynamics between NeNe and her off-then on-then off again co-stars Sheree and Kim almost immediately. We're talking episode one, when Kim and NeNe showed up at Sheree's birthday party, only to discover that NeNe's named had somehow been left off the guest list. While Sheree's publicist Tiffany owned up the oversight, NeNe only had one thing to say: "I don't give a f--k." OK, maybe two things: "It's gonna be war."
In the first season, we'd also watch as NeNe found out that the man she thought was her father actually wasn't, learn that Kim was living in the lap of luxury thanks to married and unnamed boyfriend Big Poppa and interested in pursuing her dream of being a recording artist, and witness the world's first fashion-less fashion show when Sheree's She by Sheree clothing launch didn't exactly go as planned.
By the time the reunion special rolled around, NeNe and Kim were firmly on the outs, with NeNe delivering the first of her iconic catchphrases when she told her former friend, "Close your legs to married men!" The sit-down with Andy Cohen was also the first time Kim spoke about the reason she wore wigs, offering a confusing explanation that she lost all her hair, was sick, was told she there was 90 percent she had cancer by a doctor friend, and then found out it "was a bunch of other stuff." What other stuff, you ask? The world may never know.
Season Two
When the show returned for its second season, DeShawn was out. In her place, Grammy-winning songwriter and member of '90s R&B girl group Xscape Kandi. Immediately, Sheree delivered the juicy goods when, in episode one, she got into an infamous fight with, of all people, the party planner hired to help celebrate her independence after her recent divorce. Say it with us now: "Who gon' check me, boo?"
Meanwhile, as the dynamics in the NeNe-Kim-Sheree triangle shifted yet again, with Kim on the outs early on, the other two arranged a "Kim-tervention" to try and squash all the beef. Naturally, it didn't go well, spilling out onto to the streets of Atlanta, where a surprise Michael Lohan cameo and a wig pull heard 'round the world soon followed.
Season two also saw the rise of the iconic "Tardy for the Party," the original Real Housewives vanity single that Kim asked Kandi to produce for both her and NeNe to record. Naturally, Kim went on to record the song without her friend, further fracturing their relationship while also doing damage to whatever bond NeNe and Kandi had begun to develop. By the end of the season, NeNe would have distanced herself from just about everyone, something that would become a common thread in her time on the show.
Season Three
The following year, Lisa would be gone, her absence hardly noticed. (Sorry, not sorry.) And to replace her, Bravo added both fashion model Cynthia and pregnant attorney Phaedra into the mix, introducing one of the most infamous names in RHOA's history. (More on that in a bit.)
Much of season three was dominated by newcomer Cynthia's pending nuptials to boyfriend and bar owner Peter Thomas. It was a relationship so fraught with tension, obvious money issues, and unwelcome outside influence, it's no wonder that they divorced years later. When your own mother and sister conspire to hide your marriage certificate on your wedding day, things are probably doomed. Cynthia's burgeoning friendship with NeNe throughout the season also gave us one of her more unforgettable contributions to the franchise when she introduced us all to the bizarre concept of a friendship contract. (It was a joke, people!)
Elsewhere, fans and fellow Housewives got their first taste of Phaedra's, shall we say, willingness to obfuscate the truth when she and former client-turned-husband Apollo Nida played fast and loose with details surrounding her due date. When, exactly, was baby Ayden conceived? We're still not really sure. 
Other major developments included NeNe contemplating a divorce from husband Gregg; Kim's lesbian dalliance, her pursuit of football player Kroy Biermann, and her decision to record a new single, "The Ring Didn't Mean a Thing"; and Kandi seriously regretting taking Kim on tour with her when, in the final weeks of the season, a blowout fight between her, Kim and NeNe erupted while they were all trapped on a bus traveling to Miami, leaving all three of them in a rocky place by season's end.
Season Four
For the first time in RHOA history, the show would return for its fourth season with nary a cast change. It would also mark the moment that NeNe's stock had risen, having competed in four of Celebrity Apprentice between seasons, something that would become a point of contention in her never-ending feud with Sheree when the pair sat down in the season premiere. What were they fighting over now? Inconsequential. What mattered was NeNe's GIF-worthy delivery of—say it with us—"I am very rich, bitch!"
With Kim kicking off the season quite pregnant with her and Kroy's first child, she began to ostracize herself from the group in such a way that her exit the following season was all but a given. Elsewhere, Phaedra and Kandi began to grow close as they both explored new career opportunities, which for the former involved the mortuary sciences and the latter, sex toys, Cynthia opened the Bailey Modeling Agency, Sheree began the years-long construction of Chateau Sheree and began to foster her reputation as the group's bone collector after running to tell Kim things the other ladies said about her, and NeNe began exploring a life on the west coast after meeting with the producers of Glee.
Season four also introduced us to two new supporting players who would come to play major roles in the drama moving forward. We're talking, of course, about Marlo Hampton and Mama Joyce. Marlo, forever a Friend, never a Housewife, turned in her first iconic moment on the series during the ladies' group trip to South Africa (which she wasn't actually invited on in the first place) when, after inquiring as to why Sheree failed to invite her along to the night's dinner party, the two entered into a shouting match of epic proportions that devolved into utter gibberish and saw Marlo utter an ugly gay slur.
Meanwhile, Kandi's mom began to make a new for herself amongst fans after taking great exception to Phaedra's stripper friend Ridickulous performing at her daughter's 35th birthday party and inserting herself into NeNe and Kim's drama, trying to mend fences despite no one asking her to.
Season Five
When the show returned for its fifth year, Sheree was no longer in the mix and Kim was on the way out, departing in episode six after she decides she no longer wants to participate in any of the group activities anymore. (It didn't hurt that she'd just had her wedding turned into a solo special on the network, the success of which led to her spin-off, Don't Be Tardy.) In their place were Kenya, the former Miss USA, and Porsha, granddaughter of famed civil rights activist Hosea Williams and, at the time, wife to former NFL quarterback Kordell Stewart.
Kenya's impact was immediate and powerful, as she immediately began feuding with Porsha (who dared to call her by the wrong title at an event in episode three)--a feud that would almost swallow the franchise whole for a few years--before going toe-to-toe with Phaedra over the whole booty workout video debacle and her too-close-for-comfort interactions with Apollo. And who can forget her bizarre relationship with boyfriend Walter, who she really wanted to propose despite all signs pointing to him really not wanting to propose? Or the time she told the ladies that people tell her she looks like Beyonce every day? Or when she dropped a line so iconic while in Anguilla that even Beyonce has been known to repeat it? Say it with us now: "I'm gone with the wind fabulous!" For a newbie, Kenya Brought. It. in her first season.
Kenya alone would've made season five worth the price of admission, but the other ladies were far from boring. Kandi found herself in a new relationship with Todd Tucker, a former RHOA producer turned cast member thanks to this love connection. They would be engaged by the time they sat down to tape the reunion, and then things would get really crazy for them. But more on that later. NeNe had one foot out the door and on its way Los Angeles, where she was moving to film her new NBC sitcom The New Normal (created by Ryan Murphy!). Never forget when the ladies went to visit her, showed up to her house for dinner two hours late, and then weren't allowed in by their perturbed host. Bloop! And Cynthia, well, Cynthia was still trying to make the Bailey Agency happen and her marriage work. Bless her for trying.
Season Six
With the cast remaining in tact from the previous season (NeNe was back in town for good after her sitcom had been quickly canceled), the sixth season's big drama, initially, came courtesy of Kandi and her engagement. Remember how we said Mama Joyce would come to play a major role in the series? This is when it began, as she immediately made her dislike and distrust in her daughter's new fiance abundantly clear. What it all really boiled down to? "I don't want you to choke on a chicken bone and him be able to come over here and tell me I got to get out," Joyce told her daughter, fearful of her own gravy train coming to an end someday. This ugly hectoring of her daughter's new love would last all season--and then some. (And to be honest, we're not entirely convinced that it's not still happening today.)
Season six was a season of change for some wives (NeNe was reconciled with Gregg, Porsha was divorcing from Kordell, and Kenya was busy defending herself from accusations of having sent sexual text messages to Apollo) and never was that more clear than the shifting dynamic in NeNe and Cynthia's friendship. From a brutal disagreement about parenting styles while in Savannah to NeNe's many skirmishes with Peter, where she called him a bitch in one for his habit of inserting himself into arguments amongst the ladies, these former besties were not in the best place by season's end.
And there's no avoiding that it was also a rather violent season. With Phaedra and Kenya's feud raising tensions amongst the entire group, things hit an explosive boil at NeNe's co-ed pajama party mid-season when Apollo attacked Kenya's gay BFF Brandon and Kandi had to be dragged out of the room after accusations were leveled against Todd and she erupted, shouting, "I will drag you in this, bitch!"
Things also got physical during the reunion taping when, during an especially heated exchange between Kenya (waving a scepter in everyone's face) and Porsha, which saw Porsha call her enemy a "slut from the '90s" before Kenya pulled out a megaphone and called her a "dumb ho," Porsha dove across the couch--knocking poor Cynthia out of the way--and dragged Kenya across the floor by her hair extensions. Once the dust had settled, Andy Cohen asked Porsha to leave for the remainder of the day. She was later arrested for misdemeanor battery.
Oh, and this was also the season that Porsha, while joining the ladies on a tour of the Freedom Trail, expressed some troubling confusion over the nature of the Underground Railroad. After seeing ventilation holes in the floor of a church, drilled to provide oxygen to escaped slaves crawling to safety, she wondered aloud, "There has to be an opening for the railroad."
Season Seven
After the stunning events at the reunion special, Porsha found herself demoted to recurring status for the show's seventh season. New in the mix was Deal or No Deal model Claudia Jordan, whose tagline "Don't hate me because I'm beautiful. Hate me because I'm here to stay" proved to be quite unfortunate. You'll see why in just a little bit. During her inaugural season, she formed a tight bond with Kenya, who'd just been vindicated in her sexting scandal, and frequently sparred with NeNe. While in Puerto Rico, their feud came to a head with an epic read-off that included these hilarious and bizarre one-liners from NeNe: "Money couldn't buy you a new p---y, could it?" and "Your c--t has left your body." Priceless.
Meanwhile, Kandi's home life was still messy thanks to Mama Joyce, who dragged Todd's mom Sharon into the mix in her never-ending quest to break her daughter's heart, Cynthia and Kenya were getting closer than ever, and Phaedra's friendship with Kandi was beginning to deteriorate while her marriage was falling apart after Apollo plead guilty to conspiracy to commit bank, mail and wire fraud, earning him a six year sentence at a federal prison in Kentucky. But before he went away, he finally admitted that he'd exaggerated Kenya's role in their alleged flirtation, apologizing for it, and also harassed his estranged wife, accusing her of having an affair and making threats against her safety. Good riddance, Apollo. See ya never.
Season Eight
With her acting career back on track thanks to a successful run on Broadway, NeNe chose to leave the series after season seven. And Claudia "Here To Stay" Jordan? She was a one-and-done, replaced by former Facts of Life star Kim Fields in what was truly a case of "trying to shove a square peg through a round hole" casting. Porsha was back full-time, while, after three seasons away, Sheree returned in a recurring capacity, alongside newcomer Shamea Morton.
The season kicked off with Cynthia struggling with her marriage after a video seemingly catching Peter being unfaithful went viral, but the former model's troubles quickly got more series when she and Porsha sparred during a booze cruise on Lake Lanier, resulting in Cynthia kicking Porsha in the stomach. Who ever said she was boring? A pregnant Kandi and Phaedra attempted to rebuild their friendship, to no real avail, while Kenya went from sucking up to new pal Kim to trying to completely eviscerate her at every turn after Cynthia chose her to direct her eyewear line commercial in Jamaica over Kenya, including spreading rumors about her Kim's husband's sexuality, putting Cynthia in the middle and a strain on the friendship. (Speaking of Jamaica, NeNe made a surprise appearance on the trip, proving one can never really stay away.)
And who can forget the disastrous trip to Miami when Kenya asked the aggressive nephew of Cynthia's friend Tammy to leave their house, only to have the guy get so irate, calling Kenya a "little bitch," that he shoved his own aunt down onto the porcelain floor and had to be forcibly removed by security? As for Tammy, she was taken to the hospital, only to return in the creepiest of fashions in the middle of the night to collect her belongings. It was truly bizarre.
In the reunion special, unseen footage filmed outside Phaedra's holiday party in the season finale was revealed, showing Porsha getting involved in yet another physical altercation, calling in to question her rehabbed ways and her newfound anger management skills. The more things change, the more they stay the same, right?
Season Nine
With Kim understandably running for the hills after her rocky first season and NeNe still staying away (this time for the entire season), Sheree was re-upped to full-time status for the show's ninth season, with Marlo and Shamea making frequent appearances. Throughout the season, we watched as Cynthia's marriage to Peter finally, officially ended for good, Kenya struggled with the violent end of her relationship with boyfriend Matt while entering into a ridiculous real estate pissing match with Sheree over their respective homes that were being constructed in the same area--yes, Chateau Sheree was still under construction all these years later--and Kandi and Todd embarked on opening their Old Lady Gang restaurant.
But nothing consumed the season more than the bitter end of Phaedra and Kandi's friendship, which saw the lawyer completely destroy her own reputation, effectively firing herself from the series. Allows to explain. As Phaedra and Porsha grew closer and closer, calling themselves Frick and Frack, rumors began to spread about Kandi and Todd and their bedroom antics; namely that they'd invited Porsha home with them, which, as consenting adults, is well within their rights. But things got ugly when Porsha further accused them of planning to slip something in her drink to make the sexual conquest happen, something she said she'd heard in the streets.
All season long, the question of who told Porsha that Kandi and Todd wanted to drug and rape her lingered until, in the unbelievably intense four-part (!!) reunion special, Porsha finally admitted that it was Phaedra who told her. As she told it, Phaedra had heard of the plan from Kandi herself. But when put on the spot, Phaedra's story began to change. Suddenly, it was just a rumor she'd heard. Porsha, realizing she'd been used in the most vicious of ways, broke down. Kandi wanted answers from her former friend; namely, how could she concoct such a criminal rumor. Everyone else sat stunned. And Phaedra, she didn't really have much to say for herself. And that was the end of Phaedra Parks, Esq.
Season Ten
For the show's landmark tenth season, NeNe was back in the mix, filling the Phaedra-sized hole in the cast line-up. Also back? Kim Zolciak-Biermann, recurring for the first time since season five. She'd made a guest appearance in the season nine finale, immediately starting beef with Kenya that would carry over into the new season. Also joining the cast in a recurring capacity was America's Next Top Model alum Eva Marcille and Marlo. Can't forget about Marlo.
Porsha spent much of the season on the outs, understandably, punishment for her role in the shocking lies spread about Kandi, while Kenya surprised everyone by kicking the season off newly married to a man she refused to let anyone meet. Cynthia's new man Will caused her plenty of grief, as many of the ladies saw him as an opportunist, while Sheree juggled a relationship with an incarcerated felon. While NeNe dealt with Gregg's worsening health--he's since been diagnosed with cancer--she also had to deal with her old frenemy Kim's reemergence in her life.
Not only did she show up at one of NeNe's party uninvited, where she got into a brutal verbal altercation with Kenya and accused NeNe of parking in handicap spots despite not having a handicap, but Kim also let her daughter Brielle post a video on social media in one of NeNe's bathrooms, showing a roach crawling. NeNe called the pair racist in response and, during the group trip to Barcelona, said that Kim wasn't there because they wouldn't let Kroy tag along, while also casting doubt on the legitimacy of Kim's many ailments. Ever the bone collector, Sheree promptly phoned Kim from Spain to let her know what had been said, prompting Kim to send the rest of the cast a lengthy text with the roach video attached, calling NeNe "sick and disgusting."
During the reunion special, the ladies aired out all their grievances with Kim over the years, leading her to storm off and later tell Andy, "You know why you haven't found another white woman to sit on that [couch]? Because nobody's dumb enough to do that" and "This whole racism thing in this day and age is bulls--t." Not exactly proving the haters wrong, Kim.
As we head into season 11, the cast has shifted once more. Gone are Kim (no duh), Sheree and Kenya. Holding their peaches full-time are NeNe, Cynthia, Porsha, and Kandi, joined by Eva and newcomer Shamari DeVoe. What's in store? That remains to be seen, but one thing's for sure, it certainly won't be boring. That's not the Atlanta way.
The Real Housewives of Atlanta returns for season 11 on Sunday, Nov. 4 at 8 p.m. on Bravo.
(E! and Bravo are both part of the NBCUniversal family.)