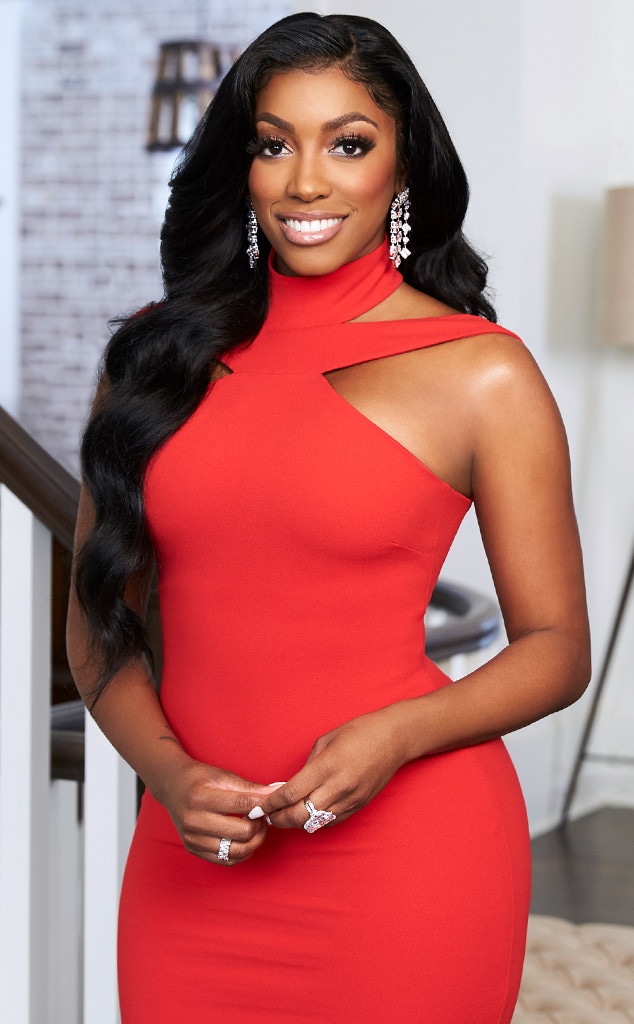 Alex Martinez/Bravo
Here's some news that's as sweet as a Georgia peach: Real Housewives of Atlanta star Porsha Williams is engaged to her boyfriend, Dennis McKinley.
A number of Real Housewives of Atlanta Instagram fan pages posted pictures of Porsha smiling and bending her hand with a giant diamond ring on full display. A source confirmed the engagement to E! News, and said we'll see Dennis pop the question on an episode of the show.
It's been a big month for the Housewives star and Dennis. On Sept. 19, Porsha announced on Instagram that she's pregnant. "I am happy, healthy... and pregnant!" she wrote. According to People, the reality TV star had a miscarriage six years ago. "I've had a miscarriage before in my past, which I've also been open about because I suffer with fibroids and had to have a myomectomy," she told the magazine.
Porsha explained that the baby news "came from the left, but it definitely has brought us closer together."
Ever since Porsha's pregnancy announcement, the model has been posting photos across social media of her growing baby bump and her eagerness to meet her little baby.
In 2012, Porsha wrote about her miscarriage in a Bravo blog post. "Here I am just months from having major surgery for a fibroid that caused my unfortunate miscarriage. That day I was full of so many feelings and mixed emotions," she revealed. "I decided to open-up because if my story can help one female to take notice of what her body is telling her, if my story can cause one women to ask her doctor for a fibroid test prior to trying to conceive, then it will not have been told in vain. I try to formulate a plan, pray on what I desire, and many times it comes into fruition. However on my path to having a healthy baby, well, it didn't happen that way for me."
Later on, the Housewives star admitted she felt "really devastated" after the miscarriage and "an aching sense of loss and loneliness like my body had let me down."
But things are looking up for Porsha and Dennis. She told People she thinks her beau has "probably shed more tears during the process than me."
There have been a few inklings as to whether or not Porsha accidentally revealed the baby's sex. In an Instagram post last week, she commented on a photo of a row of baby girls napping in salon chairs and wrote, "Omg I wish my baby was out !! I would have her right there getting done up lol."
Another hint may have been dropped that leads some people to think she could be having a baby girl, thanks to Porsha's sister Lauren. Lauren shared a picture from Porsha's baby shower this weekend that showed the mom-to-be holding her niece, Bayleigh. Lauren captioned it, "My 3 girls #wishfulthinking."
So while we don't know the baby's sex just yet, one thing is certain: Porsha is simply glowing.