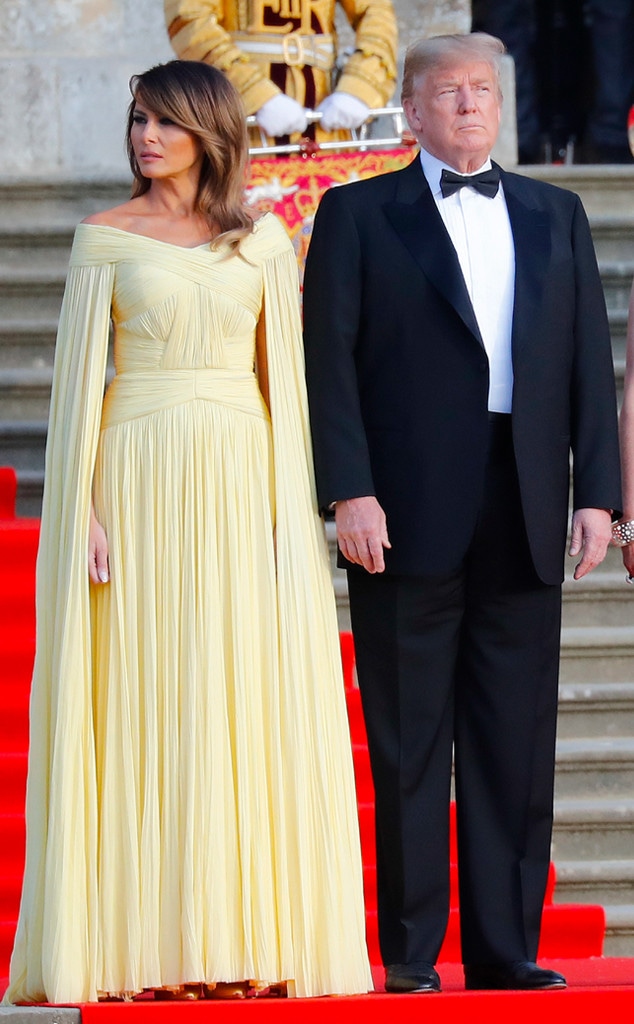 Pablo Martinez Monsivais/AP/Shutterstock
As she encourages others to "Be Best," Melania Trump is doing the best she can.
The first lady of the United States, who didn't necessarily want the role but at the same time was Donald Trump's most stalwart champion during his run for president, hasn't had an easy time adjusting to White House life—a transition made no easier by her husband's penchant for stirring up controversy on a daily basis.
But Melania has been living full-time in Washington, D.C., for almost 16 months now, and, slowly but surely—and mainly by sticking to what she feels are her strengths—she has carved out a role that suits her desire for privacy, her commitment to being a full-time parent to son Barron Trump and her general distaste for politics (or at least the nasty gamesmanship).
When the spotlight naturally falls on her, such as during their first State Dinner in April that she took pride in overseeing herself down to the last detail, she shines like the socialite and genteel host she was as the wife of real estate magnate and reality show host Donald Trump. But she hasn't particularly sought it out, especially because no matter how much her approval rating eclipses the president's, people are always eager to connect her actions to his—despite her myriad attempts to make it clear that she's her own woman.
Yet all eyes will be on Melania Trump this week while she's on her first big solo trip abroad on behalf of the Trump administration, a five-day tour of Africa that started Tuesday in Ghana.
Her first stop: visiting mothers and children and cradling babies at Greater Accra Regional Hospital.
The Trump team gifted moms at the hospital with teddy bears and blankets branded "Be Best," the name of Melania's main initiative so far, its objective being to encourage young people to—in a nutshell—be kind to each other, avoid drugs and work toward their fullest potential as citizens of the world.
SAUL LOEB/AFP/Getty Images
"Her trip will focus on maternal and newborn care in hospitals, education for children, the deep culture and history woven into each African country, and how the United States is supporting each country on its journey to self-reliance," the White House said before she left.
"Whether it is education, drug addiction, hunger, online safety or bullying, poverty or disease, it is too often children who are hit first, and hardest, across the globe," Melania said in a brief address to a group that included the spouses of foreign leaders last week in New York, when they were in town for the United Nations General Assembly. "Each of us hails from a country with its own unique challenges, but I know in my heart we are united by our commitment to raising the next generation to be happy, healthy and morally responsible adults."
The optics are pretty impeccable, like the $2,300 Céline dress she wore in Accra, but at the same time the Trump administration has proposed cuts to the U.S. Agency for International Development, whose programs will be on prominent display during the first lady's trip. That, however, is for the policy wonks to figure out. Mrs. Trump's priorities this week are to spread good will and present a congenial face to the rest of the world.
Of course, her face has never been the problem.
Melania Trump—on purpose, according to some; accidentally, according to others—has largely left those who are scrutinizing her every move looking for clues as to her actual state of mind with more questions than answers.
Was she trolling her husband, his critics or expressly the media (as the president himself insisted) with her "I really don't care, do u?" Zara jacket that she wore in Texas to visit shelters housing children who'd been separated from their parents at the U.S.-Mexico border? Was that another case of the pussy bow blouse? Or was the pussy bow blouse even all it was cracked up to be at the time? Was she trying to channel Hillary Clinton in a white pantsuit at the State of the Union address in January?
"No one tells the first lady what to do," the first lady's spokeswoman Stephanie Grisham told reporters in response to the furor over the jacket. "Our office has nothing to do with what clothing choices she makes and this situation was no different."
Is her entire anti-bullying agenda—which is routinely mocked by the president's critics, with "be best" derided as "the worst"—actually a massive middle finger directed her husband's way? Did she choose the location for her first extended international trip because of her husband's crack about "s--thole countries" in Africa?
Twitter even held out hope that Melania was wearing all black on Sept. 25, when Trump addressed the United Nations General Assembly in New York, in support of sexual assault victims and the national walk-out that occurred the previous day.
"Maybe it's just a coincidence... or maybe not," one commenter wrote.
Can FLOTUS possibly be living her life like that, or is she just doing all she can to keep it together while Trump is in office?
She did blatantly signal support for LeBron James' activism this summer—he had just opened a brand new public school in his native Akron, Ohio—right after her husband implied on Twitter that the NBA star, who's been a vocal critic of the president, was dumb. "It looks like LeBron James is working to do good things on behalf of our next generation, and just as she always has, the first lady encourages everyone to have an open dialogue about issues facing children today," Grisham said in a statement.
Perhaps she couldn't figure out how to object to that one with clothes, and just had to come right out and say it.
"She is a woman of grit, never afraid to speak her mind," Karen LeFrak, wife of real estate developer Richard LeFrak and a close friend of the first lady, told the New York Times in August. "As a friend, I've seen how she handles her role as first lady with the same finesse and care as she uses in her friendships—always quality over quantity."
J. Scott Applewhite/AP/REX/Shutterstock
But even if she were still just living the average celebrity life in Trump Tower these days, this wouldn't have been an easy year for Melania. Though it's a highly unlikely possibility considering their current situation and her commitment to appearances, the first lady has been the subject of she-wants-out rumors, spurred by the re-emergence of Stormy Daniels and the eventual revelation that the porn actress was indeed paid $130,000 from former Trump attorney Michael Cohen to stay silent about an affair she claims (in great detail in her new memoir) to have had with Trump in 2006, just a few months after Barron was born.
When Melania spent five days hospitalized at Walter Reed National Military Medical Center to be treated for a kidney condition in May, the Internet was rife with snark that she was enjoying anything that took her away from the White House.
"She is very, very unhappy with her life," a source told Us Weekly in March. "If she could, she would get away from Donald and just be with her son."
"She's obsessed with Barron. That is her focus 100 percent," an insider says in Bob Woodward's new book Fear: Trump in the White House.
"People should stop speaking for her," Daniels, whose real name is Stephanie Clifford, said in an interview with Britain's Mirror in August. "Maybe she's happy. Everything we say about her is a projection." She added, "The entire world would be interested to know what she feels. But if we never know, that is her right and I support it."
Michael Wolff's book Fire and Fury, which came out in January, painted Trump as a remote husband and father—albeit one who constantly seeks his wife's counsel and approval (that latter part has been backed up by many people close to the couple). And, according to the book (which the administration blasted as a work of fiction but overall didn't differ that much in theme from other journalistic accounts, including Fear), Melania was just fine with Trump doing his own thing and mainly leaving her to her own devices.
Which largely seems to be what she's doing now, just on a grander scale.
If Jacqueline Kennedy was the first lady she most sought to emulate coming in, then she has stuck to her plan, particularly when it comes to turning a blind eye to her husband's more egregious behavior. And no matter what, she's going down as one of the most stylish first ladies ever. Melania favors an array of designers and, the occasional sneaker or off-the-rack jacket aside, sticks primarily to high-high fashion rather than mix in more attainable pieces as Michelle Obama did or don the conservative looks—tailored skirt suits, modest dresses and more tailored skirt suits—favored by Laura Bush and Nancy Reagan.
According to the New York Times, Melania goes to New York at least once a month to see friends and her sister. Her parents, Viktor and Amalja Knavs, became U.S. citizens earlier this year (another point of controversy, as they benefited from the "chain migration" system the president has denounced) and split their time between a residence in Trump Tower, Mar-a-Lago and guest quarters at the White House. She also still sees her longtime hair stylist, Mordechai Alvow, who's known the first lady since 2005. 
"The fact that we've known each other for a really long time before this thing happened has created some comfort and trust," Alvow told Refinery 29 this summer, noting that they talk about projects she's working on but he doesn't bring up politics unless she does. (And he uses his own line, Yarok Hair—average price of a product $20—to maintain the first lady's locks.)
Lintao Zhang/Pool Photo via AP
"When someone is going to be in the eyes of the public and will constantly be on the news, there is a look that people want to understand and be comfortable with and associate with," Alvow said. "She's not like a performer. There is a look about her where it's almost like she's the mother of the public. You want your mother to have one steady look."
That is true, and Melania has become partially responsible—whether she wants to be or not—for reminding the rest of the world that not all is amok in the White House.
In July, the New York Times reported that Trump was irate to find that his wife's TV aboard Air Force One was tuned to CNN, which he has endlessly decried as "fake news." Her office explained that the first lady was free to watch "any channel she wants."
She maintains a relatively small staff, fewer than a dozen people, and, though there's been some turnover since the team was first compiled (and not without controversy), her office doesn't leak like the sieve that is her husband's administration. In fact, no one has had a negative thing to say about working for Melania.
Clint Spaulding/WWD/REX/Shutterstoc
Longtime friend and former Vogue PR manager Stephanie Winston Wolkoff started off as an unpaid senior adviser consulting on special projects, but now she's back to regular confidante status, a member of the inner New York circle Melania stays in close contact with via text. Wolkoff left in February amid reports that her event planning firm had been paid $26 million for its work on Trump's 2017 inauguration (contracted and paid for by the nonprofit inaugural committee).
"It unfortunately brought an abrupt end to the efforts and partnerships we'd developed to improve the well-being of children, which Mrs. Trump genuinely cares about," Wolkoff, who denied that she was fired by the Trumps over these money matters, later explained to the Times. "The end outcome was not what I expected, but this had more to do with other factions of the White House."
Melania finally hired a policy director, Reagan Hedlund (née Thompson), not long after Fire and Fury came out with its portrayal of a first lady who did not want to be there, but she left in August, a few months after the "Be Best" roll-out.
"I am very grateful to the first lady for the opportunity to help launch her policy initiative," Hedlund told Politico at the time. "It was a rare opportunity to contribute at such a high level. It was a difficult decision to leave. However I have decided to return to my roots in the foreign policy world." She was previously an executive assistant at the National Security Council.
Carolyn Kaster/AP/Shutterstock
After visiting the hospital in Accra yesterday, Melania was off to have tea with Ghana's first lady, Rebecca Akufo-Addo, at the presidential palace, where they exchanged gifts—an engraved Chippendale tray for Akufo-Addo and traditional Kente cloth and other African artifacts for Mrs. Trump. Her trip will also take her to Malawi, Kenya and Egypt, "beautiful and very different countries in Africa," she said of all her destinations at the U.N. reception last week.
"It was beautiful," Trump told reporters from the White House lawn, referring to TV footage he'd watched of his wife in Ghana. "She's really doing a great job as first lady."
He also tweeted, "Proud of our great First Lady - and she loves doing this!"
We believe it.