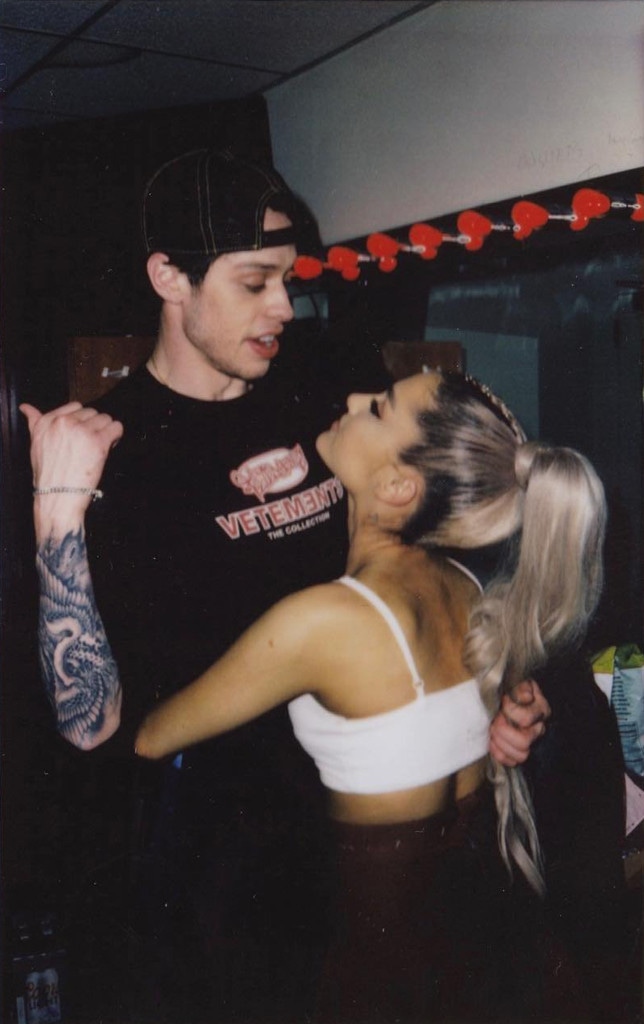 Instagram
As they say...the couple that jokes together stays together. 
Pete Davidson is back on Instagram—and his famous fiancé has noticed. After purging his account back in July, the SNL star returned to the social media platform with a new post: a blurry polaroid shot of what appears to be him. "Hooray romano," Davidson captioned the snap. 
It definitely popped up on Ariana Grande's feed because the songstress left two cheeky comments. "Where is the mixtape," she first asked. "This is sick and ur page looks cool never post again," Grande quipped in a second remark. 
It seems Grande, who recently mourned the unexpected death of her 26-year-old ex-boyfriend Mac Miller last month, is in happier spirits as of late. 
She expressed some of her anguish on social media last week, tweeting, "Can i pls have one okay day. just one. pls."
After skipping the 2018 Emmys, Grande's team said in a statement, "Given the events of the past couple of years, Ariana is going to take some much needed time to heal and mend. She will be staying close to home and using this period to spend time with her loved ones and work on new music without deadline. She thanks her fans for their understanding."
In the midst of her emotional plea on Twitter, the star reassured her devoted and concerned fans. 
"Ur angels in my life. it's just been a tough month. i'm trying to get my work done and get back to normal and it's hard and i'm human and tired," she wrote. "Sorry i let u in or worried u. i shouldn't have tweeted. i kno better."
With fall fully in motion, Grande got back into the swing of things by visiting the Sweetener Spotify installation in New York City over the weekend and visited with Davidson at SNL, where he kicked off the season premiere of the NBC series Saturday night. Creator Lorne Michaels previously revealed Grande was originally scheduled to perform, but dropped out due to "emotional reasons." Kanye West ultimately took her spot. 
Meanwhile, the comedian had a few things he wanted to catch the audience up on about his eventful summer. "I got engaged and no one could believe it. I can't believe it and I get it. She's number one pop star in the world and I'm that guy from SNL everyone thinks is in desperate need of more blood," he joked with Colin Jost during "Weekend Update."

"Obviously I wanted [a prenuptial agreement]. So God forbid we split up and she takes half my sneakers?" he added. "No, look, I'm totally comfortable being with a successful woman. I think it's dope. I live at her place. She pays 60 grand for rent and all I have to do is stock the fridge."