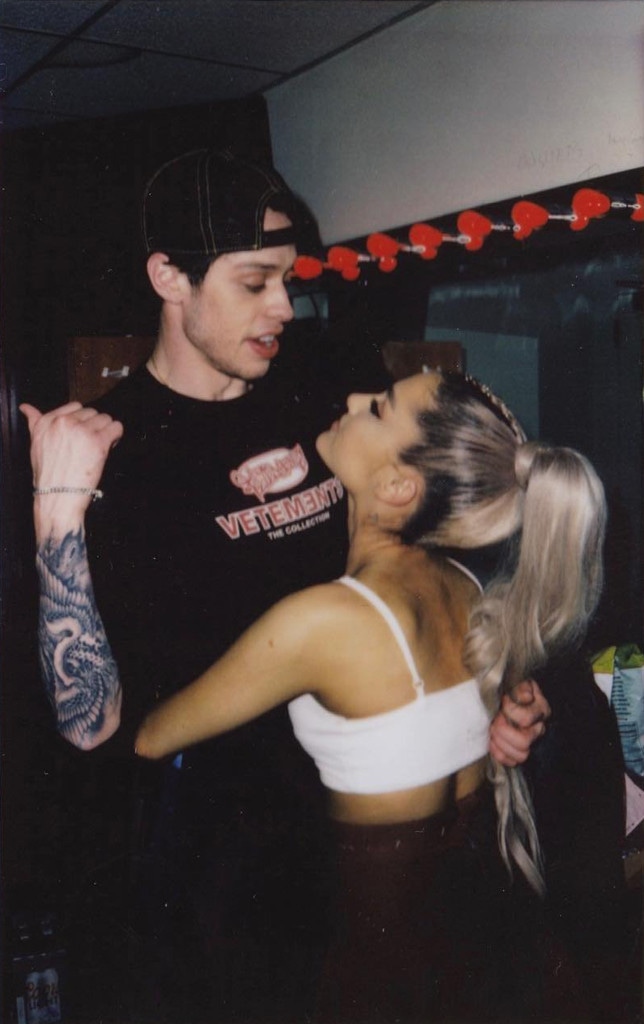 Instagram
Pete Davidson is tired of the negativity.
On Monday, the Saturday Night Live star took down all of his photos on Instagram, including the adorable photos with his fiancé, Ariana Grande.
And the madness doesn't stop there. It appears the pop star has disabled the comments section on her own Instagram. She later tweeted, "The energy you put out is exactly what you get back, please create a beautiful life for yourselves."
Davidson explained the social media purge in his Instagram Stories, telling followers, "No, there's nothing wrong. No, nothing happened. No, there's nothing cryptic about anything. I just don't wanna be on Instagram anymore. Or any social media platform."
"The internet is an evil place and it doesn't make me feel good. Why should I spend any time on negative energy when my real life is f--king lit. The fact that I even have to say this proves my point," he continued. 
But before fans could panic, the star said, "I love you all and I'm sure I'll be back at some point."
Fans were shocked after seeing Davidson's account wiped of all past posts considering the public nature of the couple, but it's understandable considering the barrage of negative comments.
Most recently, the comedian was criticized for saying, "what a cutie," on a photo of Ariana and her grandfather, who died in July 2014 of cancer. One Instagram user then claimed that the comment was inappropriate.
"Are you guys all insane? I was talking about how cute her grandpa is. What's wrong with that? You guys will really look for anything to attack people. It's sad," Davidson fired back.
Pete isn't the only one who has had to defend himself. On Friday, Grande drew criticism for naming a song, "Pete," after dating the actor for only a short time. The 25-year-old explained, "He's my fiancé. This is my album. I'm an honest and emotional artist and human being and if my openness in my work isn't for you, that's OK; I won't be offended. Still wishing y'all all the love in the world."
And as Davidson begins to pull away from the public eye, it appears that the singer's ex, Mac Miller, is feeling more comfortable returning to it. In a recent interview, the rapper addressed life after his breakup with the Dangerous Woman performer and how he feels about her engagement. "I am happy for her and moving forward with her life just as I'm sure she is with me," Miller stated.
We hope Pete and Ariana don't let the haters get them down!