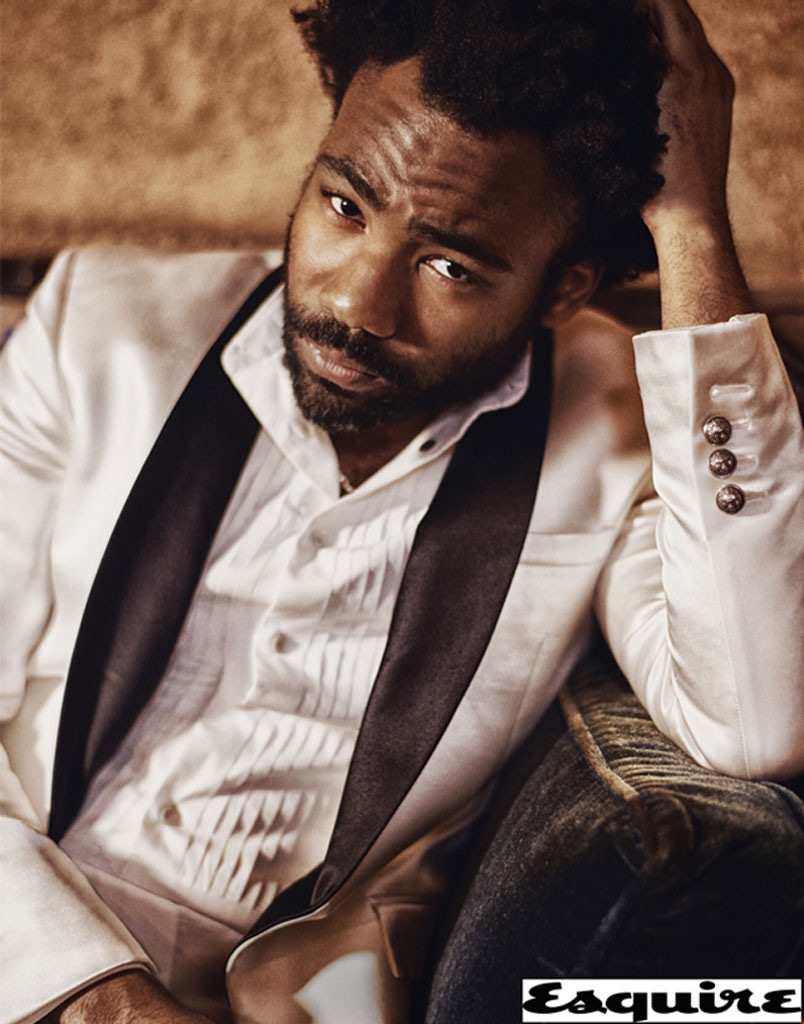 David Burton
How much do you really know about Donald Glover?
Go ahead and think about it. We'll wait.
Outside of his many pop culture contributions in the worlds of movies, TV, and music, the answer is "not much," right? 
When you think of what's expected of celebrities in these social media-driven times and you take a look at all the multi-hyphenate has managed to accomplish in just this year alone—he's a Golden Globe nominee for his work in FX comedy Atlanta and celebrated for his musical output as Childish Gambino not to mention stepping into Lando Calrissian's very suave shoes for Solo: A Star Wars Story—it's impressive to the point of nearly being inconceivable that he's managed to keep so many personal details under such strict lock and key. He's really managed to maintain a pure separation of church and state, as it were.
So, what do we know about the artist? Let's break it down.
Glover, born at Edwards Air Force Base in Kern County, California, was raised in Stone Mountain, Georgia, a suburb outside of Atlanta, by parents Beverly (a retired daycare provider) and Donald Glover, Sr. (a retired postal worker). Life for Glover and his younger brother Stephen—who's gone on to act as head story editor and writer on Atlanta, part of his older brother's quest to have an all-black writing team—wasn't exactly easy. 
"If people saw how I grew up, they would be triggered," Glover told Esquire in their March 2018 issue. "Confederate flags everywhere. I had friends who were white, whose parents were very sweet to me but were also like, 'Don't ever date him.' I saw that what was being offered on Sesame Street didn't exist."
The Glovers raised their sons as Jehovah's Witnesses, and Barbara forbade all television save for PBS. They took in a string of foster children, adopting two of them. But in welcoming those in need into their home, along with all their struggles, the Glover children were exposed to perhaps more than their young spirits were ready for. "I saw kids dying of AIDS in our house," he told The Hollywood Reporter in 2017. "I saw people getting stabbed. I saw drug dealers stealing people's address books so they could get to my house because people [there] owed them money." 
It was through this that the mind of a storyteller was born in Glover. "I wanted to build my own world because then you get to make the world a little safer," he told the publication rather soberly. 
After attending high school at DeKalb School of the Arts—where he was voted "Most Likely to Write for The Simpsons," which was ironic considering he had to record episodes on his TalkBoy recorder secretly, with the volume down low, so that he and Stephen could recreate them later when safely out of earshot from Barbara—he attended New York University Tisch School of the Arts, where he graduated in 2006 with a degree in Dramatic Writing.
As his career began to take off, the impressive details of which we've chronicled here, his personal life became something of a mystery. Unlike his contemporaries, as his profile grew, there was no string of high-profile dates with models or fellow actors—or if there were, they managed to never make it to the gossip pages. There was a remarkably committed dedication to his craft, as he pivoted from a co-starring role in NBC's Community to writing and starring in a deeply personal project like FX's Atlanta.
And somewhere along the way, he found a partner and began to start a family. We know this because, despite never speaking about her in any interview he had participated in up until then or since, he was photographed alongside a very pregnant woman while on vacation in Hawaii in January of 2016. We know this because, while accepting his trophy for Best Actor in a Comedy Series at the Golden Globes in January of 2017, he thanked the still-unnamed woman while also confirming that they'd become parents.
"I really want to say thank you to my son and the mother of my son for making me believe in people again and things being possible, so thank you," he said during his touching speech.
It wasn't until June 2017 that we learned the name of his firstborn when, before going into a performance of his song "Baby Boy" at the Governor's Ball in NYC, he offered up this dedication: "This song is dedicated to everybody in this crowd and my young son, Legend."
Later that year, while accepting his award for Outstanding Lead Actor in a Comedy Series at the Emmys, he let a few more details slip, like the name of his partner and the fact that their family was indeed growing. "I want to thank Michelle, my partner, you love me even with how crazy I get," he said. "I want to thank my baby, my son, for just being the joy in my life. I want to thank my unborn son, we're listening to Stevie [Wonder] tonight." (Son No. 2, whose name Glover will probably reveal in some innocuous way six months from now, as seems to be his wont, was born sometime around the turn of the year in 2018.)
We know he only refers to Michelle as his partner because he doesn't believe in the concept of marriage—"It doesn't serve the purpose that I would want it to serve," he explained to THR, cryptically—which is ironic because he's openly admitted to having a boyhood dream of being a wedding planner. "What you're really doing is giving people an experience," he told the publication, "and the people are happy already, so you just want to give them something they can remember."
And as for fatherhood, while he remains tight-lipped on any of the details surrounding his own, he's opened up about the unique effects it has had on him. "Let me make this short and sweet," he told Esquire earlier this year. "Every step of your life once you're an adult, you realize what being a teenager is. Once you're a teenager, you realize what being a child is." Explaining that each phase provides context for the one that came before it, he continued, "Children are life's greatest context. Parenthood really does make you something more. It asks you questions that no one is ever ready for, and that you're always ready for. It's like ayahuasca."
And though his busy schedule may not keep him in his family's orbit as often as he'd like these days—there's a third season of Atlanta and his work as Simba in Disney's live adaptation of The Lion King to come this year—it's all for a pretty good reason.
"I don't spend as much time with [my son] as I want to," he told THR in 2017, "but it's because I want to give him everything."
Including the chance to live a completely anonymous life as long as humanly possible, it would seem.
(This story was originally published on September 25, 2018 at 3 a.m. PST.)