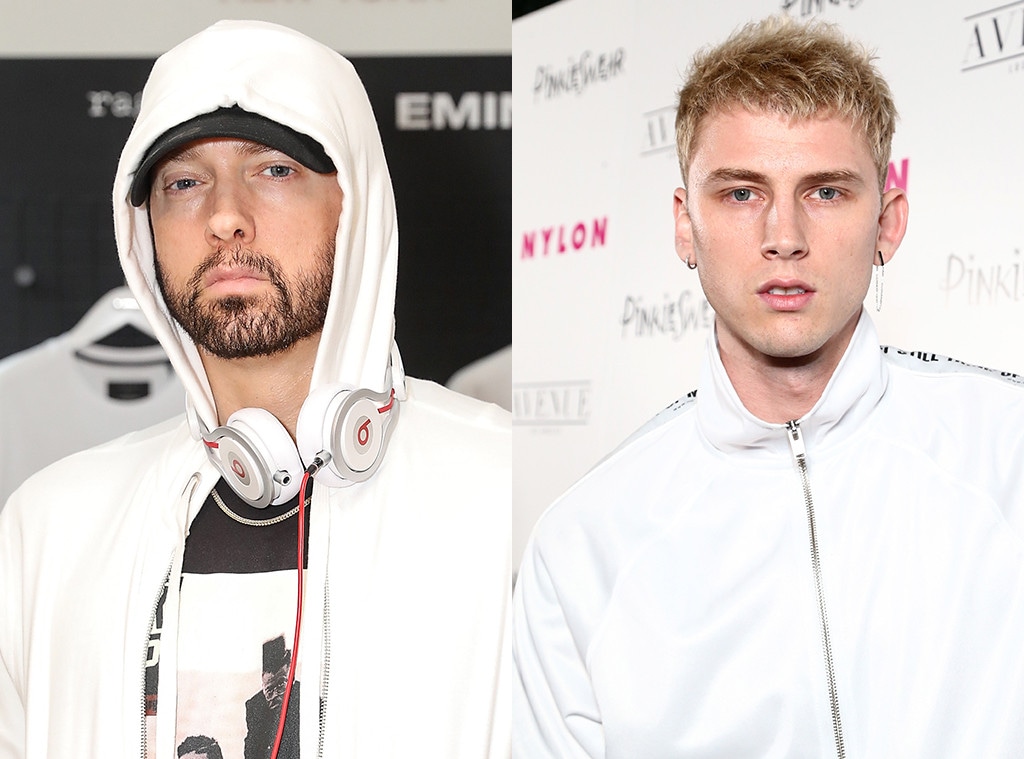 David M. Benett/Dave Benett/Getty Images for Rag & Bone, Tommaso Boddi/Getty Images for NYLON
And the conspiracy mill has begun to churn...
It's no secret that Machine Gun Kelly and Eminem have been feuding. Six years after MGK called Eminem's then-teenage daughter "hot as f--k" on Twitter, the "Kamikaze" star fired back at his new foe with his track, "Not Alike," rapping, "And I'm talkin' to you, but you already know who the f--k you are, Kelly/I don't use sublims and sure as f--k don't sneak-diss/But keep commenting on my daughter Hailie."
Just like that, a rap battle began. MGK responded to the song three days later with diss track, "Rap Devil."
Meanwhile, Eminem got fired up about Kelly in an interview with Sway Calloway. "I don't give a f--k about your career," he said about MGK. "You think I actually f--king think about you? You know how many f--king rappers are better than you? You're not even in the f--king conversation."
That same week, the Grammy winner dropped "Killshot," using a drawing of MGK's face on a target as the cover art for the track.
While it's unclear what to expect next, their seemingly full-on feud has raised a few eyebrows online. Some Twitter users have been speculating that their drama has been more arranged than authentic. The alleged proof? To start, both artists are signed to Interscope Records. Some fans have also pointed out that producer Ronny J has production credits on both Eminem's track "Not Alike" and MGK's response, "Rap Devil" as well as a writing credit for "Rap Devil."
There has also been the claim that the drama and the buzz around their beef was meant to benefit both artists' sales as Eminem released his 10th studio album, Kamikaze, at the end of August and MGK is set to release his EP, Binge, on September 21. 
The Internet certainly loves a conspiracy theory. We'll let you form your own opinion.