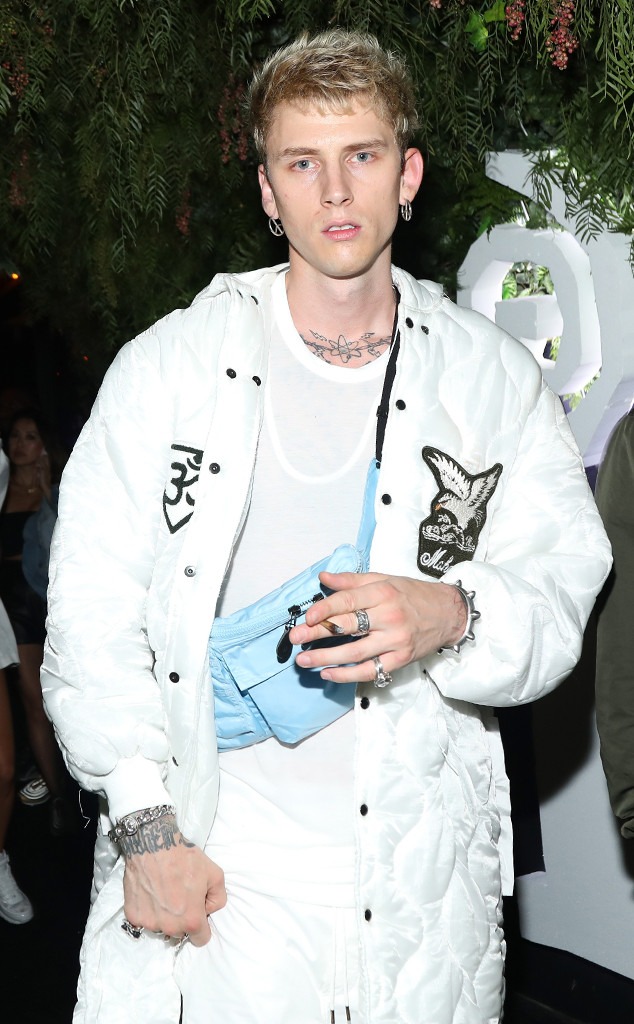 Jerritt Clark/Getty Images for Interscope Records
This feud has taken another turn. 
It's no secret that Eminem and Machine Gun Kelly have some beef. The rappers have been caught up in a war of words in recent weeks, stemming from drama that ignited back in 2012 when Kelly tweeted about Em's then-teenage daughter Hailie's looks. 
The 15-time Grammy winner fired back at Kelly six years later on his track, "Not Alike," rapping, "And I'm talkin' to you, but you already know who the f--k you are, Kelly/I don't use sublims and sure as f--k don't sneak-diss/But keep commenting on my daughter Hailie."
A few days later, Kelly took aim at Eminem with "Rap Devil," in which he attacked the star and claimed he blackballed him from his radio channel, Shade 45. The 28-year-old star did not have the last word. Eminem retorted with another diss track, "Kill Shot," in which he ripped MGK apart with a slew of insults and depicted Kelly's face as a target for the track's cover art. 
However, it doesn't seem like Kelly is too hurt. He took to social media Sunday night with photos of himself on stage as an opening act for Fall Out Boy on their Mania tour. In the photo, Kelly is sporting the "Kill Shot" cover art on his T-shirt and holding up his middle fingers in the shape of guns with the audience mimicking behind him. Online, some have accused Kelly of staging the photo, writing that he allegedly told audience members to put up a finger before turning around to reveal his shirt for the camera. After, he was reportedly booed. 
The final picture was a photo of his track, "Rap Devil" in the number one spot on the iTunes song chart. 
"He missed," the star captioned the series of photos in reference to Eminem and his diss track. "#legshot #rapdevilstillNUMBERONE #letstalkaboutit."
Needless to say, this feud is not going to burn out any time soon.