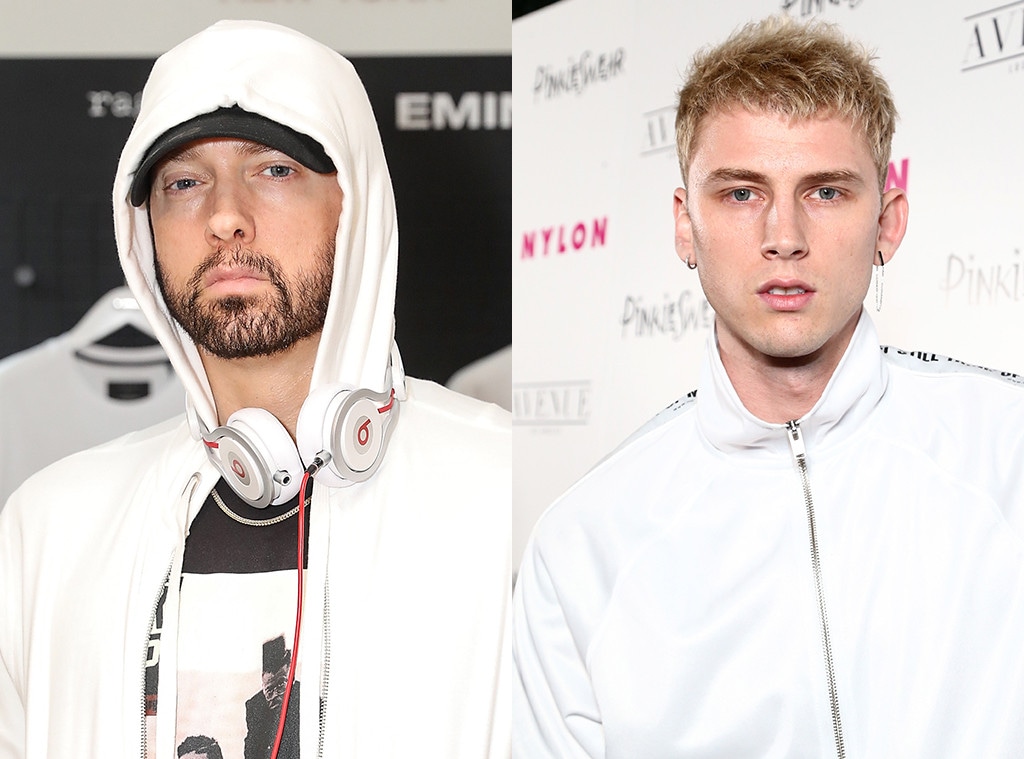 David M. Benett/Dave Benett/Getty Images for Rag & Bone, Tommaso Boddi/Getty Images for NYLON
Eminem is not backing down in his feud with Machine Gun Kelly.
The rapper took to Twitter to release his newest diss track against MGK. In the explicit song, the Grammy winner insults nearly everything about Machine Gun Kelly, including his man bun. "How you gonna name yourself after a d--n gun when you have a man bun?"
He then begins to compare his foe's record sales to his own, rapping, "So before you die let's see who can out-petty who / With your corny lines (Slim, you're old) / Ow, Kelly, ooh, but I'm 45 and I'm still outselling you / By 29 I had three albums that had blew / Now let's talk about somethin' I don't really do / Go in someone's daughter's mouth stealin' food / But you're a fuckin' mole hill, now I'ma make a mountain out of you, woo!"
And that was only the tip of the iceberg compared to the other insults the Recovery performer came up with. 
Later in the track, Eminem tells Kelly "It's your moment, this is it / As big as you're gonna get, so enjoy it / Had to give you a career to destroy it."
The artist, whose birth name is Marshall Mathers, initially ignited the fight after hearing Machine Gun Kelly talk about how Eminem's daughter Hailie is "hot as f--k," way back in 2012. While Kelly said he meant it in "the most respectful" way, the 45-year-old still took offense to the statement and responded in kind... six years later.
In the track, "Not Alike," the Grammy winner says, "And I'm talkin' to you, but you already know who the f--k you are, Kelly / I don't use sublims and sure as f--k don't sneak-diss / But keep commenting on my daughter Hailie."
The back and forth then continued when MGK released his own track, "Rap Devil," where he accused Eminem of blacklisting him from his radio channel, Shade 45.
The situation was also addressed on Sway Calloway's show, where Eminem revealed he didn't even know about the "Rap Devil" artist's comments about his daughter until nearly a year later. He explained, "It never hit my radar and then one day, you know, you go down the f--king wormhole of YouTube or whatever right, so I see 'Machine Gun Kelly talks about Eminem's daughter' whatever right. So, I'm like 'what the f--k?' I click on it…he starts doing a press run basically about Hailie. I'm like 'what the f--k? Yo, my man better chill.'"
But it turns out the feud ran much deeper. "That's not why I dissed him. The reason I dissed him is actually a lot more petty than that. The reason that I dissed him is because he got on—first what he said 'I'm the greatest rapper alive since my favorite rapper banned me from Shade 45' or whatever he said, right? Like I'm trying to hinder his career. I don't give a f--k about your career. You think I actually f--king think about you? You know how many f--king rappers are better than you? You're not even in the f--king conversation," he revealed. 
It seems like Eminem is "Not Afraid" of Machine Gun Kelly.
Meanwhile, G-Eazy got in on the action after he and girlfriend Halsey, who was rumored to have dated MGK, were given a shout out on the diss track. The artist, whose birth name is Gerald, shared a photo of himself and Eminem flipping off the camera to his Instagram, writing, "Let's talk about it."