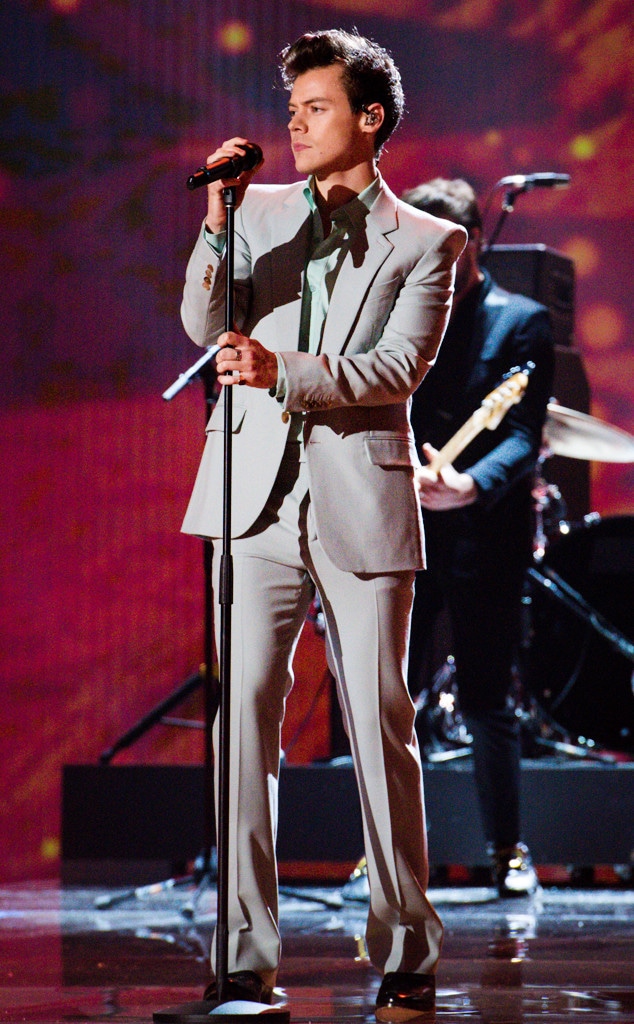 Presley Ann/Patrick McMullan via Getty Images
There is no doubt that Harry Styles knows how to rock the stage, but he has quickly become known for his unique sense of style too.
He's so stylish in fact that he has made it all the way to the final round of voting for Style Star of 2018 at this year's People's Choice Awards! 
The 24-year-old singer is never afraid of taking a fashion risk, whether he's on tour, filming a music video, or joining The Late Late Show with James Corden for a guest residency. The good news is that his fans can't get enough of his one-of-a-kind style and we can totally see why.
The British star has graced the stage in brightly-colored—think bubblegum pink!—suits, and danced for his fans in both metallic and patterned looks throughout his solo career.
In his downtime, the Sign of the Times singer seems fond of bold collared shirts and vintage tees, which screams rock star. Plus, he is always prepared to take his look up a notch with the addition of accessories like sunglasses, boots and fedoras.
The former X-Factor contestant's hair also gets lots of attention...as it should!
While in One Direction, he had long locks that he often styled in a ponytail or with a headband. These days, his hair is much shorter after chopping off his signature hairstyle for his role in Dunkirk. Either way he looks dreamy and stylish and as fans we are all about it.
Check out all of Styles' latest fashion choices in the gallery below and let us know whether or not you like his rock star look by casting your vote for Style Star of 2018 now.
Make sure to have your voice heard before the Friday, Oct. 19 voting deadline and watch the People's Choice Awards airing live on E! on Sunday, Nov. 11.