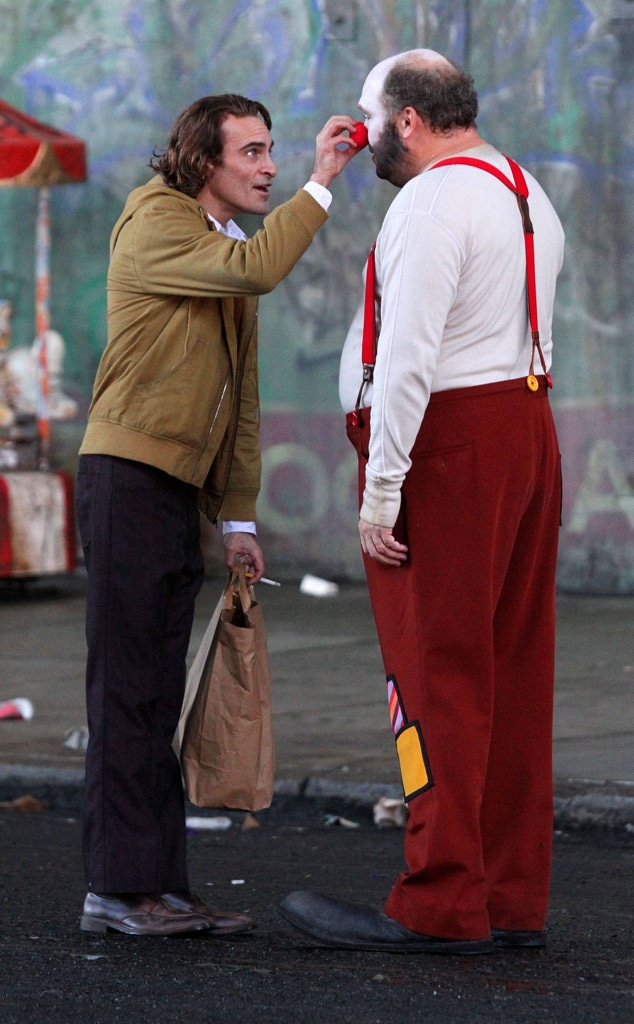 BrosNYC / BACKGRID
Fans got their first sneak peek of Joaquin Phoenix as Gotham's famous villain on Sunday.
Todd Phillips, the director of the highly anticipated film Joker, posted a picture of the 43-year-old actor on Instagram and captioned it, "Arthur"—the name of Batman's nemesis before he adopted the famous identity.
However, this wasn't the only glimpse fans got this weekend. The three-time Oscar nominee was also spotted filming in New York on Sunday. A few pictures show the Her star pinching a clown's nose. Phoenix appeared to be enjoying his time on set and was also photographed having a laugh.
According to Deadline, which broke the news about the film back in August 2017, the movie is an origin story that tells the tale about how the Joker came to be. While an official trailer for the film has yet to be released, it's rumored to hit theaters in October 2019. It's also been reported that Martin Scorsese will produce the film.
Phoenix isn't the first actor to portray the villain. Jared Leto played the Joker in the 2016 film Suicide Squad. Heath Ledger also played the character in the 2008 film The Dark Knight and Jack Nicholson took on the role for the 1989 film Batman. Ledger won a posthumous Oscar for his portrayal of the villain.