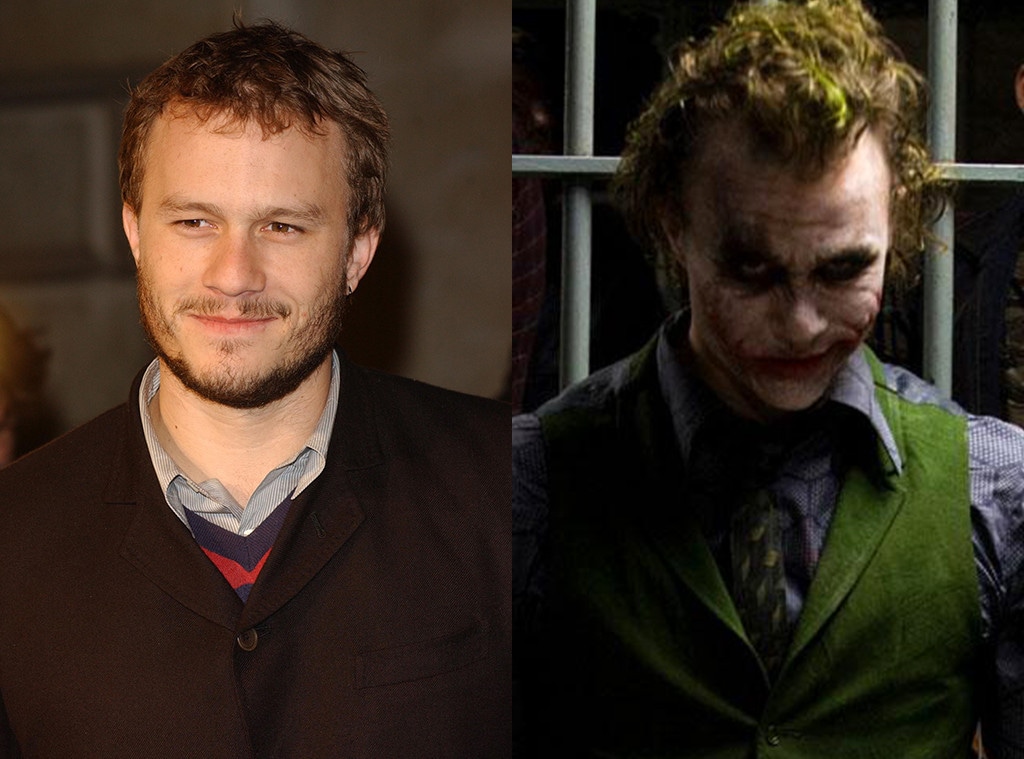 Ash Knotek/Snappers/ZUMAPRESS.com, Warner Bros. Entertainment
One of the most memorable lines from The Dark Knight comes from Harvey Dent: "You either die a hero, or you live long enough to see yourself become the villain."
But the Two-Face alter ego was wrong. Heath Ledger proved you could do both.
By the time Ledger accepted the role as the Joker, he had already become a Hollywood hero. He was the ultimate heartthrob in 10 Things I Hate About You and conveyed his skills as a dramatic actor in The Patriot. He had also secured his first Oscar nomination for his performance in the groundbreaking film Brokeback Mountain. 
Still, the Joker was the role he was destined to play. Not the Joker fans knew from Jack Nicholson's or Cesar Romero's portrayals—but a scarier new villain. Borrowing influence from the drama A Clockwork Orange and the musician Sid Vicious, Ledger and director Christopher Nolan started to form their Joker's identity.
"I'd seen what world it was that I would be playing in. So I knew it was open for a fresh interpretation," Ledger told Joseph McCabe for the book 100 Things Batman Fans Should Know & Do Before They Die. "I also instantly kind of had something up my sleeve, which happened to be exactly what Chris was looking for. We sat down and kind of shared ideas, and they were the same. So, we just went with it."
Imagining the Joker was one thing, but becoming the villain was another. Ledger once described the Joker as a "psychopathic, mass-murdering, schizophrenic clown with zero-empathy" to The New York Times—not exactly the easiest role to play.
To prepare for the role, Ledger isolated himself and concentrated on bringing his character to life. He even kept a diary full of photographs and scribbled lines that served as inspiration for the Joker's persona.
"I sat around in a hotel room in London for about a month and I just locked myself away and formed a little diary and experimented with voices," he said during an interview with Empire magazine. "I ended up landing more within the realm of, like, a psychopath—someone with no empathy, very little to no conscience towards his acts—which is fun because there is no real limit on the boundaries to what he'd say or how you would say something or what he would do."
There was also the physical transformation. Ledger told Empire his clown makeup and scar prosthetics took about an hour and a half to complete. In the documentary I Am Heath Ledger, his dialect coach Gerry Grennell told the story of how the prosthetics around Ledger's mouth would loosen when he'd speak. To keep them in place, Ledger would lick his lips. Soon, it became a part of his character's mannerisms.
Ledger also altered his posture, voice and laugh to take on the persona.
Still, embodying the Joker—both mentally and physically—took a toll on Ledger.
"It was an exhausting process," Ledger once told MTV, per The Observer.  "I actually had quite a bit of time off between scenes—weeks sometimes. But it was required because whenever I was working, it exhausted me to the bone. At the end of the day, I couldn't move. I couldn't talk. I was absolutely wrecked. If I had to do that every day, I couldn't have done what I did. The schedule really permitted me to exhaust myself."
Despite his exhaustion, Ledger struggled with sleep.
"Last week, I probably slept an average of two hours a night," he told The New York Times back in 2007. "My mind was exhausted and mind was still going."
Michelle Williams, with whom he shared a child, also opened up about his insomnia with Interview Magazine. 
"He had uncontrollably energy," she recalled. "He buzzed. He would jump out of bed. For as long as I'd known him, he'd had bouts with insomnia. He just had too much energy. His mind was turning, turning, turning—always turning."
According to The New York Times, Ledger would take medication, like Ambien, to help him sleep. However, his insomnia wasn't his only struggle. Williams and Ledger also split before The Dark Knight's release.
Then, on Jan. 22, 2008, Ledger was found dead in a New York apartment. The actor had died of an accidental overdose at the age of 28.
"Mr. Heath Ledger died as the result of acute intoxication by the combined effects of oxycodone, hydrocodone, diazepam, temazepam, alprazolam and doxylamine," New York Medical Examiner's Office spokesperson Ellen Borakove said after his death. "We have concluded that the manner of death is accident, resulting from the abuse of prescription medications."
Ledger's father, Kim Ledger, also released a statement shortly after the tragic news.
"While no medications were taken in excess, we learned today the combination of doctor-prescribed drugs proved lethal for our boy," he said. "Heath's accidental death serves as a caution to the hidden dangers of combining prescription medication, even at low dosage."
Many blamed Ledger's untimely death on the Joker, arguing the actor couldn't shake himself from the character's psyche. But in an interview for the aforementioned documentary, Ledger's sister, Kate Ledger, dismissed this notion. 
"He had an amazing sense of humor," she said, per USA Today, "and certainly playing the Joker, for him, it was one big gag. He had so much fun doing that. It was actually the exact opposite. There was no doom and gloom….That was a shock to me that people even thought that, really." 
Before his death, Ledger also told Empire the Joker was "the most fun I've had playing a role."
In 2008, Ledger won a posthumous Oscar in the Best Actor in a Supporting Role category for his portrayal of the Joker. Even today, 10 years after the film's release, it's still considered one of his most iconic roles. Ledger's legacy also lives on through his daughter, Matilda. 
So while Ledger died one of Hollywood's heroes, his legacy would not be what it is today if he hadn't lived long enough to become one of film's most legendary villains.