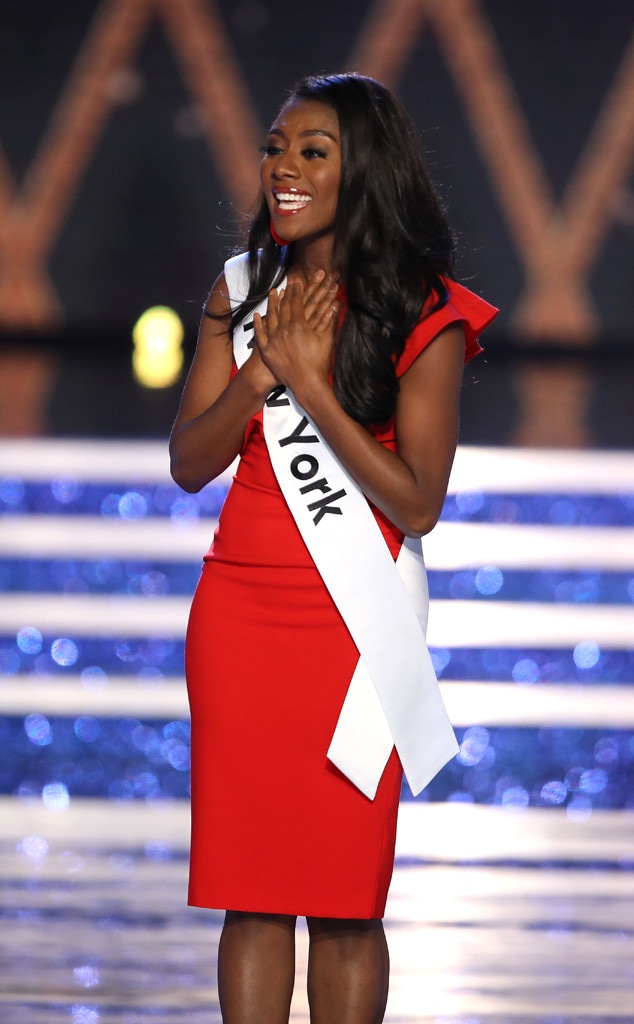 Tom Briglia /Getty Images
A new Miss America has been crowned. 
Miss New York's Nia Franklin took home the title on Sunday and assumed the position from 2018 winner Cara Mund.
Held at the Jim Whelan Boardwalk Hall in Atlantic City, N.J., this year's event was proudly dubbed "Miss America 2.0" and signified the start of a new era, one that promoted a more empowering message.
For starters, Gretchen Carlson told Good Morning America the Miss America Organization no longer considered the event a pageant, nor did it plan on judging women solely based on their looks.
"We are no longer a pageant," Carlson, the organization's chairman and former winner, told GMA back in June. "We are a competition. We will no longer judge our candidates on their outward physical appearance." 
But did the organization actually live up to its new promise? Here's a look back at six of the most empowering moments from the night.
1. Making a strong first impression 
When the 51 contestants walked onto the stage, they were met with a series of powerful, uplifting anthems, including Beyonce's "Run the World (Girls)" and Katy Perry's "Roar." They also introduced themselves by listing their achievements, such as their college major or career goals. In addition, the contestants listed off several adjectives that described the women of Miss America, including "smart," "confident" and "strong."
2. Eliminating the swimsuit competition
Carlson announced the Miss America Organization was scrapping the swimsuit portion of the competition back in June. Instead of modeling bikinis, the women were asked interview questions.
3. Addressing political issues 
The women weren't afraid to voice their opinions on a number of political issues. For instance, Miss Michigan Emily Sioma spoke about the Flint water crisis during her introduction and Miss Virginia Emili McPhail let the world know her opinion on the NFL kneeling protests during her interview. When asked if she was worried about alienating viewers who disagreed with her views, McPhail showed no fear.
"You're entitled to your own opinion," she said, per NBC News, "but I stood up for what I believed was right."
4. Focusing on the career aspect of Miss America
Instead of treating the Miss America competition like a beauty pageant, the organization treated it more like a job interview. There was a listing for the position on the organization's website and contestants were asked about their qualifications, strengths and weaknesses onstage.
5. Emphasizing social impact
Each contestant gave a social impact to shed light on a cause she cared about. The women put their support behind a range of causes, including STEM, hunger prevention and more.
6.  Supporting one another
While the event was certainly a competition, the feeling was more about sisterhood than pitting women against each other. Even when Franklin was crowned the winner, she gave a special shout-out to her fellow contestants.
"It took a lot of perseverance to get here, and I want to thank my family, my mom and dad, who is a survivor of cancer," she said during her acceptance speech. "And all my sisters behind me, I love each and every one of you."