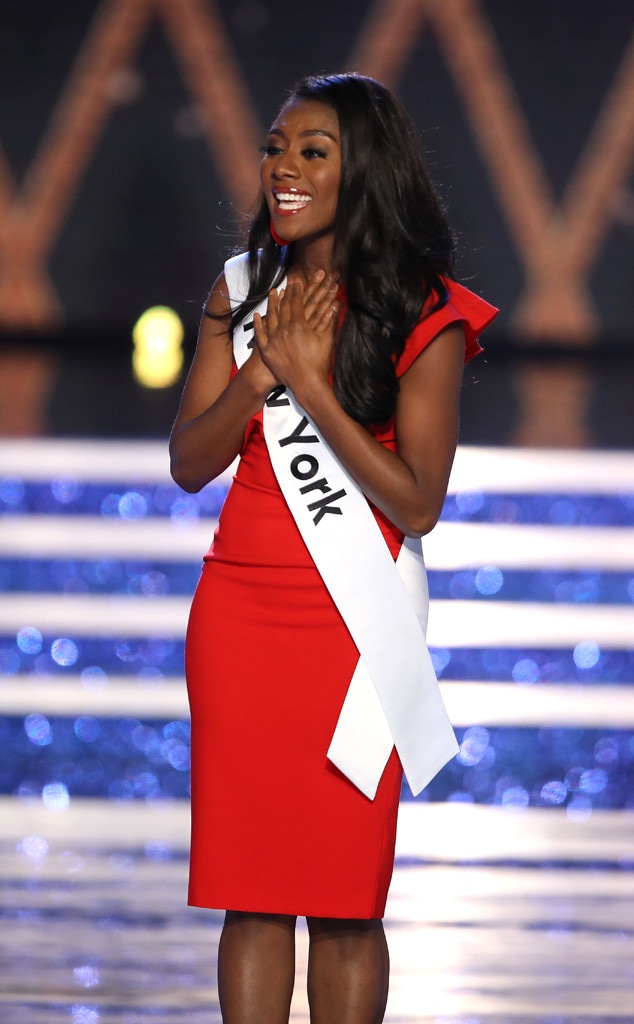 Tom Briglia /Getty Images
The Miss America baton—or should we say crown—has been passed from former Miss North Dakota Cara Mund to this year's Miss America, Nia Franklin.
Franklin, who is Miss New York, won the Miss America Competition which took place at the Jim Whelan Boardwalk Hall in Atlantic City, New Jersey. The show was hosted by Carrie Ann Inaba and Ross Matthews.
Franklin won over the celebrity judging panel, which was comprised of Laila Ali, Randy Jackson, Jessie James Decker, Bobby Bones, Soledad O'Brien and Alli Webb. Her talent included operatic vocals and her poignant answers about identity won over loud cheers from the crowd.
As the new face of the Miss America organization, here are 5 things to know about Miss New York Nia Franklin.
1. She's loved music since an early age: According to her contestant bio, Franklin wrote her first song when she was just six-years-old. She received a master's degree in music composition at North Carolina School of the Arts, and showed off her musical prowess during the talent portion where she performed a segment from the well-known opera La Boheme. Franklin has written over 100 songs.
2. She's passionate about education: Miss America candidates provided "social impact statements" and discussed organizations or topics that meant a lot to them. Franklin's topic of choice was "Advocating for the Arts."  She said during the contest, "I grew up in a school with only 5% minority, but growing up, I found my love of arts and through music, I felt positive about myself and who I was. That's what I would encourage young girls to do, find who you are." 
Franklin was a recipient of the Kenan Fellowship at Lincoln Center in 2017. In the competition, she mentioned her platform, which advocates for the arts and makes "sure all students have access to a quality education." 
3. She donated stem cells to her father: Franklin's father was diagnosed with non-Hodgkins lymphoma, according to one of her Instagram posts. She also mentioned this fact during her speech after being crowned the winner of the contest. The newly minted Miss America captioned an Instagram photo of herself in a hospital bed with multiple IVs that described her father's cancer treatment and how she helped. 
After undergoing chemotherapy and relapsing twice, Franklin's father's doctors suggested stem cell therapy, and it turns out his daughter was the ideal match. "I thank God for saving his life through this miraculous procedure!" she wrote. "I am now empowered by this photo when I look at it. I know that I made a difference in my daddy's life and that is nothing to be ashamed of. My dad received his stem cell transplant on May 1, 2013, and he is alive and thriving."
4. She has "grit": As anyone who lives (or has lived) in New York knows, finding housing the city is no cake walk. There isn't an exception for the future Miss America, either. When discussing in the competition how being Miss New York has helped her prepare for her hopeful role as Miss America, she said, "I have New York grit."  She continued, "I have moved over five times because of subletting in New York. It can be a little difficult because of the pricey rent, but I've overcome that. And also, as a New Yorker, I understand what it takes to work hard."
5. She's a North Carolina native: Although Franklin was crowned Miss New York before Miss America, she originally hails from Winston-Salem, North Carolina. According to the Winston-Salem Journal, Franklin vied for the Miss North Carolina crown in 2016 in a pool of 40 women. 
Franklin completed her undergraduate education at East Carolina University where she majored in music composition.
As the new Miss America, Franklin receives a $50,000 scholarship and a year-round job as the new face of the competition. 
This year marked Miss America 2.0 as the former beauty pageant eliminated previous aspects of the show, including the swimsuit competition.
Thus, Franklin kicks off the new era of Miss America and she couldn't be happier. While receiving her crown, she said, "It took a lot of perseverance to get here, and I want to thank my family, my mom and dad, who is a survivor of cancer. And all my sisters behind me, I love each and every one of you."
Congratulations, Miss America!