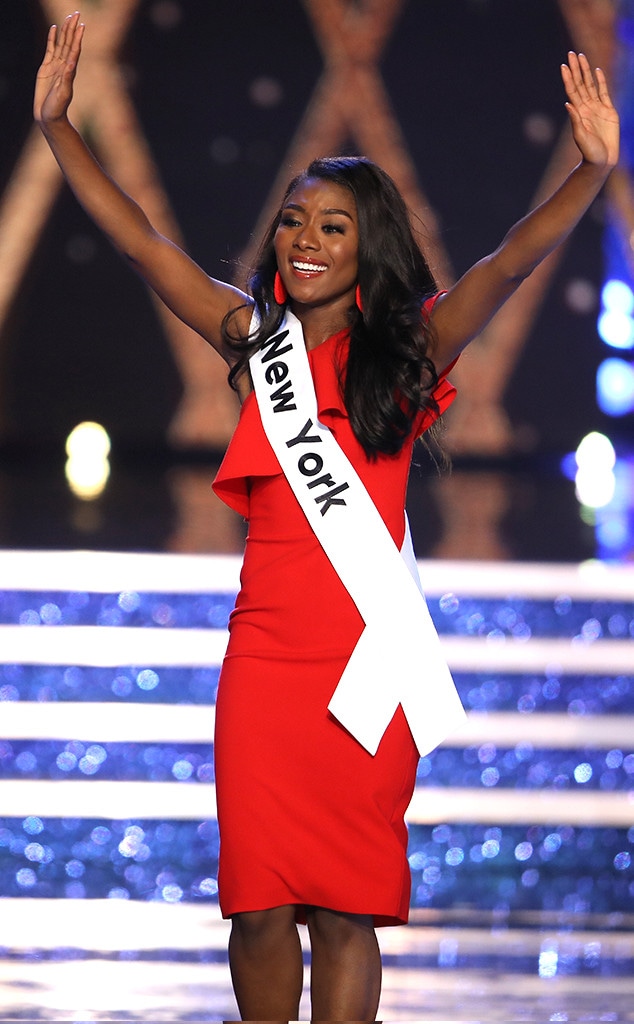 Tom Briglia /Getty Images
There's a new Miss America in town.
Miss New York Nia Franklin was crowned Miss America 2019 at the Jim Whelan Boardwalk Hall in Atlantic City, New Jersey. The annual show was hosted by Dancing With the Stars judge Carrie Ann Inaba and co-hosted by Ross Matthews as women from all fifty states and the District of Columbia all vied for the coveted sparkly tiara.
Miss Connecticut Bridget Oei was the first runner up, followed by Miss Louisiana Holli Conway, Miss Florida Taylor Tyson and Miss Massachusetts Gabriela Taveras.
Miss America 2018 Cara Mund presented the tiara to Franklin, who now begins her yearlong journey as the face of the organization.
Franklin thanked her loved ones during her acceptance speech at the show. "It took a lot of perseverance to get here, and I want to thank my family, my mom and dad, who is a survivor of cancer. And all my sisters behind me, I love each and every one of you," she said.
For her talent portion, Franklin showcased her singing abilities by performing part of an opera. The singer apparently composed her first song was she was just six-years-old. During the question-and-answer portion, Miss New York was asked how she would promote positive body image as Miss America. She responded, "I grew up in a school with only 5% minority, but growing up, I found my love of arts and through music, I felt positive about myself and who I was. That's what I would encourage young girls to do, find who you are."
A whole host of celebrities comprised of the judge panel. Boxing champion and cookbook writer Laila Ali was a judge alongside country music stars Bobby Bones and Jessie James Decker, former American Idol panelist Randy Jackson, award-winning journalist Soledad O'Brien, Drybar founder Alli Webb and regular guest co-host of The View, Carnie Wilson.
The 2019 Miss America competition had a different feel to it than years prior. Former Fox News anchor Gretchen Carlson took over as Chair of the Board of Trustees and the organization announced sweeping changes to the show's lineup. The former Fox News anchor officially joined the organization on Jan. 1. Gretchen herself won Miss America in 1989.
One of the biggest transformations to this year's show was the elimination of the swimsuit competition. In June, the organization announced that portion of the competition would be scrapped because they are "no longer a pageant." Carlson told Good Morning America, "We will no longer judge our candidates on their outward physical appearance."
Congratulations again to Miss America 2019 Nia Franklin!