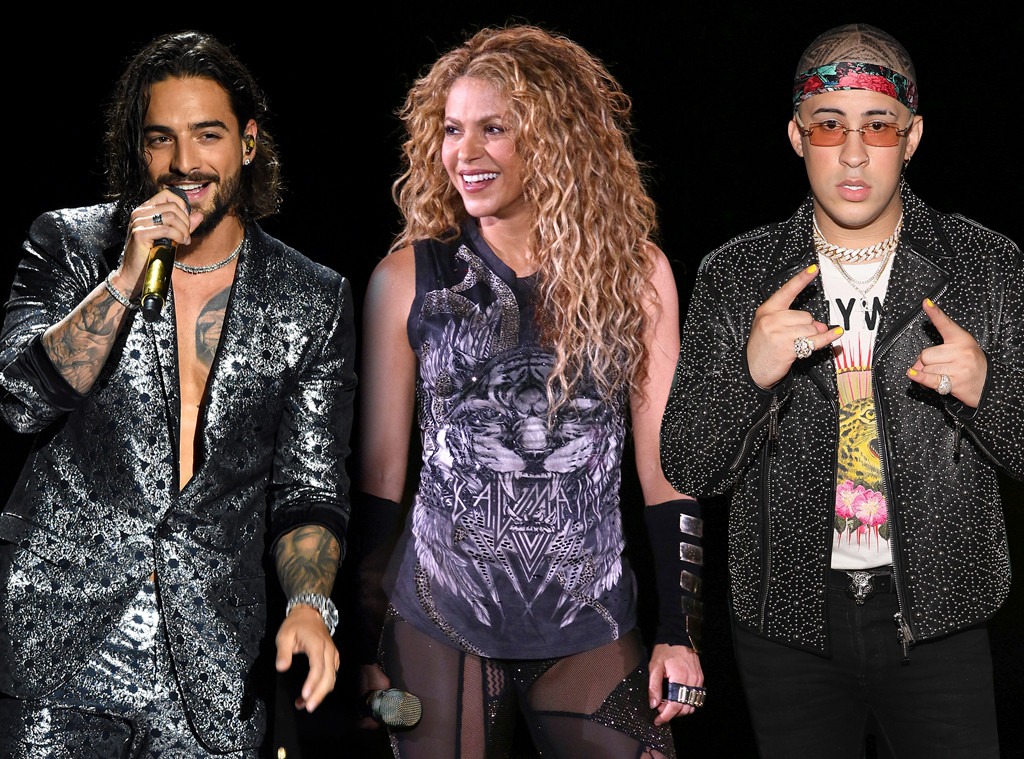 Shutterstock/Getty Images
Ready, set, vote!
But wait, before you vote for this year's Latin Artist nominees, get ready to know them a bit more (if you haven't already). 
Just days ago, E! revealed the nominees for their first-ever telecast of the E! People's Choice Awards (CBS previously broadcast the show) and there are a whopping 43 categories to vote on. Come Sept. 24, the five finalists for each category will be revealed, and polls will open once again for the second round of voting. 
From huge names like Shakira, Becky G, Maluma, J Balvin and many more, this category is full of undeniable talent. Many of these artists are the name and face of some of the biggest hits of the year, regardless of language.
Oh, and in case you forgot, the PCAs is the only live award show by the people, for the people and with its new home on E! that is definitely still the focus…you'll also find some E! flare added in for good measure.
Broadimage/REX/Shutterstock
Becky G- That "Shower" teen that you knew is long gone, that's because the "Mayores" singer stepped into her own when she started making music in Spanish. As she explained to us in December, her revival wasn't just her image, her music and songwriting went through a reinvention. The star feels that within her Spanish music she found her most authentic self. In February, "Mayores" went No.1 on the Latin Airplay chart. The song's music video also got Becky into YouTube's billion club, as the music video currently has over 1.3 billion views. The 21-year-old songstress continued to score big this year with her song "Sin Pijama" with Natti Natasha, and that music video is also on its way to a billion views as it currently has over 812 million views. 
Watch:
CNCO Talks Music, Justin Bieber and New Dance
CNCO: We've loved this group since they came on the scene. Born from winning Simon Cowell's La Banda, the group members include, Joel Pimentel, Richard Camacho, Erick Brian Colón, Christopher Vélez, and Zabdiel De Jesús. They went on to win a five-year recording contract with Sony Music Latin and tour with Ricky Martin. The group continues to travel worldwide and put out huge hits with Little Mix and Yandel. Recently, the band remixed Becky G and Leslie Grace's "Díganle," and its music video is pretty epic!
John Shearer/Getty Images
Daddy Yankee: Proclaimed by many as The King of Reggaetón, this 41-year-old artist changed the course of Latin music history. The Puerto Rican native continues to revolutionize his music and vision. Yankee is one of the masterminds behind the biggest song last summer, "Despacito." While this year he dropped "Dura" which kicked off a social media challenge of people dancing to the catchy beat. The song's music video also has over one billion views to date, on YouTube. And recently he teamed up with Janet Jackson on "Made For Now."
J Balvin: ¿Y dónde está mi gente? This Colombian star had one of the best years ever in 2018. He teamed up with Cardi B and Bad Bunny for the colossal hit "I Like It" and in 2017 dropped "Mi Gente" with Willy William followed by the song's remix with none other than the queen herself, Beyoncé. That's right he even hit the Coachella stage twice to perform with both Beyoncé and Cardi. One of his many latest hits that we're loving? "Familiar" with his "brother from another mother" Liam Payne. This month, Balvin will kick off his US Vibras tour and fans can't wait.  
John Shearer/Getty Images for dcp
Luis Fonsi: "One, two, three, calypso..." This 40-year-old singer knew he had a hit in "Despacito" but never truly imagined it's phenomenal success and all that would follow since then. Since breaking records with "Despacito" as the most-seen music video on YouTube with over 5.4 billion views, the star teamed up with Demi Lovato for "Échame La Culpa" and Stefflon Don for the summer hit, "Calypso." The singer's album is expected to drop later this year, and we can't wait! 
Maluma: or as he's known to many, it's Maluma Baby! Our once Bae of the Day, the 24-year-old singer has worked with everyone from Fifth Harmony to Marc Anthony to Shakira to Ricky Martin and many more. In fact, it was with Shakira that he scored the two of the top most-viewed music videos in 2017, with "Chantaje" and "Trap." From Pretty Boy, Dirty Boy to F.A.M.E. we're seen Maluma grow up right before our very eyes, and we're lucky for it. 
Bad Bunny: Made it to the top and on his own terms! Suddenly it felt like any song you'd listen to had Bad Bunny on it or was by Bad Bunny and it's because this 24-year-old star moved in fast than the regular pace for most artists. Benito Antonio Martínez Ocasio AKA Bad Bunny stepped into the Latin Trap music scene and became the face of that genre. With hits like "I Like It," "Mayores," "Sensualidad," and countless more, he's the face you need to know if you don't already. Bad Bunny credits SoundCloud for his discovery, and there's plenty more music from the Puerto Rican star as we know his collaboration with Drake should drop very soon, and we can't wait! 
Timothy Hiatt/Getty Images
Natti Natasha: Here's the other half of "Sin Pijamas" and the star that's killed it this year with hits like "Criminal" with Ozuna, "Amantes de Una Noche" with Bad Bunny and many more. The 31-year-old songstress grew up in the Dominican Republic and began her involvement in music since she was a child. At a young age, she quickly grew an admiration for artists such as Bob Marley, Jenni Rivera, and Lauryn Hill. Her hit "Dutty Love" featuring Don Omar was the beginning of it all for this star. 
Sascha Steinbach/Getty Images
Alvaro Soler: This 27-year-old Spanish-German singer is a worldwide success. His 2015 hit "El Mismo Sol" helped his rise to prominence across Europe and Latin America. Then a special bilingual Spanish-English version of the song was released featuring none other than Jennifer Lopez. This year he's had massive success with his song "La Cintura" with lots more coming our way! 
Ozuna: This 26-year-old star is having quite a year. From hit tracks with Cardi B, Bad Bunny, and countless other artists, he recently teamed up again with Cardi and Selena Gomez for a song for DJ Snake. The Puerto Rican star recently broke his own record with 20 titles on Hot Latin Songs Chart, according to Billboard.
Laurence Griffiths/Getty Images
Nicky Jam: From singing to acting, this artist can do it all. While he's been busy performing at the closing ceremony with his friend Will Smith, he's also been working on a collaboration with Steve Aoki "Jaleo," as he shared with fans on Instagram. Jam's latest hit "X" with J Balvin has been an enormous chart-topper, with over 1.3 billion views on YouTube. The two even taught Jimmy Fallon how to do their signature dance moves for their song as the performed it on The Tonight Show Starring Jimmy Fallon. 
Simone Joyner/Getty Images
Shakira: Since her days of "Hips Don't Lie" (and way before that, too) this Colombian powerhouse has been bringing us iconic hits after hits. This year and the last, included megahits from the star like "Chantaje," "Clandestino," "Trap," "La Bicicleta," and so many more with numerous music videos hitting the billion views club more than several times.