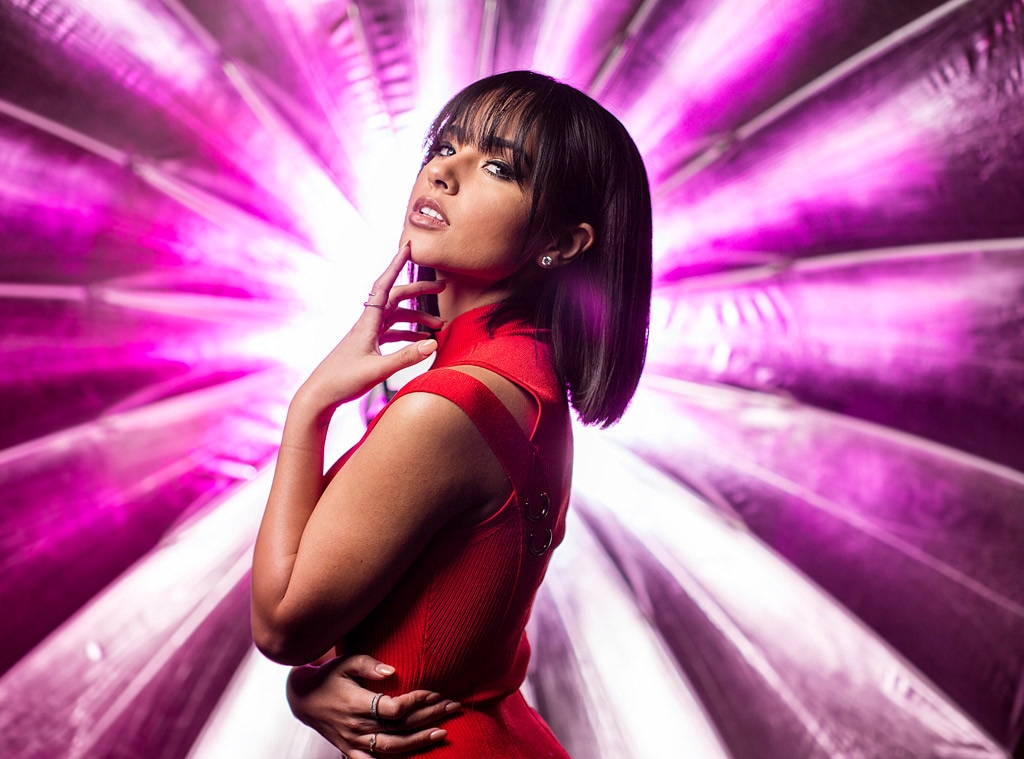 Wes and Alex for iHeartRadio
Becky G is saying goodbye to "Shower" and hello to "Mayores."
The 20-year-old has found her voice, her sexy and her confidence and she's told us all about it at her JCPenney and iHeartRadio Mi Musica session at the iHeartRadio Theater in Los Angeles. 
It all starts with her "Mayores" music video with Bad Bunny which currently has over 815 million views on YouTube, which is beating Taylor Swift's "Look What You Made Me Do."
The music video features a cameo from Casper Smart and shows us a more adult version of the singer. Her revival wasn't just her image, her music and songwriting went through a reinvention. The star feels that within her Spanish music she found her most authentic self. As for the success of "Mayores"? Well, she still can't believe it...sort of. 
"Completely, like, it's an incredible feeling, to be honest. There are a lot of like, 'OMG I can't believe this is real,' and then there's that little part of me that's like, 'It's about time,'" the singer tells E! News. "I was reminiscing a couple of days ago, and my man actually said something like, 'You're acting like you're ten years in the game, babe.' and I said, 'I am! Let me remind you!" It's insane because technically I've been working since I was so young, I was like nine like that's a baby. I'm still a baby."
Along with this being her "proudest year" the star has also found love with soccer stud Sebastian Lletget. The two have been dating since 2016 and they're still going strong. 
"It's really awesome because the truth is, a partner in life is different from just having a fling and that happens a lot in this industry and I've had a couple of those before too and it's fun, but there is no depth to those things," The Power Rangers star explains. "And when you have someone that is your best friend, your family, your lover, your homie and all in one, it's like, 'Wow.' You don't have to think about it, it doesn't take much effort, you know what I mean? It's just that support and it feels really beautiful."
As we know, with love comes artistic inspiration. The singer credits her boyfriend for helping her with songwriting and with owning her sexiness. 
"He helped me find my sexy. I think I always had it in me, but before in past relationships, guys made me feel like…I don't want to say like I wasn't enough but kind of like I wasn't enough. I always had to think, 'I need to wake up before they do and do my makeup, I need to at least brush my hair' or 'Oh, he's coming over last minute, let me change my outfit,'" Becky tells us. "Sebastian is just so accepting love, caring, compassionate, I mean, he's everything that you could ever ask for." 
Wes and Alex for iHeartRadio
Although she sees Jennifer Lopez and Alex Rodriguez's relationships as "goals" we think she and Sebastian are one of our favorite couples.  
While we're still hooked on "Mayores," we also loved that the singer teamed up with Leslie Grace for "Díganle" for an all-female collaboration which isn't as common in Latin music. 
"When I met Leslie, we were like two peas in a pod. She's so humble and talented, and just so aware. It's easy for people to these things into your head about competition, but it's family competition. It's like, 'Oh, you're doing that! OK, me, too!' But it's like healthy, and we inspire each other. So when she sent it to me, I was like, "Are you for real?' OK, cool, yes! Let's do this!' and the real inspiration behind that is the music video of 'The Boy Is Mine' and that's what I wanted for the Latin world," the star explains. "But we wanted to do it differently, because instead of fighting over a guy we're supporting each other, and we're just saying, 'We don't need him, you don't need him.' So exactly like you just said, 'Boy, bye!'"
With their newfound friendship, the two singers decided they weren't going to watch from the sidelines. 
"Well, we see the boys doing it. I'm very lucky that all the guys because there aren't many of us women in the urban music in the Latin world, we're all like a big family," Becky says. "We're so used to seeing the boys jump around on stage that it's our turn now and show them what's up."
Aside from turning 21, Becky tells us that in 2018 there will be lots of exciting new music, including her Spanish project. 
We can't wait to see what's next for this shining star!