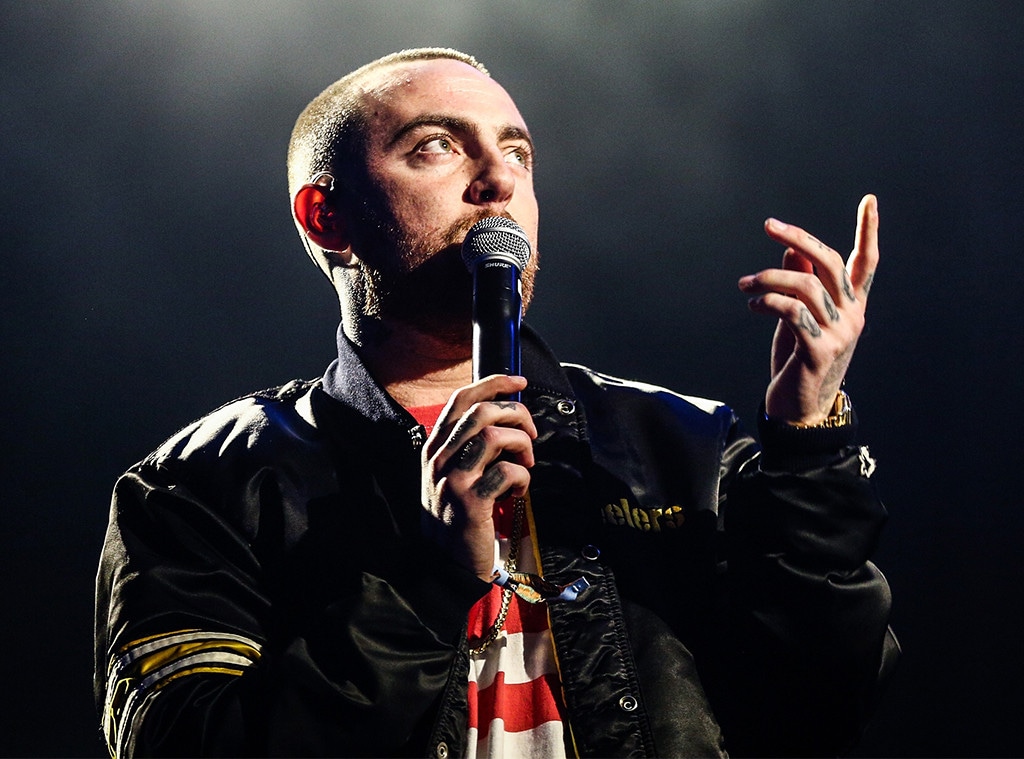 Rich Fury/Getty Images
"I have a tendency to kinda brood about stuff and cook in it."
So Mac Miller told Vulture last month, indicating that he was his own toughest critic, the judgment inside his head more likely to propel him forward than any input from the outside.
He had nothing but trouble in the first half of 2018, his breakup with Ariana Grande in May followed days later by an arrest for DUI and hit and run, after he ran his Mercedes G Wagon into a power pole and drove off. A witness reported the accident and police showed up at his house.
"He was the most polite and nice intoxicated person we've ever seen," a law enforcement source told TMZ.
But a couple weeks later, Miller dropped three new songs—"Small Worlds," "Buttons" and "Programs"—and since then he seemed on the up and up. He wished Grande well on her engagement to Pete Davidson. He was on the go promoting his new album, Swimming, which came out Aug. 3. He did a "Tiny Desk" concert for NPR and performed on The Late Show With Stephen Colbert on Aug. 13. He was going on tour in October. Later in the month he was playing tennis and enjoying the L.A. sunshine.
"I'm back, man, I got another record," a smiling Miller told Zane Lowe in July, at which the Beats 1 host remarked, "Yeah, and you look good, man, there's light in your eyes."
Miller said the DUI was a huge wake-up call, the best thing that could have happened. "I lived a certain life for 10 years and faced almost no real consequence at all," the rapper said. "I had no version of the story that didn't end up with me being fine." 
Just yesterday the Vulture profile came out.
On Friday, Mac Miller died. No cause has been given yet, but it's being reported as an apparent overdose. He was 26.
Tributes have poured forth from his fellow artists. Warner Bros. called him "a hugely gifted and inspiring artist" and his death a "devastating loss." In a brief statement asking for privacy, his family called him a "bright light in this world."
So begins the search for signs, the parsing of the lyrics, the clues that he was spiraling out of control despite the positivity he'd been evincing lately. So too has begun the leaving of vile comments on Grande's social media accounts, and the finger-pointing, all of which hurts rather than helps and ultimately leads nowhere.
"Everybody want a headline, I don't got nothin' to say," Miller rapped on "Programs."
Scott Roth/Invision/AP/REX/Shutterstock
A running theme for Miller in the decade since he rose to fame on the hip-hop scene with a series of mixtapes was his concern with how he was perceived versus what he was actually about. Eventually, he came to the conclusion that all he could do was be true to himself.
"I just have always felt as long as I'm 100 percent honest, then it's just me," he told Nylon magazine in 2016. "It's a lot easier to sleep at night that way. I'm not saying anyone's not honest. I think people just don't know what to make of things right away. I think you have to give everyone some time to let their eyes settle... It's a lot of 'Why are you here?' and that's a fine question to ask. I think everybody asks that about everyone. I'm figuring it out. As long as I can go to sleep at night and know that everything matches up together, then I feel good about it."
Miller chose to be open about his struggles and to lead a public life, even though he knew that he was boxing himself into a certain niche of the celebrity world.
"A lot of times in my life I've put this pressure to hold myself to the standard of whatever I thought I was supposed to be, or how I was supposed to be perceived," he also told Vulture in August. "And that creates pressure...It's annoying to be out and have someone come up to me and think they know. They're like 'Yo, man, are you okay?' I'm like "Yeah, I'm f--king at the grocery store." 
Ironically, he also talked about an audience's tendency to dissect songs for parts, especially his, since it was well known that he had battled drug abuse and depression. Plus, he'd had a very public relationship with a very famous woman, and in the Instagram age all eyes were on him no matter what.
"I have noticed that, as far as headlines and people listening to the music and taking them into account, and applying them to the music. But … I've also not talked about what songs mean, what's this or what's that. I've just kind of left it up to interpretation," Miller said. "I don't know if it's the right or the wrong way or if it helps people digest my music properly or if it doesn't. I just feel like I worked so hard to make something, and then when I take the kids to college, I have to let them kind of... Whatever happens."
He said he could be more transparent, but let people have their different takes. 
"I guess I'm just not as concerned with that as I am with having a relationship with music in general," he concluded.
Robb D. Cohen/RobbsPhotos/Invision/AP
Miller, born Malcolm James McCormick in Pittsburgh, Pa., burst out of the pack in 2010 when he was barely 18 with Internet-fueled hits like "Nikes on My Feet." He was one of 11 rappers featured in XXL's Freshman Class of 2011, along with Kendrick Lamar, Meek Mill and Lil Twist. His indie-distributed first studio album, Blue Slide Park, debuted at No. 1 on the Billboard 200, and he was off and running.
"No one can knock what I do because I did it all on my own," he told Complex in 2013. "There's no major label. I'm not a f--king put-together product."
But with the success came the spoils. By the time he was recording what would become 2013's Watching Movies With the Sound Off, he had developed a syrup (cough syrup mixed with soda) habit—which, he soon realized, was making him gain weight.
"The reality is I gained, like, 40 pounds when I was going to MTV and I didn't want to be fat on national television. I just stopped," Miller, whose reality show Mac Miller and the Most Dope Family ran on MTV 2 for two seasons, told MTV News.
"I kicked it. But it's addictive; don't mess around," he added. "I don't know how down and bad I was—but I guess I was."
In January 2014 he announced he was leaving his longtime label, Rostrum Records. He released the melancholy Faces, his 10th mixtape, on his own, and eventually he took his REMember Music imprint, formed in 2013, to Warner Bros. His third album, 2015's GO:OD AM, was his major label debut.
"A lot of the music I had done recently was a little darker, and sad—depressing if you will," he said in explaining the upbeat-sounding title to Larry King on Larry King Now at the time. "And I wanted this album to kind of be a departure from that and feel like, you know, when you go get the paper." 
Hopeful, like the dawn of a new day.
"I wouldn't use the term uplifting, maybe more like confident and just positive," he told King.
He also opened up about the addiction issues that required serious attention, even after he quit syrup.
"I had a little battle. I was having a good time I guess, but it was time to clean my act up and get back to work," he told Power 105's The Breakfast Club in August 2015. "Just accept my responsibility and who I am, and what I gotta do."
Miller didn't go to rehab, he said, but he took a step back from the spotlight to focus on music and his health. 
"I thought it was my right as a human to say I didn't wanna do anything. I don't feel like touring. I don't feel like putting an album out," he said. "There's a lot of space [in Los Angeles], so I could disappear. I was just making a lot of music and I got comfortable in this zone of like, I don't need to bring any money in, I got money. Just record and have fun—then I realized that I hadn't put anything out [in awhile]."
There wasn't a "heavy message" behind GO:OD AM, Miller added. "It's just a stupid double entendre, where the first half is about grandchildren and then the second half is about the first time I got a hundred grand," he said.
Robin Marchant/Getty Images
In addition to the drug problem, "I was just pretty depressed," he acknowledged to King. "...I think it started [with success]. It's funny because you talk to people and they say, 'You know, what do you have to be depressed about? You have money and [stuff].' I think what was—you know, I'm 18, 19 years old, going through this for the first time, doing it very differently, and I think what is usually just that moment in someone's life where they're trying to figure out who they are and what their identity is, it just gets magnified and it becomes a bigger thing because...
"Fame is tricky," Miller concluded, "because you read what's said about you, then you know what you know to be true, and the lines start to blur."
He didn't really know why he was depressed, the congenial artist admitted, and "you want to put your finger on it," but you can't. "I just went through a long period where I didn't wake up very happy."
Miller went back on the road and the estimable life he had carved out for himself continued. In the summer of 2016, he started dating Ariana Grande. They were spotted kissing over Japanese food in L.A that August, and a few days later she brought him to the MTV Video Music Awards. Grande made them Instagram-official that September.
They had known each other for several years, since collaborating on 2013's "The Way," which included a kiss in the music video, and there were romance rumors even then, although Grande had a boyfriend.
"When I went back to my old school, elementary, middle school, the other day when I was in Pittsburgh, and everyone was freaking out like 'You kissed Ariana Grande.' I was like 'Yeah, you know how I do,'" Miller joked with MTV News.
On a more serious note, he said, "Well she's a very, very talented singer, like she can sing incredibly. And, that's awesome and she's a great person. She's one of the nicest, just, people I've ever met in my life."
Grande told Cosmpolitan last year that their connection reached back even further. 
"I met him when I was 19," the pop star said. "We have loved and adored and respected each other since the beginning, since before we even met, just because we were fans of each other's talent. We weren't ready at all, though, to be together. It's just timing. We both needed to experience some things, but the love has been there the whole time."
True to form, Miller didn't want listeners to read too much into his fourth album, the lady-worshiping The Divine Feminine, but it's not as if he wasn't inspired at least in part by Grande.
"It's like the divinity of the woman that you're in love with, you know?" he told Nylon. "And it's kind of seeing the whole entire world in her. It's pretty simple, but also very complex in its own right. I think the more words that surround what it means, the more it gets viewed on what I'm trying to do here."
Most importantly, he had worked on the album completely sober.
"The idea of being 100 percent clear-headed was something I realized I had never done," Miller told the magazine. "As soon as I felt what it felt like to wake up every day and feel good every morning, I realized how important that was for me. You can do so much with a day. I spent so many days just waiting for the next one to come. Now, I'm excited for every day, which is really great. As soon as I learned that I could do things creatively sober, then it was good. As long as I can still be creative, I'm geeked. It's even better because before, my every other aspect was destruction. Now I can do both which is important because they feed off each other."
Kelsey McNeal/ABC via Getty Images
Love was his intoxicant instead.
"I think a lot of times people just want to be cool, and to be in love is not cool," Miller told Vogue in September 2016. "But I think it's the coolest. I think love is the coolest thing that there is."
However, as he put it to Nylon, "I think depending on the type of love you're getting, it can be different things. It can be blissful, it can be painful, it can be complicated, or it can be simple. It's not just one thing and that's really what I wanted to capture with this album is all the different aspects of it."
Really not wanting to talk all that much about his personal life while promoting The Divine Feminine, which included another another song with Grande, "My Favorite Part," he told The Breakfast Club: "I'm here to talk about music and I happen to be in a fantastic relationship with someone I also enjoy making music with, so those lines can get blurred very easily on what I am here trying to do."
Kevin Mazur/One Love Manchester/Getty Images for One Love Manchester
In April 2017, Miller called their relationship "very chill" in an interview with W. "I don't know, man. I think, we're just chillin'. It's whatever. That's not the real world," he added, referring to their social media presence and whatever other people had to say about them.
Asked about his sobriety, he indicated he wasn't abstaining entirely. "...I've spent a good time very sober and now I'm just, like, living regularly," he said. "I think it's important. I don't believe in absolute anything, but I think not sharing that type of information, because it becomes like, 'Oh he's sober, oh he's not, oh he has a beer, oh my god.' I just realized some things are important to just keep for yourself. That was a learning experience. But it was important to let everyone know that I wasn't doing f---ing crazy amounts of hard drugs. That was good to get out there."
At the One Love Manchester benefit that Grande headlined in June 2017, a few weeks after a terrorist bombing outside her concert at Manchester Arena, Miller joined her onstage to perform "The Way." She greeted him with a huge hug and kiss.
More recently, they went to an Oscars after-party together in March, and then in April Miller was with her at Coachella and tweeted supportively, "Very proud of this girl right here. Welcome back. We missed you. One of a kind."
That tweet has since been deleted, along with Miller's Instagram posts prior to July 12.
In early May, it became apparent that the two had broken up. The split was outwardly attributed to competing schedules that kept them apart. "This is one of my best friends in the whole world and favorite people on the planet Malcolm McCormick," Grande wrote afterward on Instagram. "I respect and adore him endlessly and am grateful to have him in my life in any form, at all times regardless of how our relationship changes or what the universe holds for each of us!"
A couple weeks later Miller got into his DUI accident. (He was charged with two misdemeanors in August; his arraignment had been set for Sept. 11.) A source told E! News that Grande had been "holding Mac together for a long time and it wasn't a good relationship for her."
And soon enough, Grande had enough of the blame game playing out on social media, firing back at one particular comment that accused her of dumping Miller for another guy after he cared enough to write an album about her.
"How absurd that you minimize female self-respect and self-worth by saying someone should stay in a toxic relationship because he wrote an album about them, which btw isn't the case (just Cinderella is ab me)," Grande wrote back. "I am not a babysitter or a mother and no woman should feel that they need to be. I have cared for him and tried to support his sobriety & prayed for his balance for years (and always will of course) but shaming/blaming women for a man's inability to keep his s--t together is a very major problem."
"Let's please stop doing that. of course I didn't share about how hard or scary it was while it was happening but it was. I will continue to pray from the bottom of my heart that he figures it all out and that any other woman in this position does as well."
By then she had started dating Davidson, and the two announced their whirlwind engagement in June. 
Zane Lowe asked Mac Miller in July if dating Grande, with all the attention that came with the relationship, was particularly stressful.
"Life is stressful!" Miller said. "So of course there were stressful times. Look, it's not that unique, you know. I was in love with somebody, we were together for two years, we worked through good times, bad times, stress and everything else. And then it came to an end and we both moved on. And it's that simple!"
As for her engagement, "It's all positive energy. I am happy for her and [that she's] moving forward with her life, just as I'm sure she is with me."
Meanwhile, Miller hadn't been hiding. He was simply lying low after his arrest, working on Swimming and not playing the social media sub-post game.
"It just all seemed kind of unimportant you know—the need to show people I was OK," he told Lowe. "Where does that come from?"
Waking up and not reaching for his phone every morning felt wonderful. "I used to look at my phone, scroll through Twitter and Instagram, and get my ego stroked and destroyed in five minutes, every morning," he said.
Miller continued, "That being, like, some part of like a weight in my emotional space, my head space, but it became second nature, right?...So when all the press happened, with the breakup and the DUI...but with everything that happened, it was just too much. You know, I'm looking at the Internet and I already have my own feelings and emotions and thoughts about what I went through. So why the f--k am I going to have room for all of these [opinions]? So I completely cut it out."
And what did he replace it with? "Space!"
Swimming, which has many of the hallmarks of a breakup-and-heal album, debuted at No. 3 when it came out. In its review, Pitchfork stated that Miller "explores his headspace with considerably more focus than Drake, Future, or Post Malone, artists who sometimes cut emotional corners in their rush to the next banger."
While a lot of healing is taking place on the album, Miller had seemingly come to the conclusion that being clear enough to experience your feelings was far superior to just being happy all the time.
He told Vulture, "I really wouldn't want just happiness. And I don't want just sadness either. I don't want to be depressed. I want to be able to have good days and bad day...I can't imagine not waking up sometimes and being like, 'I don't feel like doing s--t.' And then having days where you wake up and you feel on top of the world."
And it also sounds as though he thought he had a lot more time to ride out those ups and downs.
On "Self Care," he raps, "I got all the time in the world / So for now I'm just chillin' / Plus, I know it's a, it's a beautiful feelin' / In oblivion, yeah, yeah /
"Oblivion yeah, yeah."