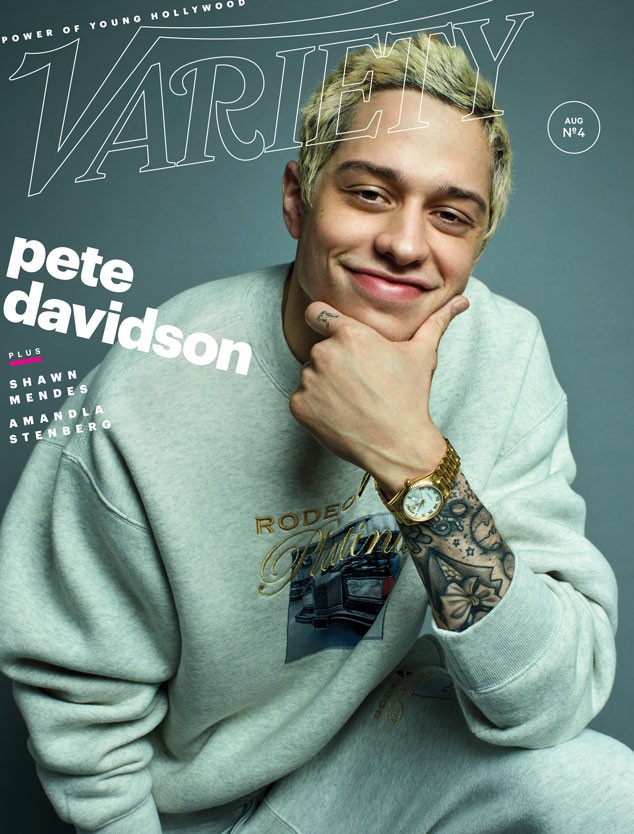 Peggy Sirota for Variety
Pete Davidson thinks Ariana Grande must be "blind" for accepting his proposal.
The 24-year-old Saturday Night Live star and the 25-year-old "God Is a Woman" singer, who have been going strong since May, are set to tie the knot, but Davidson still worries that Grande will lose interest in him. The comedian opens up about his relationship with Grande in his cover story for Variety's Power of Young Hollywood issue.
Recalling their first meeting at SNL in March 2016, Davidson tells the outlet, "I was obviously ogling and trying not to be creepy." While sparks flew for both at the time, they didn't start a real romance until about three months ago.
Nicholas Hunt/Getty Images for MTV
"We didn't know another person could feel — or treat a person — like that," he tells Variety. Weeks into their relationship, Davidson decided to propose to Grande. "I didn't want to do something corny," he shares about his proposal. "We were in bed hanging, after watching a movie. I was like, 'Will you marry me?' It was really dope." 
But he really wasn't sure if she would agree to marry him. "I'm still convinced she's blind or hit her head really hard," Davidson says. "Something is going to happen, and she's going to be like, 'What the f--k is this thing doing around?' For right now, it's rocking."
Grande and Davidson's relationship has received a lot of attention from fans and the press since it began in May. As a result, Davidson decided to take a break from social media.
"The internet is evil, and I don't like how it affects me," he tells Variety. "I don't like how the internet is a place where anybody can s--t on you and make anything up. I've worked really hard to get my brain to this place. I can't go online like everybody else because it's just a f--k-fest. And now I get to enjoy my life."
Talking more about his relationship with Grande, Davidson gushes, "I never thought I'd meet anyone like her. I can't even put into words how great of a person she is. I could cry. She's the f--king coolest, hottest, nicest person I've ever met."
"I'm f--king living the goddamn dream," he adds, sharing what his younger self would think of his current life. "I feel like I'm living in a fantasyland."
To see more from Davidson's interview, head on over to Variety.