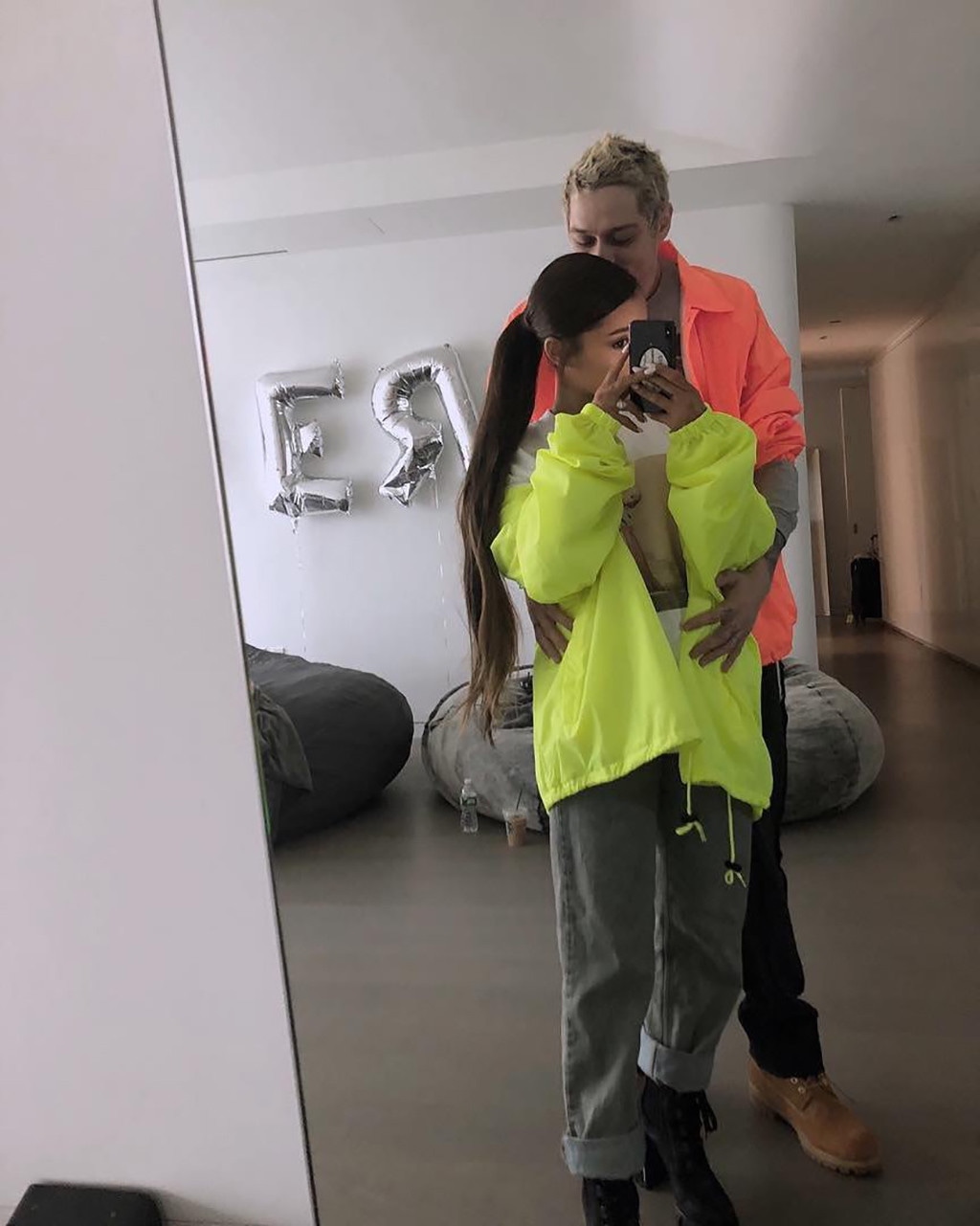 Instagram
Ariana Grande is the happiest she's ever been, and it's all thanks to Pete Davidson.
In an interview with Paper magazine, the singer explains her decision to name a song after her fiancé and discusses her ideal wedding day.
Since the Saturday Night Live star entered her life, the songstress has found a happiness she has never experienced before and, unsurprisingly, it shows in her music. "I have an interlude in my album called "Pete Davidson" because I didn't know what else to call it," the Sweetener performer explains. "I played it for Tyler, the Creator and he was like, 'I guess that title makes sense because if I wrote a song about how much I loved waffles and syrup I'd call it 'Waffles and Syrup.'"
In the song, the 25-year-old sings, "Universe must have my back, fell from the sky into my lap/And I know you know that you're my soulmate and all that."
Nicholas Hunt/Getty Images for MTV
And while her love for the comedian reflects in her work, she doesn't think it's going to affect her career. She says, "He's really supportive and just a positive thing all around in my life."
As for their impending nuptials, the musician is not too concerned about the details of the big day. "All I know is that I'm happy with Pete, that's all I really care about," she shares.
However, if the big day is anything like her 25th birthday party, then it is guaranteed to be a wild party. Her friend, Troye Sivan, laughed about how the celebration was "was this very mellow, chill dinner that got so f--king crazy and lit." So his prediction is that "this wedding is going to be the craziest thing in the entire world, it's going to be so much fun."
And Ariana couldn't help but agree since her and her friends "literally turned this tiny Japanese restaurant that's the size of a closet into a fucking bar mitzvah."
Now that's one wedding we can't wait to see.