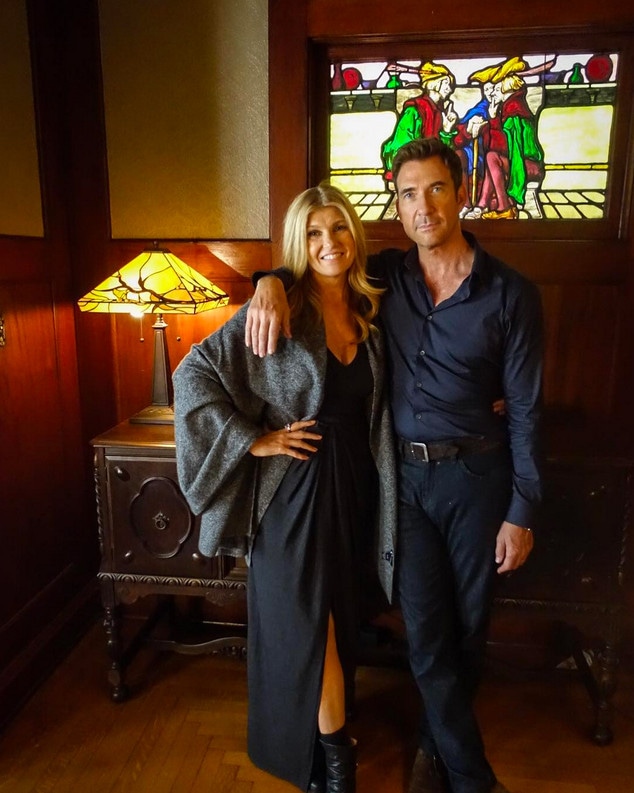 Instagram
Vivien and Dr. Ben Harmon are back in town?
American Horror Story creator and director Ryan Murphy has shared snapshots little by little of what to expect from the upcoming Coven/Murder House crossover to create the devilishly scary American Horror Story: Apocalypse. One of these updates—which could appear minor to a random passerby but major to any AHS fan—was a picture of Connie Britton and Dylan McDermott (Vivien Harmon and Dr. Ben Harmon on season 1) standing together in front of a stained-glass window. Murphy described the photo, "Connie and Dylan. The Harmon's in their forever AHS home...Murder House."
The Harmon's return isn't the first update we've seen inside an AHS abode. Last week, Murphy shared a picture of three women from the other American horror home: the Coven. Murphy captioned the picture of Sarah Paulson, Stevie Nicks and Lily Rabe, "The Return. Cordelia, Stevie and Misty catching a bewitching spell."
Though these snapshots do provide some insight as to what to expect from American Horror Story: Apocalypse, many secrets are hidden under cloak and key. If there's one detail to fan-girl about, however, it's that Jessica Lange will make an appearance in an episode as Constance, which Paulson will direct.
Many notable AHS alumni are returning to the series as well, including Evan Peters, Gabourey Sidibe, Kathy Bates, Emma Roberts, Cheyenne Jackson, Billie Lourd and more.
It wouldn't be a proper American Horror Story season without some extremely demonic spirit lurking about. This season, that'll be Cody Fern from one of Murphy's other shows, The Assassination of Gianni Versace: American Crime Story. According to the director, Fern will play Michael Langdon, who we last saw in season 1 when Langdon's character was a 3-year-old murderer. Oh, and he's apparently the Antichrist.
Buckle your seatbelts and lock the doors, because American Horror Story: Apocalypse returns to FX on Sept. 12.