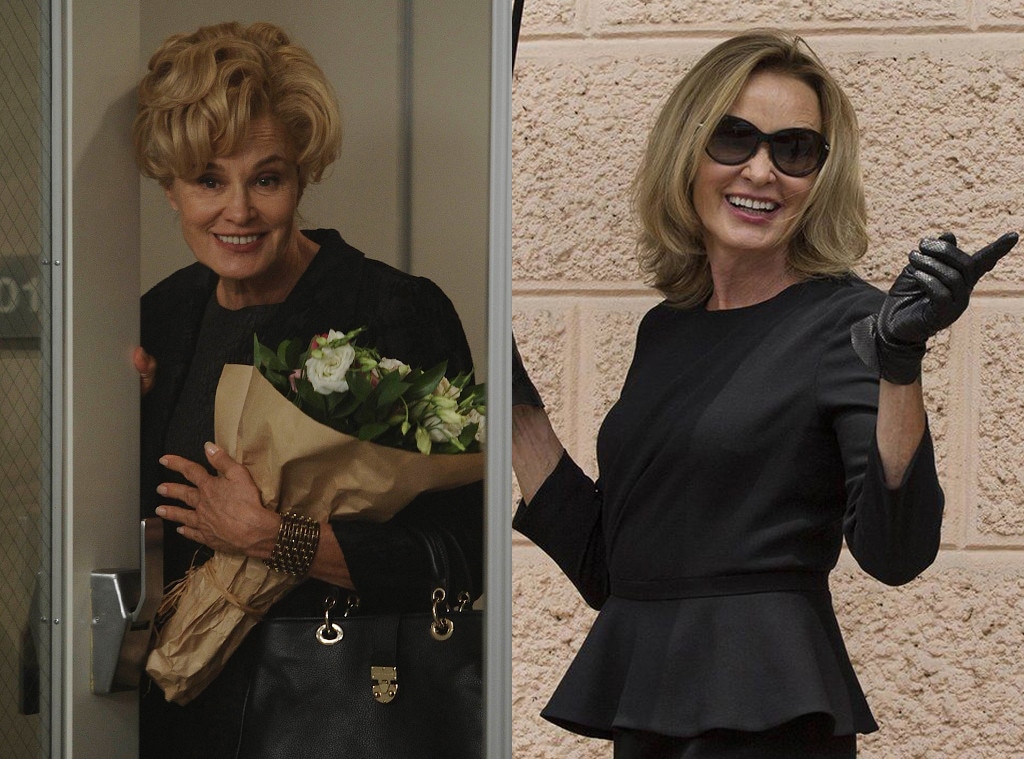 FX
Ready for some very good news, American Horror Story fans? 
After much speculation, Jessica Lange will be back for American Horror Story's big Murder House/Coven crossover that premieres September 12. Sarah Paulson gleefully announced the news at near the top of the show's panel for FX's summer TCA press tour. 
"Yes, she will be back as Constance in an episode that I'm going to direct," Paulson revealed, and further explained that it will be the sixth episode of the season. 
Constance was Lange's character in season one, the next door neighbor of the Harmon family and the mother of Tate (Evan Peters). She's also the grandmother of Michael Langdon, the baby/anti-christ who has already been revealed as a character this season. 
While the cast and EPs behind the series are being secretive as usual, we did get a few other details about Apocalypse during the panel. EP Alexis Martin Woodall revealed that "the story begins with the end of the world, and then our world begins," though she would not say exactly what kind of apocalypse we're facing. 
"It starts in the real world, it's very tangible," she continued. "If [the apocalypse] is what launches it, what's the fantasy world of what happens next?" 
The stars in attendance also all revealed the names of the characters they're playing. 
Leslie Grossman will be playing someone named Coco St. Pierre Vanderbilt. Billie Lourd plays Mallory, "just Mallory," and Adina Porter plays Dinah Stevens. Emma Roberts will be reprising her role as Madison Montgomery, promising many more meme-able moments. Kathy Bates revealed that her name is Ms. Meade, and Paulson will not only play Coven's Cordelia, but she'll also return as Billie Dean and another mysteriously named character that sounds like "Venable."  
Paulson also revealed that Cordelia is still the Supreme "for now." 
"At the beginning of our story that is the title she still holds," she said.
"I don't know how long that's going to last and enjoyment is not possible juncture of this story," she continued when asked if Cordelia was having a good time. "She's not running around like her mother and snorting cocaine and throwing young witches against the wall." 
The panel also confirmed that Peters will be playing a hairdresser this season, and that the story takes place about 18 months in the future. For everything else we know so far, head to our handy gallery!
American Horror Story: Apocalypse will premiere September 12 on FX.