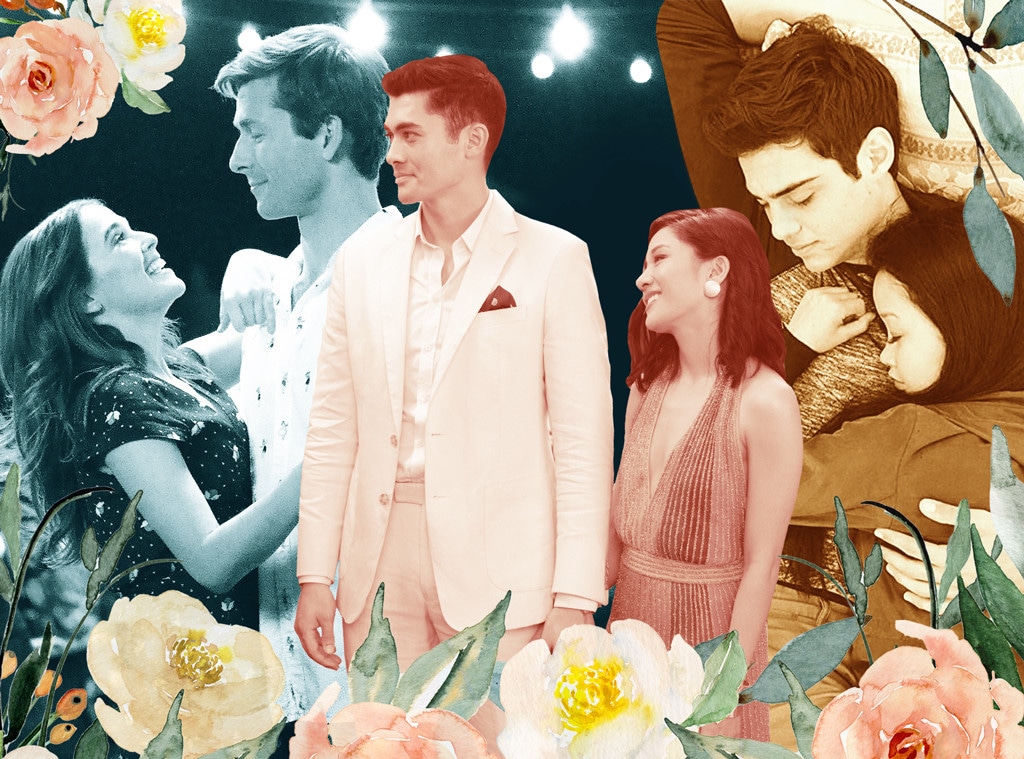 Warner Bros/Netflix; Melissa Herwitt/E! Illustration
The rom-com revolution is officially here—and it's about time. 
Crazy Rich Asians premiered this weekend, and while it was a landmark film even before its opening (it's the first movie to star an all Asian-American cast in 25 years), its box office performance is the latest piece of evidence that the romantic comedy genre is back and better than ever. 
The big-screen adaptation of Kevin Kwan's best-selling novel is the first romantic comedy to make over $20 million in its debut weekend in three years, winning the box office with $34 million. Think Like a Man Too in the summer of 2014. And the highest-grossing rom-com of 2017? The Big Sick, which grossed $56 million worldwide. So yeah, Crazy Rich Asians' crazy high gross is a crazy big deal. 
In case there was any doubt that the genre has come roaring back to life, look no further than Netflix, which has proudly dubbed this season the "Summer of Love," releasing no less than six rom-coms. (And actually offered "a gigantic payday" in an attempt to land Crazy Rich Asians.) 
Arguably the most critically acclaimed of those six releases was Set It Up, the fast-talking and fun film starring Zoey Deutch and Glen Powell, charming critics and viewers, leading to ongoing talks of a sequel and major career boosts for both its stars, with Powell even landing a top-secret role in Top Gun 2.
But it's actually the young adult fare that is really making an impact on Netflix, with The Kissing Booth becoming a pop culture sensation after its May release. Netflix CEO Ted Sarandos told New York that TKB, based on the novel of the same name by Beth Reekles, is "one of the most watched movies in the country, and maybe in the world."
The stars' social media ascension seems to back his claim: Joey King had around 400,000 Instagram followers before the film's May release and is now up to 7 million followers and counting, while her leading man Jacob Elordi currently has 5.8 million followers on Instagram; the virtual known Aussie had just 15,000 before the movie dropped.
And To All the Boys I've Loved Before, a whimsically delightful adaptation of Jenny Han's 2012 novel, is following in The Kissing Booth's steps, with .GIFS from the movie already dominating Tumblr after its Aug. 17 premiere (this time with the critical love to back it as well, with a 94% rating on Rotten Tomatoes). Noah Centineo, the handsome Mark Ruffalo look-alike at the center of the movie's love story, gained over 1.2 million followers in just the first weekend the movie was available to stream, and its leading lady Lana Condor has gained over 800,000.
In September, Centineo's other Netflix movie Sierra Burgess is the Loser, a modern retelling of the Cyrano de Bergerac story in which he romances Stranger Things' Shannon Purser (Consider justice for Barb officially achieved!), will be available for further streaming swoonage from his rapidly growing fanbase.
Netflix made a conscious decision to create original films to attract their younger audience, with Ian Bricke, the director of independent film at Netflix, telling the L.A. Times, "We had 13 Reasons Why and Stranger Things on the series side, but it was a space we hadn't explored much on the film side. We thought [The Kissing Booth] had a Disney Channel vibe, but felt slightly more grounded—it felt like an interesting, undeserved spot between younger YA and edgier teen fare."
A massively telling statistic the notoriously secretive streaming giant shared was that 80 million accounts (two-thirds of Netflix's global audience) have watched a romance-themed movie in the last year.
And the added benefit of releasing a rom-com on Netflix? Fans don't have to wait until the movie hits cable to rewatch it for that instant feeling of comfort only a repeat viewing of a warm and fuzzy love story can provide. Per Netflix, one in three viewers rewatched The Kissing Booth, 30% higher than their average rewatch rate for their original film releases. 
A common theme among these films is the strong female lead at the center, more often than not played by an up-and-coming star. In the '80s, '90s and early-aughts, some of today's biggest female stars—Reese Witherspoon, Julia Roberts, Sandra Bullock and Kate Hudson—became household names thanks to breakout roles in rom-coms before eventually going on to more "prestigious" pastures.
However, before the genre's recent resurgence, young actresses were eyeing either major franchises (Jennifer Lawrence in The Hunger Games, for example) or indie fare to establish their careers. The reign of the rom-com genre—save a Trainwreck every now and again—was seemingly long over, with actresses showing little interest in becoming America's next Sweetheart. 
So what changed, with stars like Crazy Rich Asians' Constance Wu, Deutch, Condor and King all being dubbed breakout stars after their recent rom-com successes?
Well, it all starts with the script, as Set It Up writer Katie Silberman said in an interview with Vulture when asked about her love for old romantic comedies.
"The characters were grounded and the women really had lives outside of whatever romance they were developing in the story," she explained. "You were watching real people fall in love instead of a shtick about falling in love. So many of my favorites from the '80s, even if they included Big Grand Gestures, I wanted to watch movies where people were doing other things besides just falling in love."
In the post Me-Too era, it doesn't matter if they are battling for survival in a dystopian future, reconciling their cultural identity or just trying to make it through high school unscathed, viewers just want their female characters to be strong and flawed on their own, with a handsome love interest serving as an added bonus.
"I think it has to do with the climate in the world. I think we're in a time that's pretty dark right now, and there's a lot of confusion about a lot of issues, and people want to escape," To All the Boys I've Loved Before director Susan Johnson told Mashable. 
Matt Brodlie, Director of Original Films at Netflix, told the site, "I think in this day and age, everybody needs a little love in their life, with all the disturbing news that's often out there." 
Ben Rothstein/20th Century Fox
And it's worth noting that romantic comedies centering on male protagonists are equally as swooned over. 
Love, Simon, Greg Berlanti's adaptation of Becky Albertalli's novel Simon vs. The Homo Sapiens Agenda, was the first movie from a major studio (20th Century Fox) to center on a gay teenage romance, holds a 92% score on Rotten Tomatoes, and took home the MTV Movie & TV Award for Best Kiss for Simon and Bram (Nick Robinson and Keiynan Lonsdale) epic first kiss atop the Ferris-wheel. It also won three Teen Choice Awards, proving its cultural staying power after grossing $66 million at the box office.
Netflix's gay teen comedy Alex Strangelove also received an impressive Rotten Tomatoes score (86%) and strong reviews from critics. 
Though Netflix's offerings tend to cater to a younger audience, it's not just the millennials and Gen-Z going heart-eyed over the romantic comedy revival, as Book Club, made for just $10 million, has grossed $80 million; the film starring Candice Bergen, Jane Fonda, Diane Keaton and Mary Steenburgen as a group of 50 Shades of Grey-obsessed friends has become one of the unexpected sleeper hits of the summer, proving movie-goers will leave the comfort of their couch for more than just superheroes in Spandex. 
The box office success of Crazy Rich Asians and the social media storm created by Netflix's summer flings have inspired more rom-coms: Destination Wedding, which reunites Keanu Reeves and Winona Ryder as two strangers who bond over their mutual hatred of weddings at, you guessed it, a wedding, hits theaters this Friday, and Netflix is set to release Someone Great, starring Internet darlings Gina Rodriguez and Lakeith Stanfield next year. Plus, the service just green-lit a romantic comedy written by and starring Ali Wong and Randall Park.
Just as exciting as the renewed interest in creating original rom-coms is the sequel potential for Crazy Rich Asians, with two more books from Kwan ripe for adapting. "If people show up that opening weekend, we would love to tell more stories," director John M. Chu told E! News before the film hit theaters. "We'd love to have other people tell their stories as well. We'll see, but it's up to the people who show up."
And show up they did, so we're expecting an announcement about the sequel (China Rich Girlfriend) any day now. 
To All the Boys I've Loved Before is also the first book in a trilogy, with the filmmakers and stars all expressing interest in a sequel, while Set It Up's director Claire Scanlon told us a sequel could be in the works. 
Rom-com cinematic universes? Now that's what we call a happy ending.