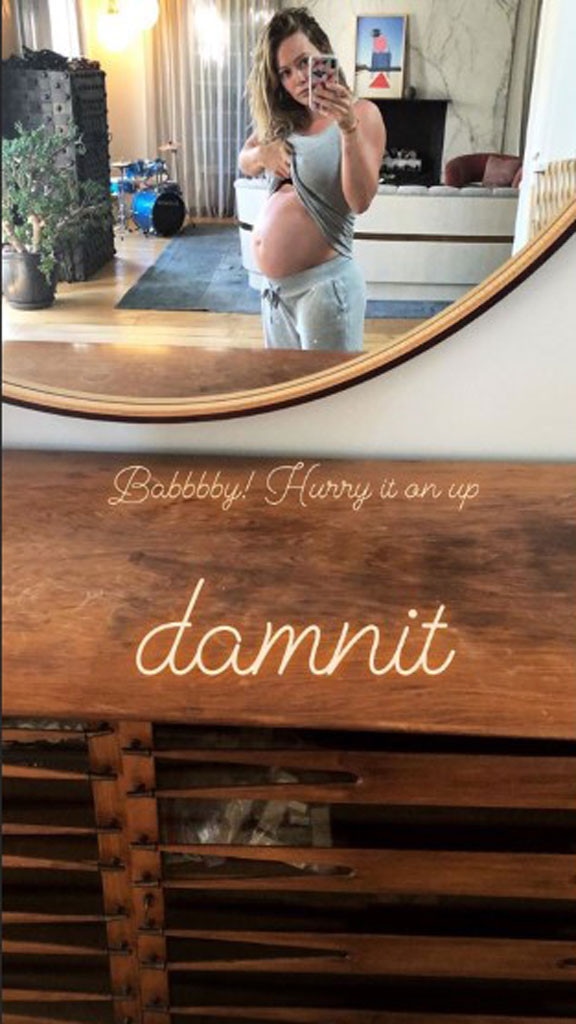 Instagram
Hilary Duff is ready for her baby to arrive.
"Baby, hurry it on up," the pregnant mom captioned her Instagram Story. In the selfie, the actress holds her bare belly as she nears the nine-month mark of her second pregnancy. Hilary has been itching to hold her baby ever since she found out she was having a darling daughter with boyfriend Matthew Koma. "I basically jumped 3 feet off the ground lol #hurryuplittlegirlwewanttomeetyou," Hilary captioned the video of the gender reveal.
Since then, the Younger actress has longed for the days when she didn't have to wake "up 9 times a night to pee." Nevertheless, she says it is, "Lovely to have a little life inside and to day dream of all the new adventures to come."
A source previously told E! News, "She has said that this pregnancy is a lot different than when she had Luca and that she forgot how it was to be pregnant! It's been a lot harder but she hasn't had any complications. She is just getting used to her body changing rapidly, and the process is taking a toll on her energy levels. Overall, things have been going smoothly and they are both preparing for her arrival."
Despite the discomfort, Duff has not let her growing baby bump hold her back from enjoying the good things in life, like her annual vacation to Hawaii. The getaway instead became a relaxing babymoon for her, her son, Luca, and a friend. Baby No. 2 technically joined in on the fun as Duff showed off her pregnant belly in a black bikini.
To see more of her pregnancy looks, check out the gallery below!
As the star reaches the final stretch of her pregnancy, the father-to-be is "getting very anxious," an insider recently told E! News. "[Matthew] is overly attentive and it makes Hilary laugh. She thinks it's cute that he's so involved already. The two of them are inseparable and Matthew is head over heels with Hilary. They are going to be great parents together," the source shared at the time.
And Luca is just as excited to meet the bundle of joy, with the source previously revealing the 6-year-old is "always asking about his 'baby sister' and always showing interest."
In a recent post to Instagram, the mommy-to-be told her future daughter, "[I} appreciate that this one picked Matt and I to be her mommy and daddy."