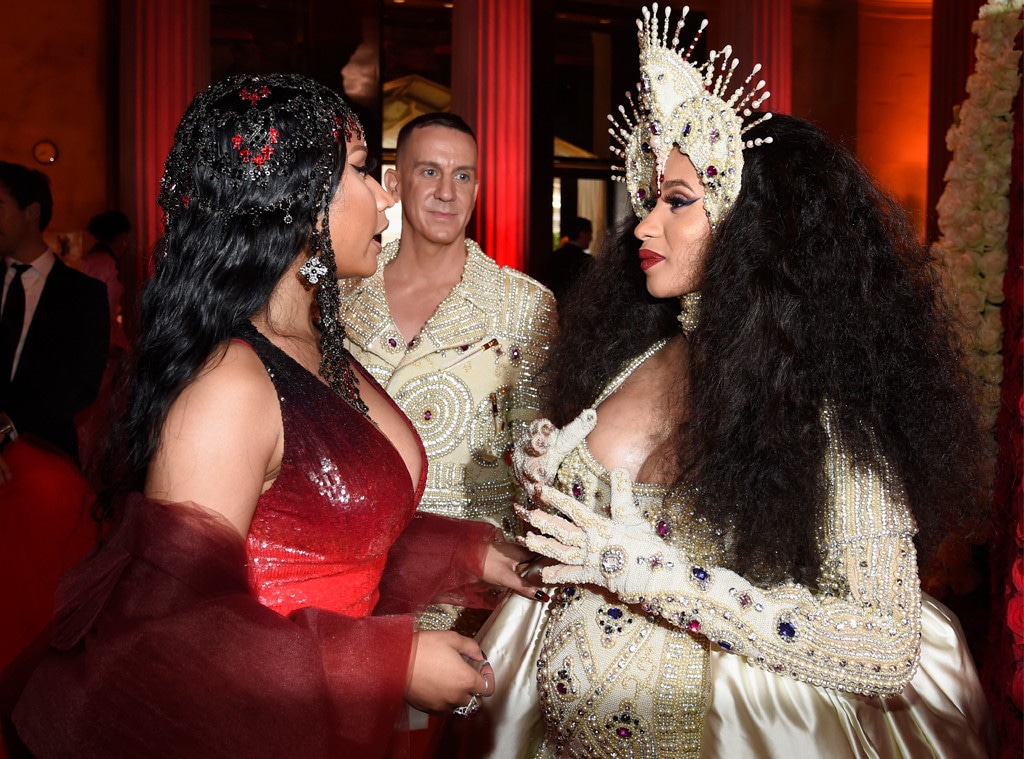 Kevin Mazur/MG18/Getty Images for The Met Museum/Vogue
Is Jeremy Scott responsible for mending the bridge between Cardi B and Nicki Minaj? 
It would appear so, thank to one photo from tonight's 2018 Met Gala. Let's break it down: Cardi attended her first Met Gala as the Moschino designer's plus-one. Nicki is a close friend of Jeremy's, and in 2016 they attended the Met Gala together. So it would make sense that Jeremy thought it his civic duty to unite the feuding rappers, right? (That's our story and we're sticking to it.)
Photographers caught Nicki and Cardi in conversation, and it looks like things went exceedingly well! Minaj might have even rubbed Cardi's baby bump! There's a reason this year's theme was "Heavenly Bodies: Fashion and the Catholic Imagination," people! 
Watch:
Nicki Minaj Brings the "Bad Guy" to the 2018 Met Gala
In a recent interview, Nicki said Cardi "begged" to be featured on her "MotorSport" collaboration with Migos. After hearing Cardi talk about her experience in a way that Nicki did not take kindly to, she said, "I really fully supported her and up until this recent interview that she did, I had never seen her show me genuine love in an interview."
"And I can just imagine how many girls wish they could've been on a song with Nicki Minaj. I'm not saying it in a cocky way," she continued. 
Looks like this ultra-talented pair has chosen to forgive and forget. For that, we're #blessed.