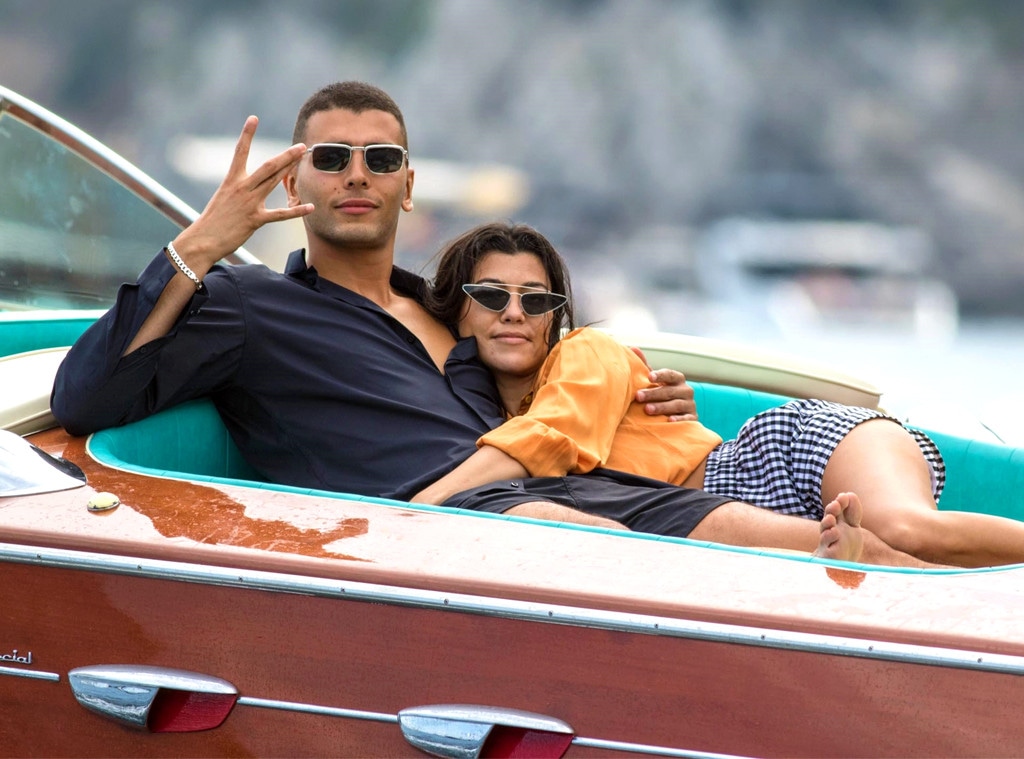 ToscanaPhotos / BACKGRID
Kourtney Kardashian is back on the market.
Earlier today, news broke that the Keeping Up With the Kardashians star and Younes Bendjima had ended their romance.
"They decided to take time apart, but ultimately it led to a split," a source shared with E! News. "Kourtney is upset but she is trying to focus her energy on other things and stay busy. Kourtney doesn't plan on calling attention to it publicly and wants everything to blow over."
We're also told that the pair was having ups and downs for the past month. And while there was a chance of a reconciliation, new photos of Younes getting close with a new girl may make things a bit more difficult.
As the relationship comes to an end, take a look back at our timeline of Kourtney's romance that took her all over the world with Younes.
May 2017: Let the romance rumors begin! After being spotted out on multiple occasions, fans couldn't help but wonder what was going on between these two. As it turns out, these two were totally dating. In fact, the pair took their PDA public during an unforgettable vacation to Cannes, Younes' 24th birthday party and more events. As for how this pair met, we're told Paris Fashion Week brought the two together. In fact, Younes was with Kourtney the night of Kim Kardashian's terrifying robbery.
June 2017: And off they go! Whether visiting St. Tropez or France, these two couldn't help but showcase their affection for one another throughout the summer. "He loves showing her around and knows all of the best places," our source shared. "He really wants her to have an amazing time and she is."
August 2017: Next stop on this love train? Egypt, obviously! "She is trying to live it up as much as possible this summer and she couldn't wait to see him again," a source shared. "He planned this adventure for them and wanted to take her somewhere new and exciting." And whether enjoying the beach, riding on camels or exploring the pyramids, this pair made the most of their stay. They would also visit Paris a couple months later in October.
December 2017: He scored an invite! Fans were buzzing around the holidays when it was time for Kris Jenner to host her annual Christmas party. Would Scott Disick get an invite? Would Younes also receive a pass inside the star-studded event. As it turns out, both were able to experience the magical celebration without any drama.
January 2018: New year, new vacation destination! The lovebirds headed to Punta Mita, Mexico for a "secluded and romantic" weekend away. "Their room was set up on a cliff with gorgeous views of the ocean from all angles," a source shared. "They spent most of their time at the private pool relaxing and listening to music."
April 2018: Another day, another romantic getaway! For five days, the famous pair enjoyed a romantic trip in the Bahamas. "They were very sweet together and blissfully in love. They seemed like they were on their honeymoon the way they held hands and smiled at each other," an insider shared with us. "Their stay was very private and romantic."
Vivien Killilea/Getty Images for The Syrian American Medical Society (SAMS)
May 2018: Happy birthday, Younes! After making a rare red carpet appearance as a couple at the Syrian American Medical Society' Voices in Displacement event in Los Angeles, Kourtney surprised her man with a birthday getaway. "Oh, s--t. She got me on my way to idknow where. 25 yo at midnight," Younes wrote on Instagram Stories.
June/July 2018: Who says summer vacation is just for the kids? For several weeks, Kourtney and Younes escaped from Los Angeles and were able to experience the sights and sounds of Rome, Capri and Italy. In fact, Kourtney's kids were able to enjoy part of the trip. "Younes is great with the kids and enjoys having them around," our source shared. "They are all comfortable together and look like a very happy family."
July 2018: Trouble in paradise? When Kourtney took to Instagram and decided to post a photo in a floral-print bikini swimsuit, fans noticed that Younes wasn't too impressed with the image. "That's what you need to show to get likes?" he reportedly wrote before deleting the comment. Ultimately, Kourt wasn't a fan of the quick decision. "Kourtney doesn't appreciate Younes posting his feelings in a public forum and being impulsive. She's frustrated that he continues to get upset about it," a source shared with us. "She isn't going to stop doing what she's doing and feels like he needs to understand and deal with it."
August 2018: Soon after photos surfaced of Younes and Jordan Ozuna getting close in Mexico, news broke that the former boxer and Kourtney were done. "They really want me to be the bad guy," Younes shared on Instagram Stories when posting an article. "F--k your Hollywood bulls--t (can't have fun with your friends no more)."
Keeping Up With the Kardashians returns this September, only on E!