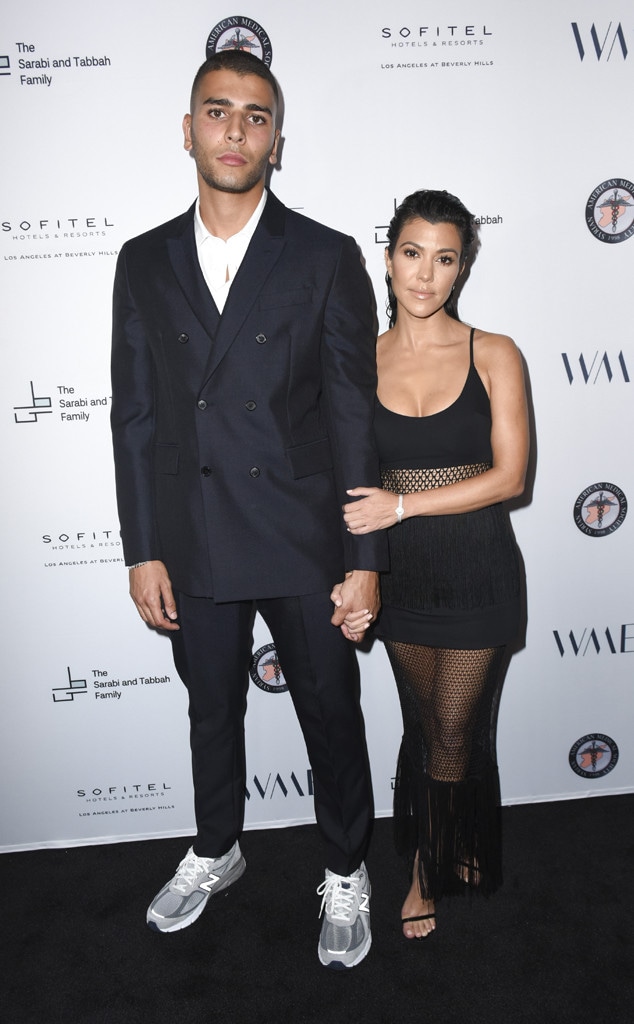 Vivien Killilea/Getty Images for The Syrian American Medical Society (SAMS)
Oh, the places they'll go!
Kourtney Kardashian channeled her inner Carmen San Diego for Younes Bendjima's birthday—and no, we're not talking about a role-playing fantasy. Shortly after the couple attended the Syrian American Medical Society' Voices in Displacement event in L.A. Friday—where they held hands on the red carpet—the 39-year-old E! star whisked her 24-year-old boyfriend away on a private plane. "For once," she teased on Instagram Stories, "he has no idea where we're going."
Neither do Kourtney's 62.9 million Instagram followers. Since her first post, the Keeping Up With the Kardashians star mostly published photos from past trips she's taken with the model.
Bendjima updated his Instagram Stories, writing, "Oh, s--t. She got me on my way to idknow where. 25 yo at midnight." While aboard their private plane, they enjoyed takeout from Jon & Vinny's, and after checking into their hotel, Kardashian surprised him with balloons and a cake that had a picture of him as a toddler on it—all while Jagged Edge and Nelly's "Where the Party At" played in the background. She sporadically shared photos from past vacations around the world into Saturday, until she hinted they were on the move again that afternoon. "When he won't let [me] in the hotel room, he raps," she said on Instagram Stories, later sharing a video of him dragging her through the hotel hallway. Kardashian later posted a video of the Colorado River and wished him a happy anniversary, all while keeping their next destination under wraps.
Kardashian's boyfriend was feeling reflective, so he took a moment to get serious on Instagram Stories. "On this special day, I just want to thank God for the priceless gift of life that he has given me, my being alive, healthy and for the wonderful people he has put in my life," he said. "My journey so far in life has been amazing. El hamdulilah [sic] always. Also, to my queen, my super hero, mom, I promise to live a life that will do justice for all the sacrifices you've made."
And now, we're just left with one question: Where will Kardashian and Bendjima go next?