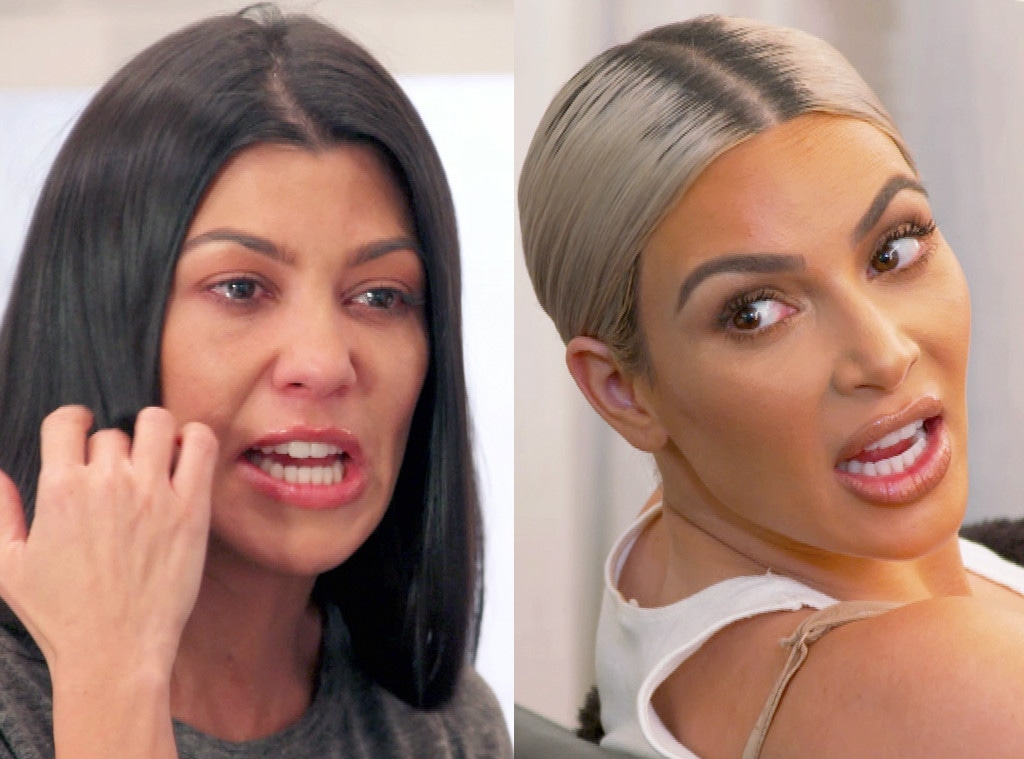 E!
Yes, all of the Kardashian siblings are tight. But determining which sisters are the closest is an ever-evolving puzzle. 
Growing up, Kourtney Kardashian and Kim Kardashian were "somewhat like twins," Khloe Kardashian has said. And the eldest sibling has certainly had her moments with gym buddy Khloe, the Suzanne Sommers to her Jane Fonda, in the past few years. But currently, the 39-year-old mom of three told E! News, the title of her bestie belongs to second youngest sibling Kendall Jenner. Quite simply, she and the 22-year-old model are "on the same wavelength," she explained. "We like to do the same stuff. We have good conversations, we have fun together, there's no drama with us." Most important, she summed up, "Kendall has my back this season." 
Stephen Lovekin/REX/Shutterstock
She could certainly use the ally. Because the epic fight over the scheduling of the family's Christmas card on Keeping Up With the Kardashians that saw Kim unleashing an epic torrent of insults—labeling Kourtney everything from "entitled" to "so f--king annoying" and "the least exciting to look at"—didn't wrap at the end of Sunday's season 15 premiere.
Sure, some nine months after Kourtney proclaimed she doesn't want to spend time with the KKW Beauty founder, 37, because "I don't agree with who you are as a human being," then skipped out on her Nov. 11 baby shower, they're "in a good place now," a source insists. But Kourtney herself revealed to E! News that there is some lingering resentment. There are only so many times, after all, a girl can be told she has no work ethic while pulling in a multi-million-dollar paycheck.
The tension started growing between her Kim and Khloe at the end of last season, she explained in a recent interview, with each side complaining of the other's criticism. "I felt like every day almost I was being picked on and criticized and I just couldn't take it anymore," said Kourtney. So when her siblings brought up her dearth of businesses again, she spoke her truth. "I've been really working on myself a lot and I think through my growth, I'm better at expressing myself," she noted. "I think in the past, I've always been great at, like, not being emotional. I think that I'm better now at expressing my feelings. So I think this is ongoing. It's a lot of communication instead of letting things go back into the way they were." 
She certainly didn't clam up during filming last fall. Insisting she had to wrap up her part in the family's shoot by 4 p.m. because "I really want to get home, relax, have dinner with my kids, give them a bath, watch a movie," Kourtney was unmoved when Kim explained she wanted to start later in the day due to meetings for her upcoming baby shower and holiday beauty launch. 
"Everyone understands if I don't do it, then I won't be able to launch my collection," Kim explained. "And I think it's so selfish of Kourtney and I'm sad that she doesn't understand that." 
Irate actually. Because as Kourtney continued to push for an earlier call, Kim lashed out. "Maybe if you had a f--king business that you were passionate about, then you would know what it takes to run a f--king business, but you don't," she screamed at Kourtney, admittedly content to hold down just the one job on the family's flagship reality show. 
But it was Kim's last dig, about the 5-foot-1 beauty's appearance, that caused her to storm out of Khloe's house, seeking refuge at her nearby 11,500-square-foot mansion. "I'm not here to be f--king mistreated by my f--king bitch family," Kourtney later explained. "Kim saying I'm the least interesting to look at, who even speaks like that?" 
As for the idea that she should rearrange her day to ease the burden on her more over-scheduled sisters, that was a hard pass. Given the option, she would skip the whole endeavor all together. "I'm not here to do photo shoots all day," she insisted. "That is not important to me." 
Kourtney Kardashian/Instagram
But what Kourtney saw as a difference in priorities, insisting that if money weren't a factor she would gladly be a full-time, stay-at-home mom, Kim viewed as pure selfishness. "You do whatever the f--k you want to do and you don't do s--t," she groused to Kourtney. "So be accommodating to the people that actually do s--t."
It's a complaint Kim was still holding tight to when she and mother Kris Jenner spoke at a Business of Fashion West panel in June. Teasing what she called "a major blowout," the momager noted that the best part of working—and occasionally fighting—with family is that most feuds are resolved in 10 minutes. But Kim insisted this one had lingered. "When I think about it, I do get really mad," she admitted. "It's basically just, like, people being disrespectful. It's the one thing that really gets me." 
And the answer to the question of why the eldest Kardashians are the most likely to butt heads. Though the beauty mogul—who's tried her hand at everything from fragrances to clothing to Kimojis—and the mom of Mason, 8, Penelope, 6, and Reign, 3, are just 18 months apart in age, their passions, temperaments and overall character traits vary wildly. "Kourtney and Kim have very different interests and different personalities," says a source, "which leads to them bickering a lot." 
More often than not, adds another insider, one or the other will draw Khloe to their side. "Then it's two against one and someone feels ganged up on," explains the insider. "They all call each other to say, 'Can you believe what so and so did?' But the silent treatment and not speaking never lasts long." 
Even the nastiest of battles—and this one was certainly laced with plenty of F-bombs and low blows—eventually gets worked out. "They always resolve things," insists the source. "It's normal and everyone laughs at them. It's hard to be a part of a family with many strong personalities involved, as there is always someone who is not getting along." 
This time, Kourtney is the odd one out, uninterested in building her own empire like Kim, Good American cofounder and Strong Looks Better Naked author Khloe and soon-to-be billionaire makeup mogul Kylie Jenner. But the University of Arizona grad, who helped launch their former clothing store DASH and once ran kids' shop Smooch with Kris, isn't exactly frittering her days away at home, adding photos to her Instagram feed. (Though when she does share a snap with her nearly 66 million followers, she can add a reported six figures to her estimated $35 million fortune.)
In addition to filming obligations, Kourtney participates in family projects, such as their Calvin Klein spokesmodel gig, constantly updates her app with details on her top leg sculptors or the latest iteration of her detox salad. She also willingly takes on a few side hustles, whether it's last year's fashion launch with PrettyLittleThing or her April collaboration with Kylie Cosmetics, a release that coincided with her trip to Capitol Hill to speak with congressional leaders about updating legislation to make beauty products safer. 
So her plate isn't exactly empty. And the title of CEO is simply not something she's striving for. "Kourtney is different from her sisters in the way where she doesn't feel inclined to start businesses and focus her energy on work," the source explains. "She likes having collaborations with brands and her sister's brands, but doesn't care to have her own right now." 
With a gaggle of school-aged children at home, "She is cherishing the time with her kids while they are young," says the source, "but I'm sure things will change as they get older." Having featured her home in the likes of Architectural Digest and Elle Decor, she even floated the idea of hosting her own home design show earlier this year, only to be quickly shot down by her sisters who questioned if she had the drive to make it happen. As Khloe joked, "This already sounds like too much of a commitment for you." 
So for now, says the source, Kourtney's days revolve around workouts with trainer Amanda Lee, spending time with boyfriend Younes Bendjima and ferrying her children to school and other activities. Says the source, "Her kids are her main and only priority right now." 
It's a point she continued to drive home while live tweeting the Aug. 5 episode, once again stressing how she and her sisters have different concerns and "mine is being a mother." 
Proving the emotions of the argument were still raw, Kim took the missive as a dig. Noting that their children were actually on set at the holiday card shoot, the mom to North, 5, Saint, 2, and Chicago, 7 months, added, "My #1 priority is being a mother as well and I can work too, so can you!" 
Which, she does, of course—the social media marathon being part of the whole reality show gig and all. It's just that Kourtney doesn't appreciate the taxing challenge of seeing exactly how much she can juggle. "I wasn't wanting more work, I already felt spread thin," she wrote to Kourtney, before making an attempt to explain her comments. "Being a good mother also has a different meaning to each of us," said the star, who's copped to feeling guilty when she's not home to greet her kids at the end of the day and help with homework. "You're an amazing mother. I'm not taking that away from you." 
Because, ultimately, just because they're reliving the feud doesn't mean they're still rehashing it. As Kim tweeted, "Don't get it twisted, me, Kourtney and Khloe are GOOD! ALWAYS!!!! Never question that."
While the show isn't always international excursions and joint bikini waxes, they share a bond that simply can't be removed. "They are sisters. They fight like all families and then they make up," notes the insider. "They sling mud and can hit below the belt like only families can. This isn't the first time and it won't be the last." 
In other words, expect more drama ahead. "It can get very ugly," says the insider, "but it's over before you know it." 
Just, you know, try to keep up. 
Watch a brand new episode of Keeping Up With the Kardashians Sunday at 9 p.m., only on E!