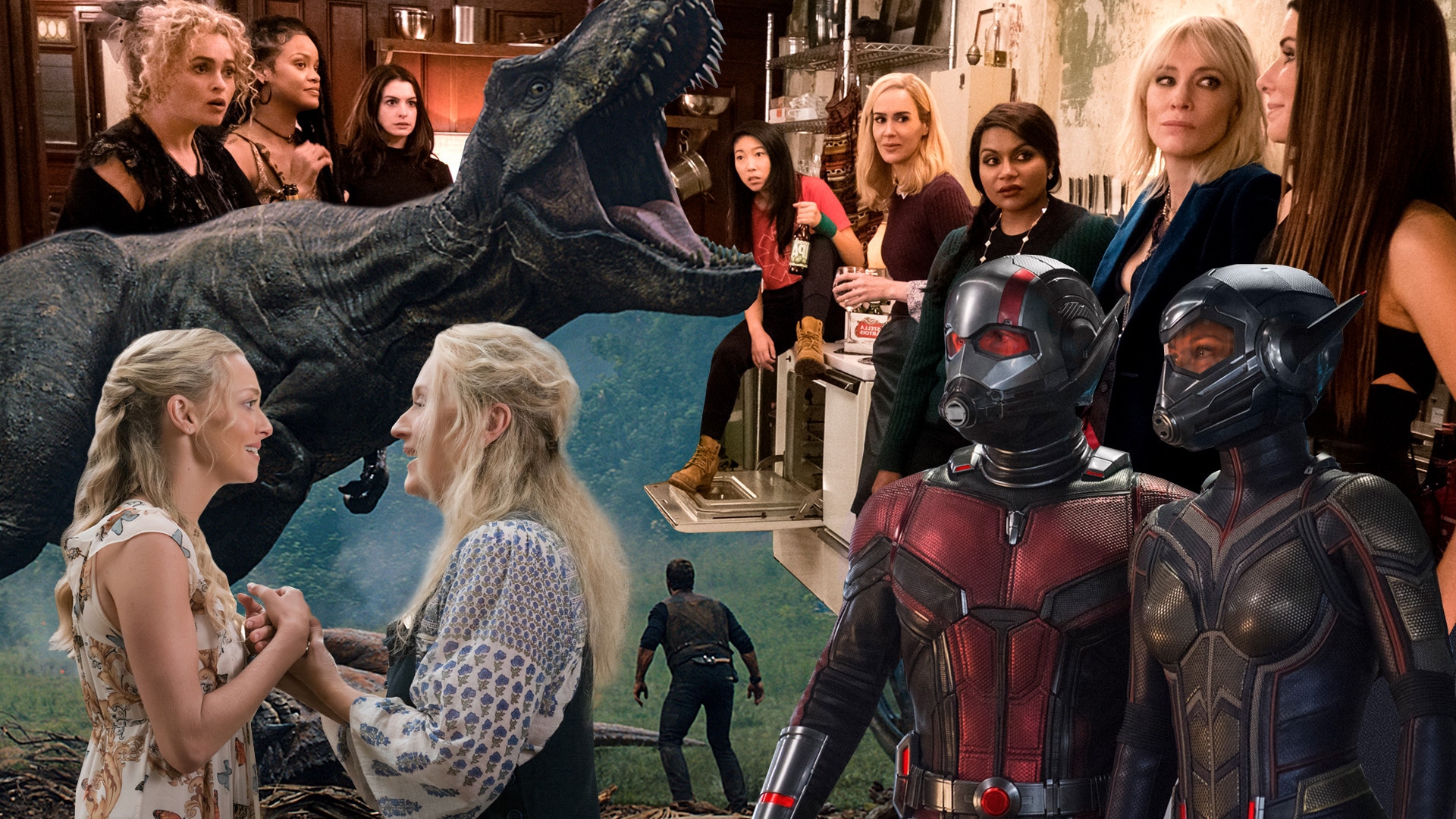 E! Illustration
WINNER: Ocean's 8 has officially won our Best of Summer Tournament: Movies category!
________
Summer is coming to a close—it's terrible, we know—and that means it's time to weigh in on what, or who, won summer.
There were a lot of big events this summer like the first all-female Ocean's movie hitting theaters, or Ariana Grande and Pete Davidson getting engaged, and all of them have a chance at winning summer...if you vote for them.
To kick off our 2018 Best of Summer Tournament we're focusing on the five biggest blockbusters that took over movie theaters around the U.S. and that left fans in awe, excited, and a little shook (in a good way).
So, which of these movies was the best of them all? Well, that's where you come in.
Let us know if you were counting down the days until Ocean's 8 hit theaters. If so, then your girl Sandra Bullock didn't disappoint with her squad of thieves as they took on the Met Gala and somehow bamboozled numerous people. 
What about Jurassic World: Fallen Kingdom? This film was the latest in the Jurassic World franchise, brought back Chris Pratt and Bryce Dallas Howard and made us love/hate dinosaurs even more. Come on, you know dinosaurs are terrifying.
Another big box office hit was Paul Rudd's Ant-Man and the Wasp. This was the sequel to 2015's Ant-Man and starred Rudd as the tiny superhero as well as Evangeline Lilly as Wasp and it was totally super...pun intended.
We've always loved Rudd's movies, but teaming up with Lilly was an even bigger reason to love this superhero flick and we need more from this duo ASAP.
Then, there was the musical, feel-good movie of the summer AKA Mamma Mia! Here We Go Again that came out last month.
As the follow-up to 2008's Mamma Mia! which starred Meryl Streep and Amanda Seyfried, fans got to travel back to Greece, sing more ABBA and get a glimpse at Donna's (Streep) life when she first arrived on the island thanks to Lily James' portrayal of young Donna in the movie. 
Lastly, there is The Spy Who Dumped Me, which just premiered last week and stars Mila Kunis and Kate McKinnon as BFFs who find themselves involved in spy shenanigans all over Europe. It's super funny and we already are big fans of this flick.
Now that we've narrowed down all of the amazing summer flicks to these top five, we need to know which movie you think deserves to be dubbed "Best of Summer."
Voting is now closed.
(Originally published on Monday, Aug. 6 at 7 a.m.)
Best of Summer Tournament: Movies