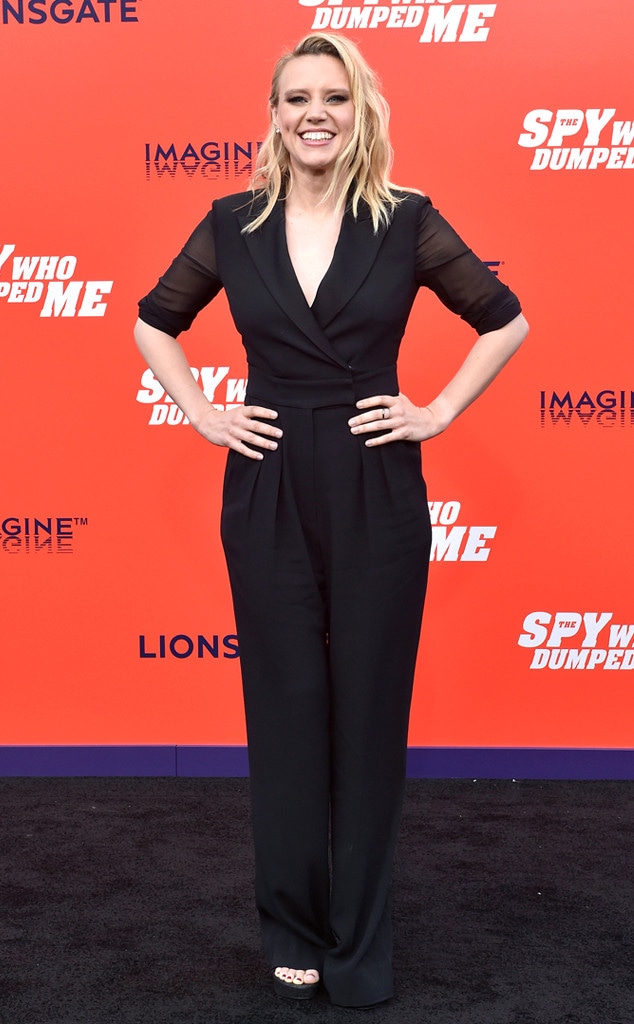 Axelle/Bauer-Griffin/FilmMagic
Kate McKinnon doesn't like talking about herself all that much.
The chameleonic star of Saturday Night Live is able to slip into whatever character the venerated late-night sketch series throws her way, be it Justin Bieber or Hillary Clinton or Cecilia Giménez (you know, the elderly Spanish woman whose failed attempt at restoring the famed Ecce Homo fresco painting in 2012 became a global laughing stock), with an enviable ease. As she continues to rack up Emmy nominations—she's been nominated for Outstanding Supporting Actress in a Comedy Series five times since joining the NBC series in 2012, taking home the trophy twice in 2016 and 2017—and ventures further into leading lady status on the big screen, our interest in the woman behind the hilarious characters has only grown.
But go ahead and ask yourself, what do you really know about Kate McKinnon. Not much, right? That, dear readers, is by design.
It's not that the funny lady is press shy, per se. Whether SNL is in season or she has a film to promote, as is the case with her latest, the upcoming The Spy Who Dumped Me, McKinnon is a veritable late-night mainstay, turning in very funny appearances on The Tonight Show and Late Night with Seth Meyers with regularity. It's just that between those genial visits and the delightful profiles she's received in magazines like GQ and Vanity Fair over the years, she's displayed a true reticence towards exposing her private world to her considerable fan base. Her pals (and fellow SNL vets) Jimmy Fallon and Seth Meyers always know to keep the conversation light and centered around her work or one of the few amusing anecdotes about her personal life that she's expressed a willingness to share with the general public. (More on those in a bit.) And when a print journalist attempts to crack open the comedienne's core self, well, the resulting tension is palpable on the page.
Take her cover story in the November 2017 issue of Vanity Fair, for example. McKinnon is quoted exactly six times, many of which are simply sentence length, before the author admits to asking their subject, "You don't want to talk about your personal life?" Her response: "She gives a fast, nervous shake of the head." From there, the piece simply ends. 
In her recent GQ interview, conducted for the magazine's June 2018 Comedy Issue, McKinnon was a bit more forthcoming on her reticence to discuss her inner world even remotely, especially as it stands in contrast to the actress' pre-fame days when, as a burgeoning comic and star of Logo's little-seen The Big Gay Sketch Show for three seasons between 2007 and 2010, she displayed a willingness to really speak openly on friends' web-only talk shows. 
"I get criticized by people who know me the best for not sharing enough details about my day or my life. I am just quite an insular person, I guess," McKinnon told the publication, while also flat-out admitting, "The Internet. God, I hate it. Are you writing down 'She hates the Internet'? Oh God. Oh no." Suddenly, her complete lack of social media presence made a stunning amount of sense. 
That's not to say that we know absolutely nothing about her, however. The New York native, full name Kathryn McKinnon Berthold, was born in 1984 to a parent educator mother, Laura Campbell, and architect father, Michael Thomas Berthold. She was a true student of the arts, learning to play the piano at at five, the cello at 12, and teaching herself the guitar at 15. She grew up in a comedy-loving family, with her father, a huge fan of SNL himself, introducing his daughter to the show she would one day become the Emmy-winning face of, awakening her life's "only dream," as she explained in the August issue of Glamour. 
Around the same time, at the tender age of 12, McKinnon experienced another awakening of her own, when her "physiological reaction" to Gillian Anderson's Agent Dana Scully on the Fox classic The X-Files clued her into the fact that she was, in fact, gay. That Anderson, who would go on to appear with McKinnon in The Spy Who Dumped Me in one of those sort of kismet stories only possible in Hollywood, served as the actress' root (a slang term in the gay and lesbian community for one's early sign of their queerness) has become one of those aforementioned stories that McKinnon has deigned safe to share openly time and time again, likely because it's such a terrific story—and also likely because her Dana Scully Halloween costume as a child is too good to keep hidden. (And also likely because it's a safe way of addressing the history she's made being SNL's first openly lesbian cast member without to, you know, divulge any details about her current personal life.)
Tragedy struck McKinnon's family in 2002, before she or her younger sister Emily had even graduated high school, her father passed away after a battle with brain cancer. While McKinnon has never spoken about the loss of her father on the record, it's not hard to imagine that becoming a featured player on the show he introduced her to only a decade after his passing carried with it a bittersweet quality.
Months before graduating from Columbia University with a degree in theater in 2006, McKinnon landed her gig on The Big Gay Sketch Show after attending an open call audition. "And I thought, 'Well, this will be easy,'" she recalled to Rolling Stone in 2016. " 'I can just be a comedian.' And then, after the 25th audition I didn't get, I thought, 'Oh, no, this is not going to be easy.'" She eventually found her way to SNL, and once she did, that's when the details about her personal life clamped up.
Walker/Variety/REX/Shutterstock
If you've caught any of her talk show appearances, you may know she has a cat, Nino, whom she often refers to as her son. "He's named after the pizzeria where he was discovered," she once told Ellen DeGeneres on her eponymous talk show. "They wanted him gone from the pizzeria because he kept eating all the crusts. He's 17 pounds." What you've never heard in any of those appearances? Talk of her girlfriend, Jackie Abbott. In fact, we only really know about Abbott's existence in McKinnon's life thanks to their joint appearance at the 2017 Emmy Awards last September and an over-zealous Instagram post from RuPaul's Drag Race judge Michelle Visage.  "I have SUCH a crush on #KATEMCKINNON SO HAPPY SHE WON!!!" Visage captioned a photo with the pair that also included RuPaul, Carson Kressley and Ross Mathews. "Her girlfriend Jackie was just as lovely as she is!!" An actress and photographer, Abbott appears to be as social media-adverse as her girlfriend, with just an Instagram account promoting her photography.
While McKinnon's work week when SNL is in season keeps her plenty busy, and summers tend to be devoted to film work, she's not without other interests. And how interesting those interests are. "I have always had eclectic obsessions: astrophysics, music theory, the Mongol empire and its history, and the history of the Silk Road, to name a few," she told Vulture in 2016. "I did just start getting home delivery of the newspaper and that feels like the most grown-up thing I could have done."
On top of that, she loves to paint. As she revealed to GQ, she's been turning the air in her one-bedroom Upper East Side apartment "toxic" for years, first painting portraits and now still lifes with "as much photo-realism as I can muster, which is not nearly as much as some other people can muster." (Yes, that's likely where her lovingly mocking impersonation of the aforementioned Cecilia Gimenez comes from.) In fact, she spent the three weeks between her 2012 SNL audition and the moment she got that prized call from head honcho Lorne Michaels that she got the gig holed up in her apartment, painting. "I still have the painting that I was trying to do," she told the publication. "It remains unfinished."
However, she's the first to admit that the grind of her day job tends to keep her living something of a hermetic lifestyle. "On Monday morning, I'll say, 'What did I do? Did I live at all in the last week? Did I experience anything, other than something that I saw on Netflix, and can I make a joke out of it?' It's by accident that I live," she told GQ. "I try sometimes to live just so I'll have something to say."
Just, you know, don't expect her to say it in public for all our prying ears to hear.
"The reason I was a horrible stand-up comedian is that you must speak your utter truth with details—the realer and more gruesome, the better. And I just decided that I hated the feeling of doing that," she told the magazine. "I so much more loved the feeling of disappearing into a character that was saying what I wanted to say and came from my heart. But was not me."