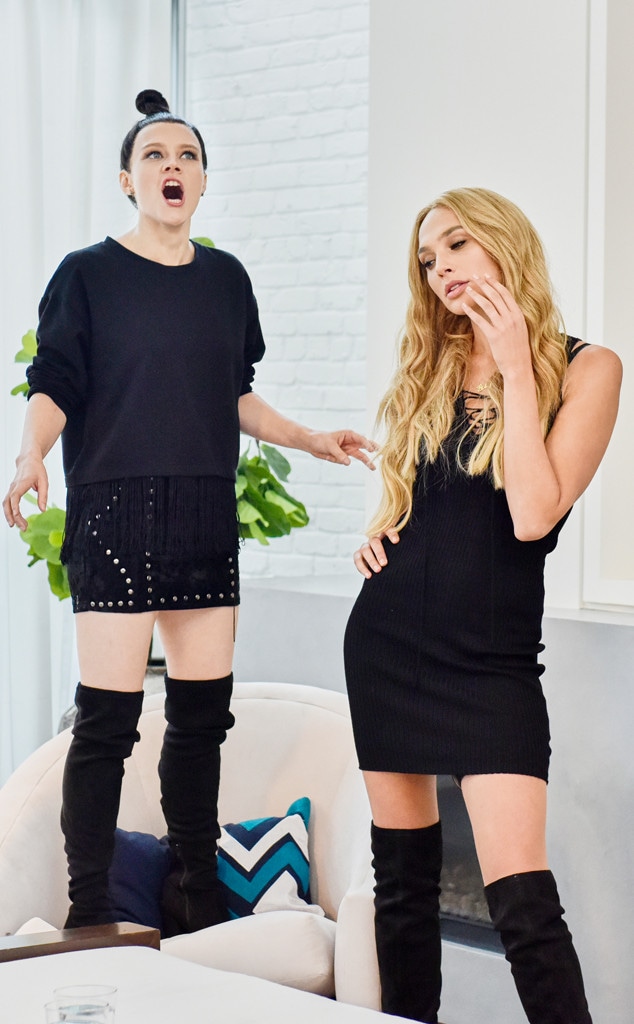 Chris Siracusa/NBC/NBCU Photo Bank via Getty Images
Kate McKinnon has mastered the art of being Gal Gadot. 
The SNL comic and Wonder Woman star have certainly gotten to know each other over the last year—they even hilariously smooched during one of the sketches for the actress' hosting gig on the NBC show in October. Whether it's the result of their friendship or the comedian's sheer talent, McKinnon has since perfected an imitation of the blockbuster star. During an appearance on The Tonight Show Wednesday, the SNL star shared the impression with host Jimmy Fallon. Needless to say, it was the gift we all needed this holiday season. 
"She's like not that special, right?" McKinnon quipped of her co-star. "I'm kidding! Oh my gosh—she really made an impact down at SNL." According to McKinnon, she and fellow SNL funny lady Aidy Bryant quickly understood Gadot's essence. "Now we know that we are Midwestern toads compared to this Mediterranean goddess," she joked. "Everything she says is like a prophecy."
For example, when McKinnon asked the actress what her hobbies are, Gadot replied in her signature soothing voice, "I love to go to the beach. I love to paddle board. I love to watch my children run on the sand. I love to go to the Maldives."
"I was like, 'I watch Dateline, Gal," McKinnon plainly replied. "Everything she said was magic." 
The action star managed to captivate the entire SNL cast during a dinner before the Saturday show. "She sat down and she was like, 'I want everyone to go around the table and say something they've never told anyone,'" McKinnon recalled. While there were some objections, the actress persisted.  
"She was like, 'No, really. We have to do this," the comedian described. 
Gadot managed to persuade even SNL executive producer Lorne Michaels. "He told a story!" McKinnon noted. "She changed the game."
If you're in need of a good laugh, watch McKinnon's hilarious imitation of the star above!