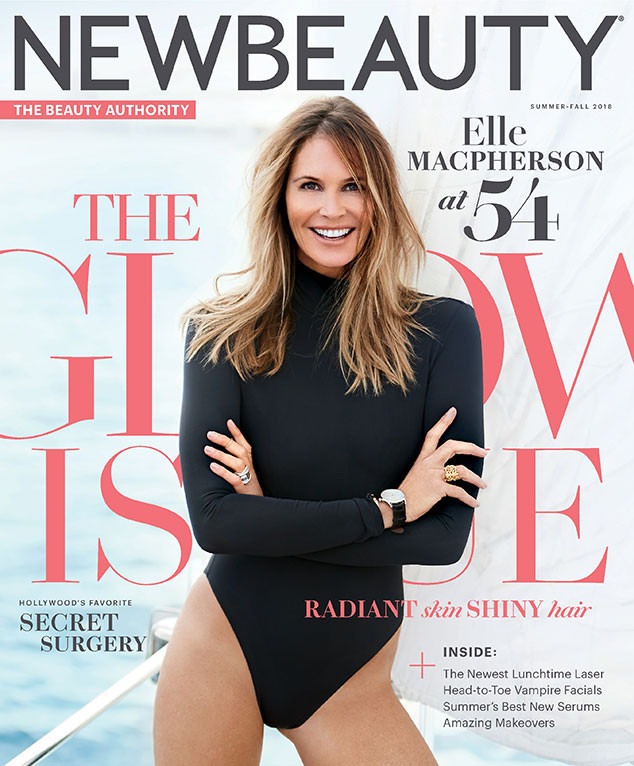 New Beauty/Gilles Bensimon
Elle Macpherson has figured out what works for her. 
As a model that has launched hundreds of covers and strutted down countless catwalks, the 54-year-old knows a thing or two about beauty. After all, she's spent decades in an industry that depends on it. Needless to say, the runway icon has learned a few things about feeling and looking her best, especially after turning 50.
"What I noticed is that my skin got dry," the 54-year-old told New Beauty of her milestone birthday. "I started to put on weight around my waist and hips, which was never my thing before. My legs started to get heavy. I started to feel lethargic. I also didn't feel inspired. I wasn't sleeping. My whole energy felt heavy." 
As a result, she sought the help of a nutritionist and set off on a plant-based alkaline diet and powdered supplement. In addition to sticking mainly to a raw, plant-based diet, there are a few other things that attribute to her time-rewinding results. 
New Beauty/Gilles Bensimon
In addition to dehydrating her own granola, juicing and keeping cheese and other animal byproducts to a minimum, she typically kicks off her days around 5 a.m. with meditation followed by hot water and lemon instead of espresso. 
As for exercise, the star, who famously had her own workout video, told the magazine she practices yoga these days or will do activities in water, like waterskiing. Plus, there's always simply walking. 
"If I'm lucky enough to be by the sea, I think walking in seawater is one of the best things I can do for my body," Macpherson told the magazine. "It tones the legs and the waist, it's great for minerals, and if you have any water retention, it's a great diuretic. I walk in about thigh-deep or knee-deep water for 40 minutes to an hour."
Beyond food and fitness, the star dry brushes her body and switches from hot to cold in cycles while in the shower. She'll also spend some time in a portable infrared sauna in her house. 
"I'll watch TV in there or do a meditation or a phone call," she told New Beauty. "That's been phenomenal for the quality of my skin and the capacity of my body to detox and really function well."
While she's clearly dedicated to her regimen, there's one thing she can't give up—the sun. As she told the magazine, she lays outside for 20 minutes in the morning and 10 minutes in the afternoon to give her immune system a boost. 
"I close my eyes and raise my face to the sun so that the pineal gland in the front of my head is toward the sun. That just works wonders for your immune system," the icon told the magazine. However, there is one thing she would tell her younger self about the rays. 
"I do wish I'd worn more sunblock! Or looked after my skin when I was younger, because it really shows now."