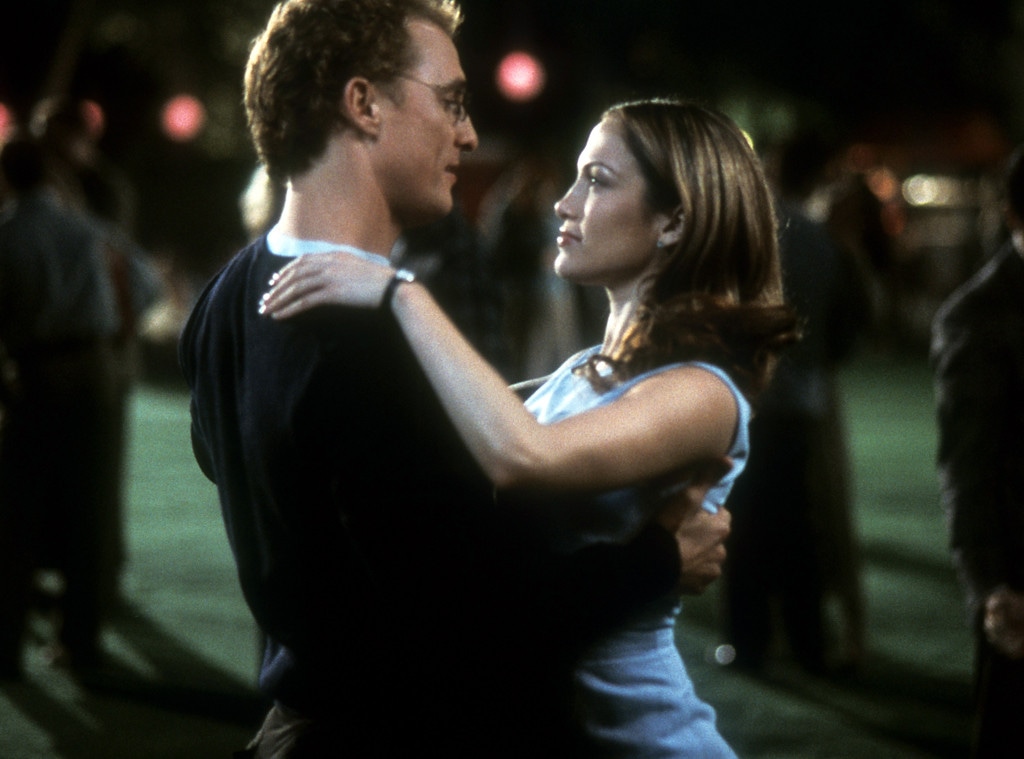 Columbia Pictures/Getty Images
Jennifer Lopez is back, baby!
OK, technically Lopez never went anywhere and she's been both acting and singing a lot lately with Shades of Blue and the release of four singles this year, but we're talking about her romantic comedy comeback.
The last time that we saw the "Dinero" singer in a traditional rom-com was back in 2012 and if we're being honest we've missed her.
Luckily, the official trailer for Lopez's upcoming rom-com which also stars her real-life BFF Leah Remini and Milo Ventimiglia as her love interest is here. 
According to the teaser, Second Act is about Maya (played by Lopez), who works at a big box store but is ready to reinvent her life by proving that street smarts are just as important as an education. It is set to hit theaters this November, so mark your calendars. 
The only bad news is that still means we are without a Lopez rom-com for the next few months.
In order to deal with the J.Lo withdrawals we took a trip down rom-com lane and pulled Lopez's best roles from this genre of films for you to vote on.
We all know you have a favorite romance film from the 48-year-old actress so why not tell us about it?
The Wedding Planner:
The 2001 movie was actually Lopez's first romantic comedy and it might just be the best one she's ever starred in. She played wedding planner Mary Fiore who makes everyone else's romantic dreams come true while striking out in the love department herself. That all changes when she's almost hit by a trash bin, but is saved by the dreamy Steve Edison (Matthew McConaughey). The only problem is he's one of her grooms!
Maid in Manhattan:
What happens when a wealthy Senatorial candidate falls for a woman he thinks is staying at the same ritzy hotel, but is actually a maid there? Well, an adorable love story full of glamorous outfits, hilarious character actors and of course an epic romance, obviously. 
Gigli:
OK, Gigli isn't one of Lopez's best movies, but it did give us Bennifer on the big screen so we can all agree that was fun, right? In this 2003 film, Lopez plays Ricki, a woman sent to make sure that Larry Gigli (Ben Affleck) doesn't mess up his job, which is to kidnap the brother of a prominent district attorney, and along the way the two fall in love. Oh, and Affleck has a hilariously awesome accent which we will never forget.
Shall We Dance?
Richard Gere, Susan Sarandon and Lopez all in one movie? Yes, please! Shall We Dance? is a movie about an overworked estate lawyer (Gere) who decides to take ballroom dance lessons after seeing a beautiful instructor (Lopez) from the window. Sarandon plays Gere's wife in the film and we die a little inside each time we watch the scene where he shows her his moves and proves that his love for her is forever.
Monster-in-Law:
Charlotte (Lopez) is over dating until she meets Kevin (Michael Vartan), who is perfect. Too bad his mom (Jane Fonda) is a nightmare and after seeing her son propose to Charlotte she does everything in her power to break them up. It's freaking hilarious.
The Back-Up Plan:
The Back-Up Plan is the age-old story of a woman who no longer wants to wait for the perfect man to start a family. Enter Zoe (Lopez), who conceives twins through artificial insemination...the same day that she finally meets her dream guy. Together the two date, try and prepare for two babies and still manage to fall in love. 
What to Expect When You're Expecting:
This 2012 film was the New York City native's most-recent rom-com and it's very funny. It follows five interconnected couples (think Mother's Day but with couples) who are all expecting. Some are couples who've been trying for years, others slept together one time, and Lopez's character and her husband are adopting. Together they all figure out that having a baby is nothing like what you'd expect. 
PS: Lopez's new rom-com, Second Act, hits theaters on Nov. 21, 2018.
Jennifer Lopez's Romantic Comedies Poll