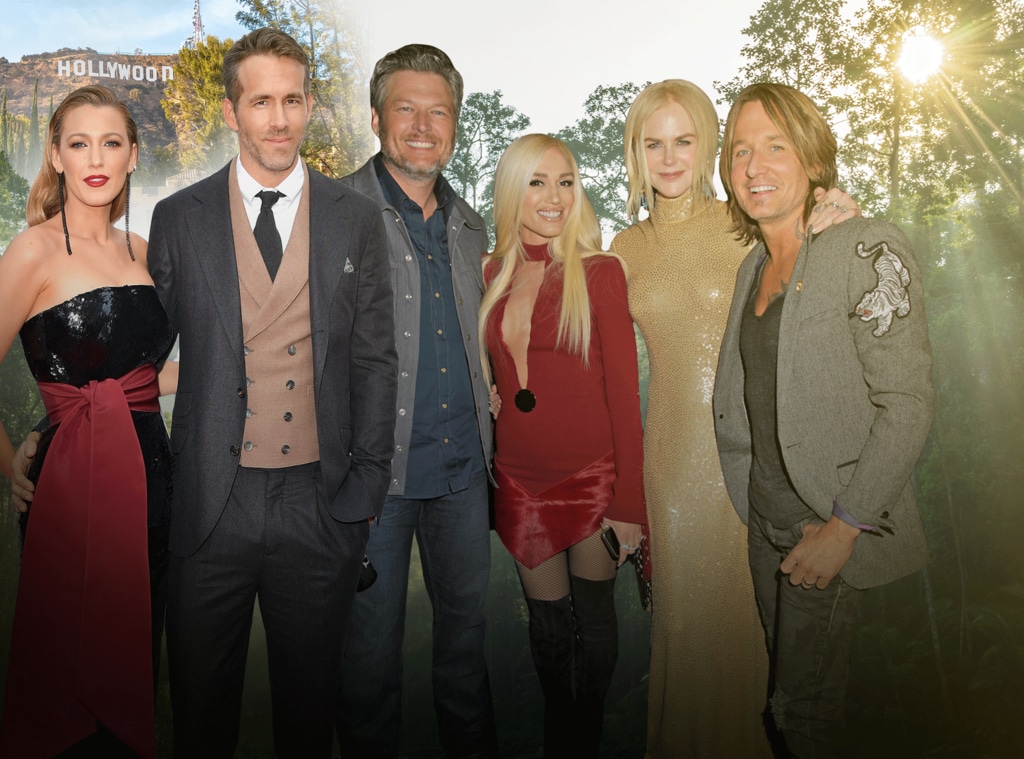 Getty Images; Melissa Herwitt/E! Illustration
Last Christmas, Gwen Stefani knew just what to get the man who pretty much has everything, including hundreds of acres worth of property, more than enough millions to keep him in jeans and plaid button-downs for life and, apparently, a pack of wildebeests that roam his Oklahoma ranch. 
With boyfriend Blake Shelton unable to fit his 6-foot-5 frame into any of the furniture in her Hollywood Hills home, she purchased him his own couch to lie on. "I'm putting it outside," she noted during a November appearance on The Tonight Show so that Shelton would be able to situate himself across from a bonfire and make believe he was deep in the woods. "I try to make him feel comfortable in L.A."
Quite the lofty goal for someone who equates logging weeks in California to being locked up. While the 42-year-old native of Ada, O.K. (with a population of 17,000, it's home to nearly four million fewer people than L.A.) can handle being in the city when he's visiting his love of two-plus years and her boys, Kingston, 12, Zuma, 9, and Apollo, 4, "the second I'm there and she's gone working or something, it's miserable," he said on American Country Countdown. "And it's not a reflection of the people there, it's just the fact that it's a city. And I don't feel any different about that as I would New York or Chicago or St. Louis or Dallas. It's just a city, for me, is just I feel trapped a little bit." 
A fair point when you consider he owns nearly two square miles of land in tiny Tishomingo—an Oklahoma town that's not quite five square miles and boasts little more than 3,000 residents. At his ranch, he's able to traverse the 1,200 acres by foot or four-wheeler, hang with his coterie of animals or simply "walk outside and burn something," a beloved activity that's likely to be frowned upon in a city that's nearly ravaged by brush fires each year. And as lovely as Stefani's spread is, the 1.3 acres of space simply can't compare: "I just feel a little bit like I'm in detention, you know, when I'm in a city somewhere," Shelton admitted, "like I got in trouble for something." 
Since 2011, the five-time Country Music Association Male Vocalist of the Year has called L.A. home at least part of the year, thanks to his filming obligations as a coach on The Voice (and now his romance with Stefani, 48), but he's never quite settled in. 
From those early days, he insisted on renting, fearing that actually owning property within the city limits would change him from being the type of person who likes to drink vodka, hunt elk and urinate outdoors, because, yes, he did that at the Hollywood Hills rental he once shared with ex-wife Miranda Lambert. "I bet I'm the only guy within six or seven square miles of this area who goes outside to pee," he boasted back in 2012, "just because I think it's funny to me to see how far I can pee down into the canyon."  
While that's one upside of L.A. life, Shelton simply isn't impressed by the other trappings of the city. While he'll guzzle the occasional green juice, he prefers Big Macs to sushi ("What could be more disgusting than raw fish?") and doesn't do yoga. And he's straight-up baffled by his neighbors' reaction to nature. "I'm dyed-in-the-wool Oklahoma," he explained to Men's Journal in 2013. "I see a deer in L.A., and everybody's standing around it taking pictures. Back home, that's the enemy." 
Try as she might to impress him with trips to Disneyland, "I think that he's quite miserable when he's not in the woods or somewhere in camo," Stefani noted to Jimmy Fallon last year. 
That's why whenever he can, the animal lover, who started collecting frogs and pet raccoons in middle school, directs his private jet to land on the tiny airstrip in nearby Durant so he can drive north to Tish. "It's just like plugging in your phone," he told Men's Journal. "I get in my truck, I see the fields, see the cows." 
These days he often has a passenger in his Chevy pickup. Months after their romance kicked off in 2015, Stefani ventured out to the ranch for the first time and quickly fell in love with the three traffic light town. "It is very beautiful there," she raved to Chelsea Handler on her Netflix show last fall. "I love going there because I feel like it's so...I get to do nothing, and I never get that here in L.A." 
Her boys have a blast tooling around on ATVs and floating through the creek (or taking Shelton's boat for a ride on Lake Texoma), while Stefani roams through town, shopping at the Dollar General ("If you can't find what you need there, you're f--ked," Shelton joked to Men's Journal, noting the closest Walmart is 15 miles away) and grabbing dipped cones from Dairy Queen. "She loves it there," a source tells E! News. "It's peaceful and quiet and a lot slower-paced. She likes how the people are so nice and the scenery of the lakes, creeks and large ponds."
She's not the only adaptee to country living. Though Nicole Kidman clearly has a lengthy list of reasons to be happy in her 13-year relationship with Keith Urban, we'd guess his introducing her to Nashville would at least crack the top ten. 
While the pair boast multiple properties in their native Australia, plus a New York City apartment, and, yes, a Beverly Hills spread, Tennessee has been their home base since shortly after their 2006 vows. "I'm just lucky that I fell in love with a guy that lived in Nashville," she gushed to People last year, "because I was meant to go there. I was very, very happy to go there." 
As they welcomed daughters Sunday, 10, and Faith, 7, (both born and bred Nashvillians, Kidman said with unique Aussie-Southern accents), the 51-year-old and her country crooner, 50, snapped up a 12,000 square foot estate in town and a 35-acre farm a half hour away in rural Franklin. They're trying to offload the latter (it's been on the market for roughly $3 million since last year), but they're in no way picking up stakes. 
In Music City (home to hordes of artists, including Taylor Swift, Sheryl Crow, Brad Paisley and Carrie Underwood, plus Kidman's costar Reese Witherspoon), the Australian-born stars enjoy an American-as-apple-pie existence. The Big Little Lies standout reads at the girls' school and invites their classmates over for dinner. "Sometimes we'll have nine kids for dinner," she detailed to Vogue last year. "I can live out my fantasy of having lots of children." 
Heading into town affords her a dream she didn't even realize she had as she accepts congenial greetings from the people she sees at the grocery store and the nearby Starbucks. "That country-music community is a very warm community," she told People. "It's very protective. Keith's been a part of it for decades now. It's his home, it's our home." 
And it's the perfect place to bring up a family, insists Urban. As he told The Tennessean, "It seems normal to us to just be living normally."
That was the draw for Blake Lively and Ryan Reynolds when they plucked up a $2 million farmhouse outside Bedford, N.Y. in 2012, some six months after their relationship turned romantic. Though daughters James, 3, and Ines, 21 months, were still a ways off, the California-bred Lively and Reynolds, a native of Vancouver, knew the two-acre spot, overlooking the Cross River Reservoir and outfitted with an actual barn, would be the perfect place for their outsized brood. (They've both professed that their two girls are just the start of their growing family. As Reynolds told People, "If I could have nine daughters, I would be really thrilled.")
No doubt their current—and any future—offspring will be satisfied with a childhood spent on the sprawling estate, making jam with Mom and sampling the confections that come out of her kitchen, a spot Reynolds, 41, has dubbed "The Blakery." It's an existence that can only be described as idyllic, which was, of course, the ultimate goal. "Ryan had a nice, normal upbringing, and we want our kids to have the same normal life that we had," Lively, 30, has explained. "We don't ever want to rob them of what we had, because we'd feel really selfish." 
Plus being an hour from the Upper East Side, where Gossip Girl alum Lively first made her name, suits the stars just fine. Close pal Martha Stewart, who swooped in to help them put together their South Carolina vows, is around the corner should the urge to craft strike Lively and they have a local cheese shop, bakery and fine foods place to satisfy any dinner party needs. 
Should they wish to have a date night, they've got the Inn at Pound Ridge and Bedford Post Inn (which played host to Lively's second baby shower), both of which wrap dinner service by 11 p.m. 
Fine by Reynolds. Despite what he calls a "real unhinged phase" in his twenties, he's simply not the party type. "I've never been the guy stumbling out of bars at three in the morning, at least that anyone is aware of. It's never been my thing," he told The Project in 2015. "We don't lead a wild and crazy life."
At the height of her Hills fame, that's not a claim Kristin Cavallari may have reasonably been able to make. But five years of marriage and three kids—Camden, 5, Jaxon, 4, and Saylor, 2—later, she and retired football pro Jay Cutler enjoy an existence that borders on homebody, with him joking on Very Cavallari about her 8:45 p.m. bedtime. 
Settling into Nashville, the city Cutler first fell for as the starting quarterback at Vanderbilt, was a given from the moment they wed there in 2013. "We just always knew this is where we wanted to raise our family," the Uncommon James founder, 31, recently told Us Weekly. "It has everything that a big city has to offer, but it feels like a small town." 
And now the pair are moving deeper from city center, ditching their beloved 25-room Mediterranean spread for a place with enough land to house a menagerie of goats and chickens—plus an engraved wooden swing Cavallari tells E! News Cutler crafted for their fifth anniversary in June. 
The move shows the reality star is doubling down on her belief that you can still have a thriving career while taking up residence in the Midwest. "It's sort of always been ingrained in me that if you want to be in the entertainment business, you either have to be in L.A. or New York," she told Elle of her hesitations to join Cutler in Chicago back when he led the Bears franchise. "I was a little scared. I didn't really know exactly what I wanted to do with my career, but everything has sort of fallen into place." 
A place that's some 2,000 miles—and a world away—from Hollywood.