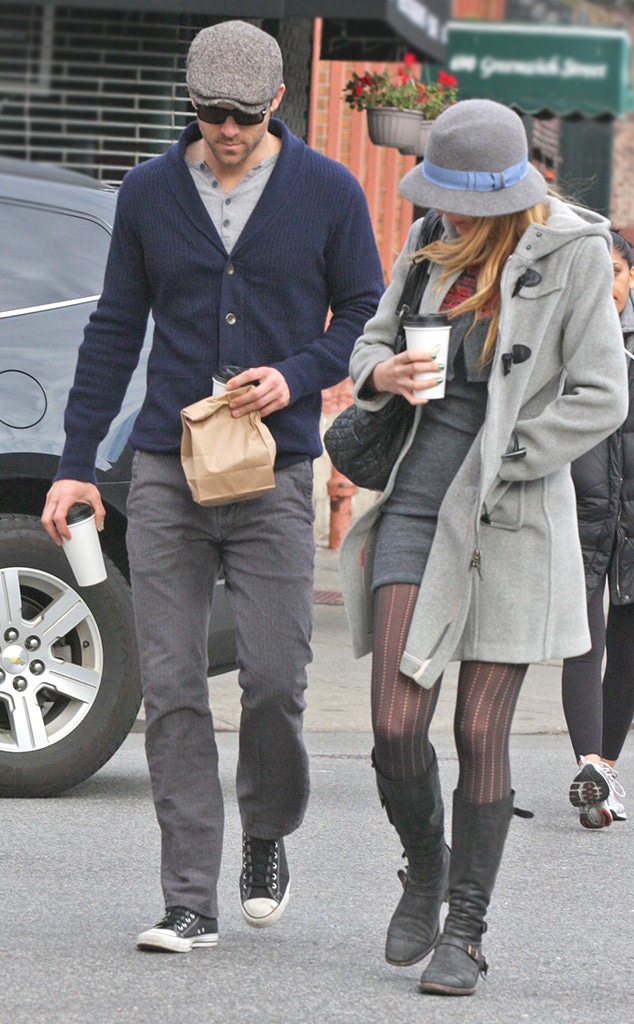 Adam Nemser/startraksphoto.com
Deep in the woods of Westchester County, New York, far above the neon lights of Times Square, the bumping clubs of the Meatpacking District, the bustling restaurants of the East Village, the exclusive parties of the Upper East Side, lies a bucolic country home. It's sprawling, it's rustic, it's impossibly chic. 
This is the love nest of Blake Lively and Ryan Reynolds.
Almost as soon as the couple got together they decamped to the far greener pastures of near-upstate New York and in the years since they've become synonymous with the kind of quaint country life—while at the same time enjoying all the luxuries of A-list stardom—that the rest of us would kill for. You know all that jam-making that Olivia Pope blabbers on about on Scandal? They actually do that. In a time when it's more and more feasible to carry on a Hollywood career without actually living in Hollywood, their home life is worth studying. 
The couple has lived in Bedford (well, to be technical, they live in a small town outside of Bedford, but they've been quite secretive about the actual locale) since 2012, when they purchased a sprawling estate for more than $5 million. It's farmhouse-style with lots of historic details and overlooks a tree-lined reservoir. Much of the interior space is still a mystery but there are many reports that believe it's a sprawling 8,000-square-foot mansion with at least seven bedrooms and even a barn on the property. 
Martha Stewart lives around the corner, which explains their close friendship with the home entertaining queen and also presumably gives them plenty of opportunities to spend Sunday afternoons baking muffins and perfecting flower arrangements. Michael Douglas and Catherine Zeta-Jones also call the town home, but we imagine there's far less crafting going on among that foursome. 
According to E!'s sources, Lively and Reynolds are a staple in the community; locals describe them as extremely nice and well-liked. They have a bit of a routine around town that can only be described as, well, idyllic. There's the Bedford Post Inn, an elegant 19th-century country resort that has long played host to celebs looking to relax and recharge, and the location of Lively's second baby shower. 
There's the Inn at Pound Ridge, where the couple hangs out constantly for lunch dates and the like (Ryan even sidles up to the bar solo on occasion). For the perennially curious or anyone looking to go on their own jaunt through the Hudson Valley, Blake loves the chicken paillard salad while Ryan prefers the burger. They have their local cheese shop, their local fine foods shop and their local bakery—all of whose owners not only describe them as "really nice" but are dedicated to protecting their privacy. 
Couresty: Eric Lively/preserve.us
If this routine sounds like it's ripped straight out of a lifestyle website, that's because it is. Lively's now-shuttered Preserve was basically one giant love letter to life in Bedford, from the printed ponchos to the muffin recipes. Preserve championed local artisans; Bedford is chock-a-block full of local artisans. Preserve sold items like curry ketchup and organic jam; meals in Bedford are built on curry ketchup and organic jam. 
Preserve championed art projects like painting glitter onto dried leaves or making your own oatmeal face masks. It shared recipes for pumpkin bundt cake. It styled photo shoots with oversized sweaters and felt hats of every shape and color. It gave instructions on how to throw fetes like something called a Falling for Fall Party. If anyone was ever curious about what Blake and Ryan's mysteriously quiet life was like, curled up in their gorgeous farmhouse, with a fire crackling and an autumn playlist on the record player, they needed only to open up any article in Preserve to get a very detailed and stylized glimpse. 
Of course, as idyllic and cozy as it is up in the Hudson Valley, Blake and Ryan are A-list actors. They are chained to Hollywood as long as they keep pumping out Deadpool movies and their real estate portfolio reflects that. The married couple owns an apartment in Tribeca, to be used when they need to go into the city for official business. They reside at perhaps the most celeb-friendly building in Manhattan, a newly-refurbished Tribeca space that has been marketed as "paparazzi-proof."
Everyone from Jake Gyllenhaal to Justin Timberlake and Jessica Biel to Meg Ryan and possibly even Jennifer Lawrence reside in the pricey condos, which were transformed from book binderies into apartments that boast open floorplans, a 75-foot indoor pool, a gorgeous rooftop with views of the Hudson river and elevators that open directly to each unit. It may not be quite as Preserve as their full time residence, but we don't think anyone's complaining.