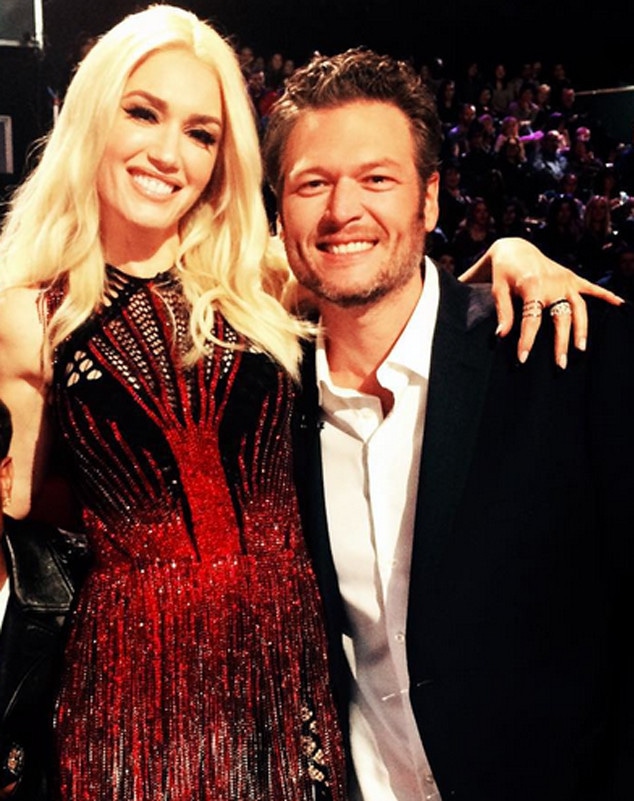 Instagram
Blake Shelton and Gwen Stefani may be about as big-time as it gets, but their budding romance has gone small-town.
Since we confirmed they were dating three months ago, right before the 2015 CMAs last fall in Nashville, the couple has garnered a ton of attention during their recent trips to Shelton's home near Tishomingo, Okla.
"He's a little bit country, she's a little bit rock n roll," as Donnie and Marie Osmond once sang, but the whole opposites-attract vibe certainly seems to be working for this A-list couple who've been acting more like high school sweethearts since getting together.
In fact, the country singer from Oklahoma and the ska-punk-pop star from Anaheim, Calif., have already written a song together—and just this week, NBC confirmed that Stefani will serve as an advisor to Shelton's team on the upcoming season of The Voice.
"It's all systems go. They are very happy together," a source tells E! News. "Their relationship is solid."
Whatever blossomed between these two seems to be growing, and they've made trips to Tishomingo to escape the big city a part of their routine.         
Known prominently these days as the place where Blake Shelton lives (and where his ex Miranda Lambert opened a boutique, a B&B and a no-kill animal shelter), Tishomingo had a population of 3,034 as of 2010 and still has three traffic lights. Locals say it's "an easy place to live the simple life."
The area is very rustic, wooded and picturesque, and while technically landlocked it's still surrounded by multiple bodies of water—Lake Texoma, the Washita River, the Blue River. A creek runs through town at Pennington Park.
And these days, the population sometimes rises to 3,035.
Stefani and Shelton have been taking romantic trips to Tishomingo since around Christmas, and when they're in town, the hometown boy has been busy courting his favorite girl.
The couple have hit the local Dairy Queen for dipped ice cream cones and had dinner at local favorite Gonzalez Mexican Restaurant. They've worn matching camouflage outfits and similar baseball caps. What could be cuter?
In Oklahoma Blake and Gwen appear to have settled into the simplicity of a so-called normal relationship—picking up supplies at Atwoods Ranch and Home, or going to the grocery store and bargain-hunting at the Dollar General market on Main Street.
This "tiny" town is Blake's home, the source tells E!, "and he wants to share it with Gwen."
While it seems that Shelton has been making more trips there of late, it's not that unusual, according to local sources. (Not to mention, up until last summer no one was tracking his comings and goings quite as much as they are now.)
"He comes in as often as he can. He'll come in for two days and then head out," another source tells us. "He flies in every chance he can. He likes being here and comes to visit his mom too."
And it's not so surprising that he craves the comforts of home. Tishomingo is about 30 minutes south of Ada, where he was born, and his mom, Dorothy, a retired hairdresser, still sells an array of crafts at a local store.
"No one bothers him here. He can be himself. He is just one of the town people when he is here. When he is here, he is home," a source said. "He is very unpretentious and laid back."
And he's not going anywhere. In fact, he's digging even deeper roots in the area, "buying more land near Tishomingo," the source added.
The Home artist already has a 1,200-acre spread, Ten Point Ranch, "out in the sticks," where he loves working the land himself, and now he's building a home off Lake Texoma. 
Meanwhile, the locals love the attention because it's helped put the city—which was established 51 years before Oklahoma even became a state in 1907—back on the map. 
And Gwen is making herself right at home!
"She loves it there. It's peaceful and quiet and a lot slower-paced," a source says. "She likes how the people are so nice and the scenery of the lakes, creeks and large ponds."
Sources say they seem to make a great pair, too.
We're told that Gwen is "pretty down to earth and raised with good values. Both have a good sense of humor and are kind people. Gwen laughs easily and genuinely. She's real normal and grounded."
"They both value family and they are crazy about each other," one source added. "Some people don't think they have a thing in common but they do."
(E! Online and NBC are both members of the NBCUniversal family.)