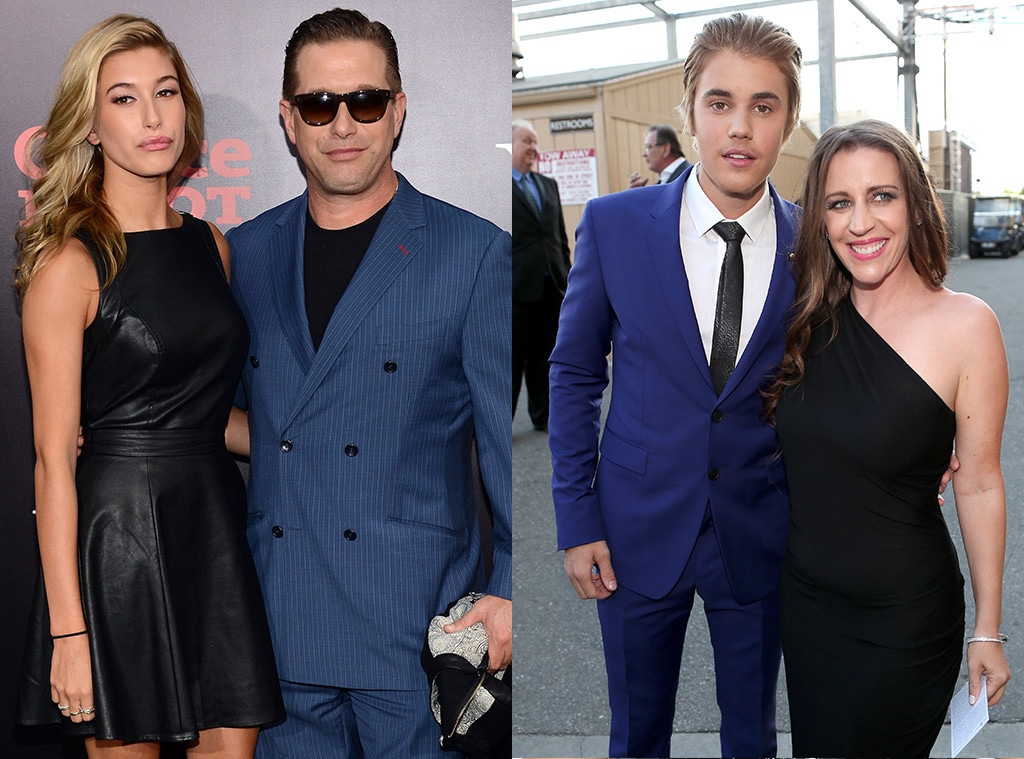 Getty Images
Justin Bieber and Hailey Baldwin are set to become husband and wife.
The 24-year-old "Baby" singer and the 21-year-old model got engaged over the weekend while on vacation in the Bahamas. Justin got down on one knee this past Saturday to propose to Hailey, but not before getting her dad's blessing.
A source confirmed to E! News that Justin asked Hailey's dad, Stephen Baldwin, for permission to propose to his daughter more than two weeks ago. "Stephen was thrilled to give his permission," the insider told us.
Since Hailey and Justin are on the road to marriage, we're bringing you a guide to the couple's families. Let's check out the duo's future in-laws:
Stephen and Kennya Baldwin: After news broke of the couple's engagement, Hailey's dad took to social media to share his and his wife Kennya Baldwin's reaction to the news, tweeting a Bible quote along with #blessed. He then tweeted and deleted, "Sweet smile on my face ! me&wife (Kennya) Always pray 4 Gods will !! He is moving in the hearts of JB&HB Let's all pray for His will to be done...Love you 2 so much !!! #Godstiming #bestisyettocome Congrats ❤️ @JeremyBieber @pattiemallette #PraiseJesus."
Alaia Baldwin: Hailey's sister Alaia Baldwin, 25, also took to social media after engagement news broke. "From one bride to the next ..... congratulations to my baby sister on this exciting next chapter! I love you and wish you both the best. Can't wait to celebrate with you! @haileybaldwin @justinbieber," Alaia wrote on Instagram along with a picture from her wedding.
Alaia tied the knot with Andrew Aronow in Sept. 2017 and shared the video above of Hailey—who was the maid of honor at the ceremony—breaking it down at the reception.
Grant Lamos IV/Getty Images
Ireland Baldwin and Alec Baldwin: Hailey's dad, Stephen, is the youngest of the Baldwin brothers. Her uncles include Alec Baldwin, Daniel Baldwin and William Baldwin. Hailey is very close to her Alec's daughter, model Ireland Baldwin.
In celebration of her cousin's engagement, Ireland posted a sweet childhood photo of Hailey to Instagram along with the caption, "There's gunna be one less lonely girl ... and only one lonely girl left my other chicken is soon to be a beautiful bride ♥️. congratulations to the two of you @haileybaldwin @justinbieber."
Jeremy Bieber: Justin's dad, Jeremy Bieber, posted a photo of the singer to Instagram on Sunday, seemingly celebrating his son's engagement. "Proud is an understatement! Excited for the next chapter!" Jeremy captioned the picture.
Jeremy and Justin's mom, Pattie Mallette, split was he was young. While he's the only child of Jeremy and Pattie, Justin does have younger half-siblings Jazmyn and Jaxon through Jeremy.
Back in February, Justin took then-girlfriend Selena Gomez to his dad's wedding to Chelsey Rebelo. Justin later took to Instagram to congratulate his dad on his wedding and revealed that there's a baby on the way.
"Congrats on ur wedding and ur new baby!!" Justin wrote on Instagram alongside a photo from the wedding ceremony.
Pattie Mallette: On the day of Justin and Hailey's engagement, Pattie took to Twitter to write, "Love Love Love Love Love Love Love."