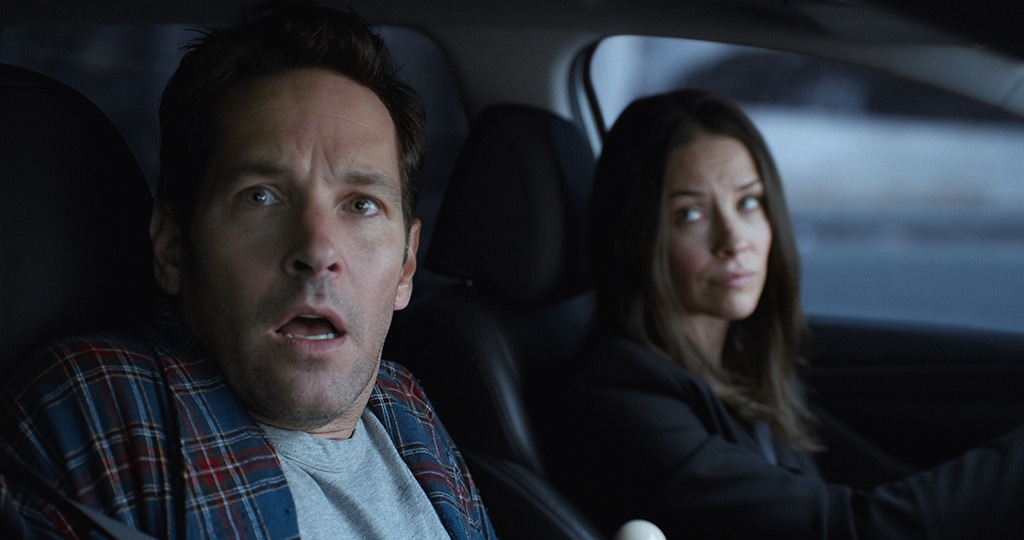 Marvel Studios
Can you believe it's almost July?!
Even though the end of June means the summer is getting shorter, it also means that new movies and TV shows are headed our way with the start of a new month. Since the TV world is a lot slower in the summer months we've turned our sights on the season's blockbuster list instead.
There were a lot of great releases including Incredibles 2, Jurassic World: The Fallen Kingdom and Ocean's 8 this month and the new July releases are ready to give these epic movies a run for their money.
Beginning on July 4, there are a slew of movies set to hit theaters that you need to know about. There are horror films, comedies and even a Marvel film thrown in for good measure so get ready to buy movie tickets in bulk come July.
To see which top 10 movies are hitting theaters next month keep reading. Once you've watched all the trailers and have gotten excited about what's to come, vote for the film you are most ready to watch next month below.
The First Purge: July 4
If scary movies are your thing than The First Purge is the film for you. Following in the footsteps of the first three Purge films, this movie has the same gory, thrilling vibe that haunts and spooks viewers. This time around we will see what happens when the New Founding Fathers of America (NFFA) test their idea of one night of mayhem in an isolated community, but instead spread it across the nation.
Whitney: July 6
Whitney Houston lovers mark your calendar because this movie is for you! The documentary film will give fans an in-depth look at the life and career of the "I Will Always Love You" singer. It'll show the good, the bad and the sad as we get to see footage of the artist as her career began, blossomed and bubbled over.
Ant-Man and the Wasp: July 6
Marvel fans unite! Ant-Man's sequel is finally here. The follow-up to the 2015 film starring Paul Rudd premieres early next month. This superhero film will focus on Scott Lang (Rudd) as he struggles to be a hero and a father. He then finds himself faced with a new mission that requires help from the Wasp, played by Evangeline Lilly and this superhero duo is one you won't want to miss.
Sorry to Bother You: July 6
Sorry to Bother You is about an alternate present-day version of Oakland, California. It centers on telemarketer Cassius Green (Lakeith Stanfield) who figures out the key to making more money in his career is using his "white man voice." Of course success always comes with a price, which in this case is Cassius' former life and sanity.
Siberia: July 13
Who doesn't love a good Keanu Reeves action movie? This thrilling crime film is Reeves at his finest and from the moment you watch the trailer you'll be hooked. Sibera follows an American diamond trader (Reeves) who travels to Russia to make a sale, but as things begin to fall apart he must find a way out when it looks bleak. Oh, and he falls in love with the owner of a Russian café, which makes running away a little more complicated.
Don't Worry, He Won't Get Far on Foot: July 13
Don't Worry, He Won't Get Far on Foot stars Joaquin Phoenix as John Callahan, a former alcoholic who ends up paralyzed after a car accident and eventually enters rehab with the help of his girlfriend (played by Rooney Mara). While in rehab he leans on his sponsor (played by Jonah Hill) and discovers a talent for edgy drawings and creating newspaper cartoons. Based on a true story this film is some of Phoenix's best work.
Hotel Transylvania 3: Summer Vacation: July 13
The third installment in the Hotel Transylvania franchise is all about vacation…monster style. The monster crew heads on a luxury cruise after Mavis (Selena Gomez) senses her dad Dracula (Adam Sandler) needs a little fun in his life. Unfortunately, the cruise ends up being a bad idea because Dracula falls for the captain of the ship who is out to destroy all of monsterkind!
Skyscraper: July 13
If action films or any movie involving Dwayne Johnson is your jam then you should see Skyscraper the moment it comes out. This movie is about Will Sawyer (Johnson), who is a former FBI Hostage Rescue Team leader and war veteran who is now in charge of security for skyscrapers. After he finds himself being blamed for setting the world's tallest building on fire he must find the real culprit, clear his name and save his family who is trapped in the building. Sounds intense, right?
Mamma Mia: Here We Go Again! July 20
Here we go again indeed! Mamma Mia is back and this time we're going to see what Donna (Meryl Streep) was like as a young girl in Greece. As Sophie (Amanda Seyfried) prepares to be a mother herself she looks back at how her mom faced being a young mother and how she ended up in Kalokairi running a hotel. The young Donna is played by Lily James and of course in addition to beautiful ocean views there will be dancing, romance and lots of ABBA.
Mission: Impossible - Fallout: July 27
Ethan Hunt AKA Tom Cruise is back baby! In the next installment of the Mission: Impossible franchise Ethan and his IMF team race against time after one of their missions goes south. In typical Mission: Impossible fashion there will be action, violence and lots of crazy stunt work.