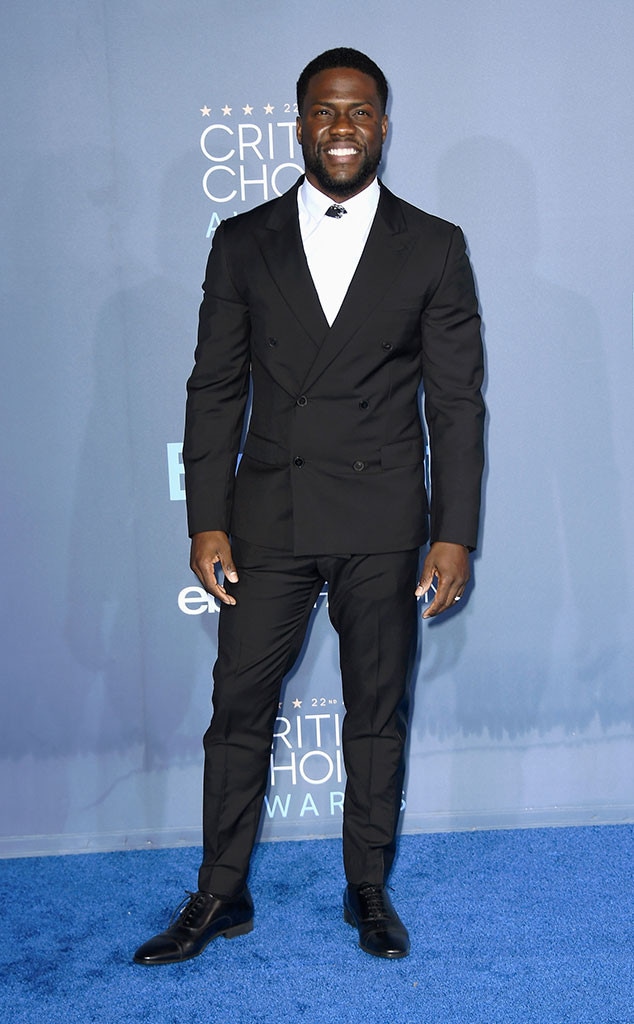 Frazer Harrison/Getty Images
It hasn't been the easiest year for Kevin Hart. 
Just 10 months ago, the 38-year-old comedian found himself at the center of a scandal. 
In May, Jonathan Todd Jackson, also known as Action Jackson, was charged with trying to coerce Hart into paying an undisclosed sum for a video allegedly showing the Ride Along star with a woman in Las Vegas. The charges included one count of attempted extortion and one count of extortion by letter. 
According to the Los Angeles County District Attorney's Office, prosecutors said Jackson was accused of trying to sell the recording to several celebrity news websites. Per the LADA, the alleged attempted extortion took place between Aug. 25 and Aug. 30. However, as of May, the case was still under investigation by the District Attorney's Bureau of Investigation. 
Fans suspected something was wrong in September after the actor issued an emotional public apology to his then-pregnant wife, Eniko, and his children via Instagram.
"I made a bad error in judgment and put myself in an environment where only bad things can happen, and they did," the Central Intelligence star said. "And, in doing that, I know that I am going to hurt the people closest to me, who I've talked to and apologized to—being my wife and my kids."  
He also said he wasn't going to allow someone to achieve "financial gain" from his "mistakes," which he said was "attempted."
Hart's rep later confirmed "someone tried to set Kevin up in a failed extortion attempt." Later that month, a woman named Montia Sabbag identified herself as the woman in the alleged footage. She said she was "involved with Kevin Hart a month ago" but that she was "not an extortionist." Her attorney, Lisa Bloom, also claimed "someone apparently snuck cameras into Kevin Hart's private hotel suite in Las Vegas and recorded bedroom images" of Hart and Sabbag. 
However, Bloom said she and Sabbag were "not asking for a cent from Kevin Hart."
Still, the comedy star continued to focus on his family. He and his wife welcomed a son, Kenzo, in November. The baby boy is his third child.
"You are a little miracle. Our beautiful baby boy," part of an Instagram post Hart shared read. "We pray you'll feel so safe and loved. Surrounded by our joy. For we are blessed to hold you close. And feel your beating heart. The little life we hoped for. How wonderful you are."
He also continued to concentrate on his career. In December, he starred in Jumanji: Welcome to the Jungle with Dwayne Johnson, Jack Black and Karen Gillan. Just two months later, Deadline reported that the film had surpassed $900 million worldwide. In January, Hart also extended the dates of his "Irresponsible" Tour, which is currently scheduled to run until mid December. Furthermore, he attended the 2018 Grammy Awards that same month, where he was nominated for Best Comedy Album, and attended the 2018 Kids' Choice Awards in March, where he was up for Favorite Movie Actor. He's also set to host TKO: Total Knock Out on CBS in July.
Still, one of Hart's greatest accomplishments this year has been his growth into a "better man."
"The real positive in this, I swear to God on my kids, on all of my kids—Heaven, Hendrix, Kenzo—y'all, I'm a better man," he said during part of an interview with the Power 105.1 FM show The Breakfast Club. "I'm a better man because of the light bulb that's off, that just went off right now, was the one that was supposed to go off because this line, this straight line that I'm walking on now, there are no moments to be off-balance. There are no more shots, there are no more chances. I'm done. I'm done!....I don't want that level of fun no more. I don't need it. I'm on some grown man different sh-t where if it doesn't involve my family, I'm not interested."