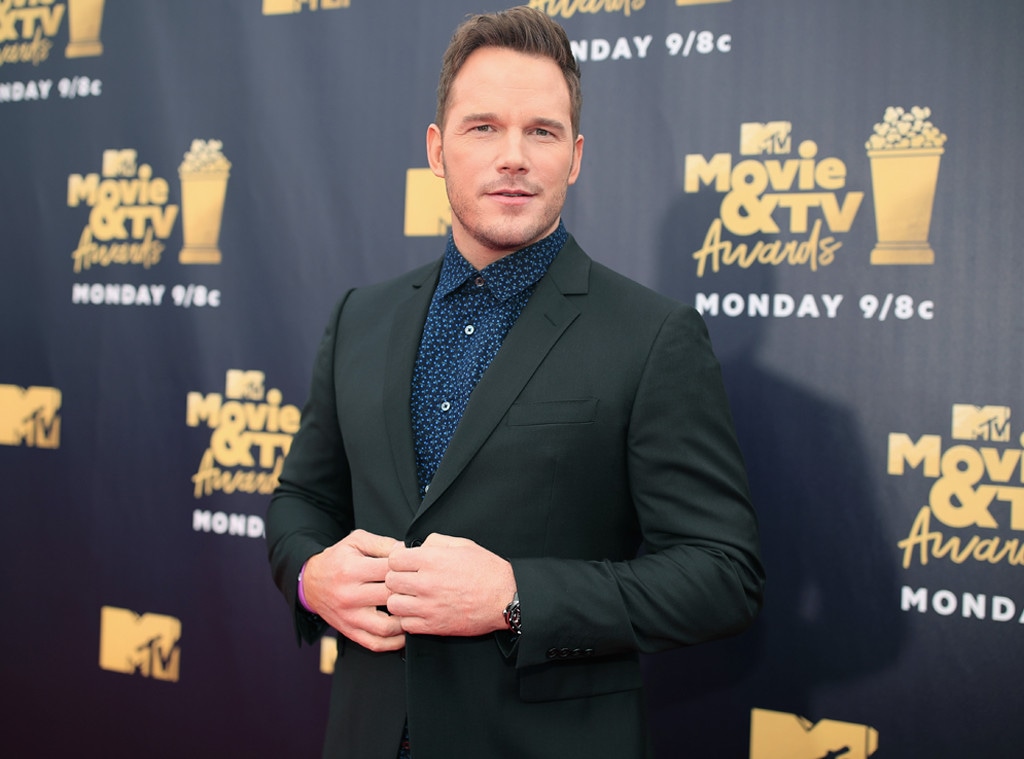 Christopher Polk/Getty Images for MTV
Chris Pratt doesn't just appear to be everywhere at once—he is everywhere at once.
The seemingly tireless actor has spent the past month crisscrossing the globe, from L.A. to London, Madrid, Shanghai, Hawaii, New York and back again, and starting Friday when Jurassic World: Fallen Kingdom opens in the U.S. (the sequel has already pulled in almost $400 million overseas), he'll be in theaters all over the planet.
Yes, the onetime Parks and Recreation teddy bear has gone full movie star.
Pratt has experienced loss and learned some tough lessons along the way, but as the summer kicks into full gear, the top of the mountain is looming ever closer for the 38-year-old actor.
Not even including when he's actually on top of a mountain.
It's been less than a year since Pratt and Anna Faris revealed they had legally separated, a hopes-dashing ending for one of fandom's favorite Hollywood couples, but as parents of son Jack together, the exes had no choice but to start faking it till they made it for the sake of their kid's sense of normalcy.
Both were helped along by being busy at work, with Faris having a new book out and returning to her Unqualified podcast and the set of Mom within a couple weeks. Pratt's past year happens to have been bookended by honors, his first post-split appearance coming at the 2017 Teen Choice Awards, where he scored the surfboard for Choice Sci-Fi Movie Actor, while last weekend he was given the Generation Award at the MTV Movie and TV Awards.
But last summer, with his wounds still raw and life a little more up in the air than it had been for a decade, Pratt injected a little more of himself into the proceedings than usual. 
"When I came to Los Angeles, I came from Hawaii and I had all of this blond hair and I was tan and I met an agent, because I really wanted to be an actor and get an agent, and he said, 'Wow. Bro you must surf?' And I said, 'Yeah,' and that was the first of many lies I told to get where I am today," he said at the Teen Choice Awards. The Minnesota-born and Washington-bred young man who moved to Maui on a whim added, "I would not be here with the ease and grace I have in my heart without my lord and savior, Jesus Christ."
Pratt has long been very devoted to his Christian faith—in fact, it's one of his most endearing attributes for many fans—but he seems to have turned to it more openly in the days since his separation, quoting more biblical passages on his social media, becoming a regular presence in church on Sundays and making sure to give public thanks to a higher power when fortune shines on him.
Which fortune just keeps doing, relentlessly.
There's the literal fortune, the $17 million the dual franchise star reportedly raked in between the summers of 2016 and 2017, putting him at No. 23 on Forbes' 2017 list of the highest-paid actors. And then there are all the other blessings, starting with his son Jack Pratt, who was seen in April happily traversing the acreage and bonding with the lambs on his dad's farm in Washington's San Juan Islands.
The actor is also passing his affinity for sports onto his son, taking Jack to basketball games and—whoa, male bonding!—a Monster Jam truck rally in February.
Pratt predicted a "low-key" Father's Day for the two of them when he talked to E! News' Sibley Scoles last Saturday at the MTV Movie and TV Awards.
They'd go to church as usual, because it was a Sunday, he said, "and hang in the pool."
Not a bad plan for any sunny California day, Father's or otherwise. Also, "no floaties necessary. We're both quite capable swingers—swimmers!" he quickly corrected himself.
Allen Berezovsky/Getty Images
Last week on Live With Kelly and Ryan, Pratt revealed "five-and-three-quarters"-year-old Jack's big responsibility—cleaning his bearded dragon Leo's cage—and summed up what sort of dad he is.
"I'm a softy, but also strict," he said. "I think it's probably confusing for Jack because I feel like I'm probably the strict parent—but also pretty loving and affectionate as well. [Pause for aws.] But you know, I think you've got to get respect, you've got to do what you say you're going to do and make your kids toe the line and all that stuff, but at the same time give them lots of hugs and kisses, and all that stuff."
Then there are the blessings of his career, which—as he noted to E! News last weekend—did not just get to this level overnight.
"Any time you throw the word 'award' my way, very, very pleased with that," Pratt told Scoles, "and 'Generation' really just crystallizes how meaningful this is for me. You know, after 18 fast years in this business, I'm thrilled to be here and just blessed and honored."
He's talked frankly before about his evolution from "a--hole-boyfriend" roles to fat funny guy to ripped action hero. But still a funny ripped action hero.
As it turned out, he just had that certain something, which propelled him both into the Jurassic World films and the Marvel Universe, which reached some of its best-reviewed heights with Pratt's Peter Quill behind the wheel of Guardians of the Galaxy (1 and 2) and then expanded to include the whole Guardians gang in the recent Avengers: Infinity War, which had the biggest-ever opening weekend for a film domestically and worldwide. 
"I think that he had gotten a lot of success over the past few years being the funny sidekick, which means that he always has to juggle to entertain everybody," Guardians of the Galaxy director James Gunn told GQ in 2015. "And the truth is, Chris didn't trust himself to just be Chris Pratt—and how desirable that is to an audience."
To put it mildly.
Jesse Grant/Getty Images for Disney
Being on an almost non-stop press tour has meant that hikes in his beloved Hawaii have been few and far between in 2018 so far, though he has managed to squeeze in some fishing trips (for fun), chores on the farm (for soul-nurturing) and his intensive workouts (you know, to keep the bod buff), which include weight lifting and sprints on the treadmill. He makes sure to indulge his altruistic side while on the job, too, stopping to sign endless autographs for his youngest fans and doing things such as surprising 245 kids and their chaperones from the Boys and Girls Clubs of America at a Jurassic World screening in New York or hanging out with Special Olympics athletes in Washington.
While the rumor mill was churning with Prattmatic possibilities when he and Faris first broke up, and she has been dating Michael Barrett for months now, the actor hasn't taken much time out of his jam-packed schedule to date...
Until now, perhaps.
Recent photos of him on a casually dressed, picnic-type outing in Santa Barbara, Calif., with author Katherine Schwarzenegger, the 28-year-old daughter of Arnold Schwarzenegger and Maria Shriver, have dating alarms sounding all over town. 
"He really likes that she's not in the industry," a source told E! News about the recently introduced pair. He's "genuinely excited to see where things go."
Pratt has never been one to delve too much into his personal life for public consumption, but earlier this year he acknowledged to Entertainment Weekly that divorce, simply, "sucks."
"But at the end of the day," he added, "we've got a great kid who's got two parents who love him very much. And we're finding a way to navigate this while still remaining friends and still being kind to one another. It's not ideal, but yeah, I think both of us are actually probably doing better."
A source told E! News in April that he and Faris had become increasingly more civil and were finally in a place where they mutually realized they were better off not being together. "Chris is still coming to terms with everything," the insider said, "but is much happier now and is focused on his son and his career."
And despite this still relatively new existence as a co-parenting dad, eligible bachelor and mega movie star who happens to be in two of the biggest movies of 2018, and maybe the biggest, Pratt seems to be keeping his head on straight.
"Change is about the only inevitable thing out there," he told E! News on Saturday. "I'm hoping that you change in the right way, but the things about yourself that work, and that someone might admire or that you might be working on, hopefully doesn't change too much. It's important to try to stay grounded if you can, especially since show business and fame and all that stuff is kind of a whirlwind. So, you want to change the things for good and hold on to things that you don't want to change at the same time. It's a fine balance.
Pratt added, "Keep good friends in your heart, [maintain] good relationships with people that you loved growing up."
(E! and Universal Pictures are both members of the NBCUniversal family.)