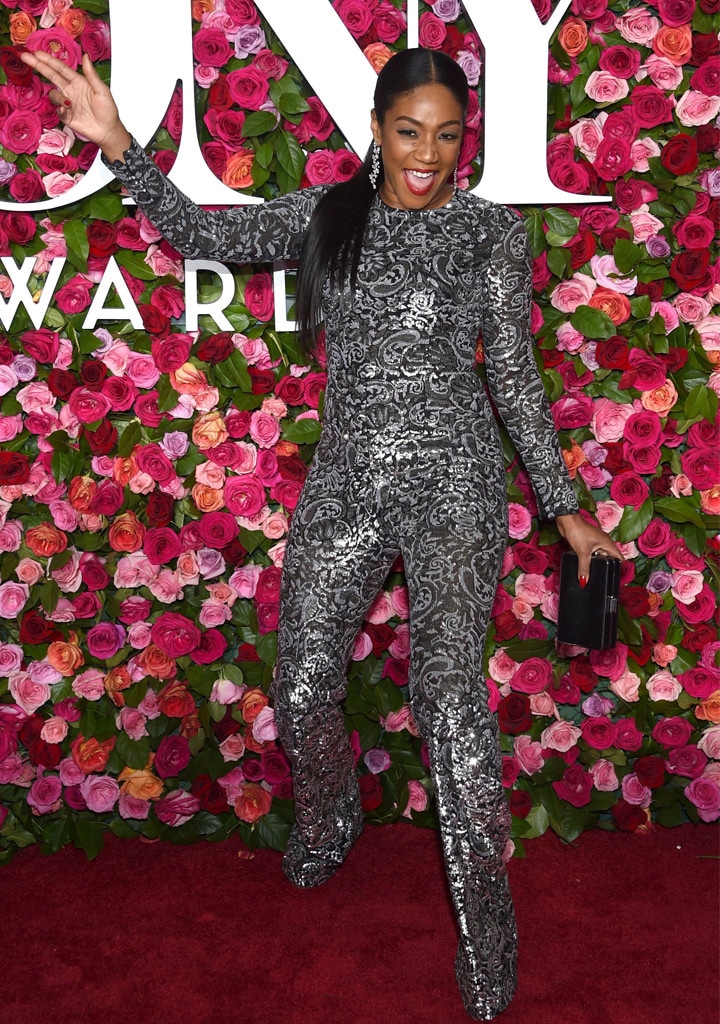 Evan Agostini/Invision/AP/REX/Shutterstock
Tiffany Haddish is a comedy genius. She is hilarious, sincere and at times almost a little too honest, but that's why we love her.
Throughout her career, and especially over the past few years as she's really blossomed as an actress, The Last OG star has become known for her amazing interviews because they are, well, honest.
Not only does she consistently make us laugh with the stories she tells, but her unfiltered approach to answering questions has proven that Haddish is unicorn that can't be tamed. We wouldn't want it any other way...would you?
Ahead of her MTV Movie & TV Awards hosting gig next week (on June 18)—which is sure to be a funny night we won't soon forget—we've rounded up the actress's best unfiltered thoughts. Yes, we know there are way more than the six we have here, but we had to draw the line somewhere.
Don't worry though, these moments are so Tiffany and therefore hilariously perfect...trust us!
1. On wanting to sleep with Leonardo DiCaprio:
Like all of us, Haddish is a big fan of Leonardo DiCaprio. Unlike all of us, the actress has actually met him and proposed a hookup that he didn't exactly turn down. The story of what went down when they met is officially one of our favorite things the star has ever said. "Yeah, I met him at a party two, three months ago, and I asked him if he'd let me hit that," she recently told The Hollywood Reporter. "He's like, 'Tiffany, you're so funny.' I'm like, 'I'm serious.' And then he goes, 'I mean, I'd do it, but...' I was like, 'Come on, wasn't you in a squad? The coochie squad or something?'"
Shen then told him her one caveat to having sex with him and it's all about a specific film character. "I told him, 'My only stipulation: I wanna do it with you as your character in What's Eating Gilbert Grape.' He starts bustin' up laughin'. 'Why?' he asks, and I say, 'Cause I feel like that performance deserves a real reward and that reward is this (gestures at her own body),'" she explained. "He starts goin' into how he got into the role, how he worked with these kids and all this stuff, and I'm just listenin' and listenin', like, 'Mmm-hmm, mmm-hmm.' I finally go, 'All that's good, I just need to know, When's this gonna happen?'"
2. There's no such thing as wearing something too many times:
If there is one thing we know it's that The Last OG star knows how to get the most out of an ensemble and we salute her for her dedication to her iconic white gown. After learning that the Alexander McQueen dress she wore to the Girls Trip premiere had a hefty price tag the actress has worn it two more times and she's not stopping anytime soon...even if it is a fashion faux pas.
"I should've known—wasn't no price tag on that dress. So I wear it for Girls Trip, and then they give me the receipt. When I saw the receipt, I cried. The dress was $4,122!" she told W Magazine about her famous dress. "So I'm wearing it multiple f**king times. I don't care what nobody say—that's a down payment on a car, that's a medical bill. So, even though everyone says I shouldn't wear the dress in public again, I'm wearing it."
3. Her philosophy on drugs:
Despite being connected to her Girls Trip character, the actress admitted she's never done hard drugs or absinthe like Dina does in the movie. In fact, she has no plans to do serious drugs...until she's old and it doesn't matter anymore. "All I do is weed. Weed and alcohol. I don't really trip," she revealed on the Breakfast Club via Vanity Fair.
"I've never done drugs like that. Now, when I turn, 70 that's when I'm gonna try all the hard stuff, because that's when it makes sense to do drugs...that's when I'm gonna be in pain anyways. My joints gonna be hurting, back and all that stuff," she continued. "Then I should be high."
Tiffany Haddish/Instagram
4. Who bit Beyoncé...uncovered:
When the story first surfaced that someone had bit Beyoncé earlier this year, Haddish said she couldn't talk about the night she was at the singer's party in December 2017, but she eventually cracked and spilled all the deats. During an interview with GQ, the Night School actress finally revealed the story of what went down that infamous night and her recollection is funnier and more honest than we could've ever imagined.
"So Beyoncé stormed away, went up to Jay-Z, and was like, 'Jay! Come here! This b**ch—' and snatched him. They went to the back of the room. I was like, 'What just happened?' And Beyoncé's friend walked up and was like, 'Can you believe this bitch just bit Beyoncé?'" she recalled in the interview. Then at the end of the night, before Haddish got a selfie with the "Lemonade" singer, she circled back to the biting indecent and offered to defend Queen Bey.
"Near the end of the party, Beyoncé's at the bar, so I said to Beyoncé, 'Did she really bite you?' She was like, 'Yeah.' I was like, 'She gonna get her ass beat tonight,'" she added. "She was like, 'Tiffany, no. Don't do that. That b**ch is on drugs. She not even drunk. The b**ch is on drugs. She not like that all the time. Just chill.'" Based on this epic retelling it feels like we were actually there the night when Beyoncé got bit and it's just too ridiculous to even comprehend.
5. Her bucket list is more of a tub:
We all have bucket lists, but Haddish has a tub list and everything on it is something we want to do too. "Girl, that bucket list is like a tub. It's a tub list. I want to go to every single country. I want to buy two streets that intersect and call them Tiffany and Haddish, and I want to open a youth center, a job-training center, a mental-health department, and a whole art center there," she told Marie Claire in their June 2018 issue. "Then when people say, 'Oh my God, how did you learn to play the trumpet?' 'Oh, I learned it on Tiffany and Haddish.'"
"I want to go on a date with Michael B. Jordan. I want a fried-chicken-and-girls' night with Michelle Obama. There's a lot of things I want to do, girl," she added. Michael B. Jordan, fried chicken and Michelle Obama? Yes, please!
6. Not even Oprah is safe:
In early 2018, Haddish met Oprah and proved that she might actually be her biggest fan. "You are so, so, so good!" Oprah told Haddish after coming out on The Ellen DeGeneres Show to surprise her. "You told me that before in a dream!" Haddish replied.
Even though the actress loves Oprah she wasn't afraid to call her out for not responding to the letters she sent her over the years. After the A Wrinkle in Time actress admitted she lost the letter, Haddish quickly replied, "but I sent you like six!" She then admitted that she wrote to her BFF Gayle King too and the whole interaction proves that Haddish is a true gem.
It's clear, we love Tiffany Haddish and everything she has to say. Can we be her best friend now?!